Your April 2021 horoscope: what does this month have in store for your zodiac sign?
Get a glimpse of how April will look for you...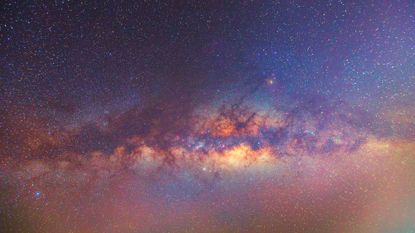 (Image credit: Getty Images)
After a healing and mellow month of March, April's monthly horoscope is asking us to assert ourselves, while also transforming certain areas of our lives in order to make room for new energy to find us.
We begin April in the midst of Aries season, after just beginning a brand-new astrological year. On April 3rd, communication guru Mercury joins the Sun in Aries to turn up the volume on this sign's fiery, can-do influence. This is especially true during this month's New Moon on April 11th, which features a stellar lineup of planets in Aries, giving us the courage to meet challenges and boldly follow our passions. This is an excellent time to set new intentions!
The most positive transit of the entire month is the goddess of love and pleasure, Venus, entering Taurus, one of her favorite zodiac signs to be in. From April 14th until the end of the month, she will be gracing us with the opportunity to rest and recharge. To attune to her energy, try spending more time in nature, enjoying or making art, and practicing any type of pampering or self-care.
A big energetic shift takes place on April 19th, when both the Sun and Mercury enter earth sign Taurus, slowing down the pace quite considerably. Mars, the planet that gives us our drive and energy, will be entering mellow Cancer too, so expect to feel low energy during the last week of April.
Setting time aside to rest and relax will not only be a good idea, but necessary, especially as we head into the April 26th Supermoon. Happening in mystical Scorpio, this is the first of three Supermoons in a row, which is set to bring deeply buried issues to the surface. Pluto, the planetary ruler of this lunation, will also begin its five-month retrograde the very next day, alluding that our focus should be on healing these issues instead of trying to avoid them. Trust us when we say that putting in the work will be absolutely worth it!
April 2021 horoscope
Aries
April is your month, Aries! With the Sun, Mercury, and Venus in your sign, you not only have the gift of gab, but also the power to attraction and manifestation. Use them wisely! The April 11 New Moon is in your sign, bringing the best time of the entire year to begin something new that is dear to your heart. Once Venus enters Taurus on April 14th, followed by the Sun and Mercury on April 19th, get ready to see the digits in your bank account grow. If you're due for a raise, these might be the best days to dare to ask for what you deserve.
Taurus
April beings with an introspective mood for you, Taurus. A line-up of planets pilling up in the subconscious sector of your chart suggests that something important is brewing. For that reason, spending time alone this month is recommended as a way of saving energy. This month's Scorpio Supermoon is bringing an end to an important relationship. As a sign who doesn't love change, you might try to hold on to it—don't, dear Taurus. Both the Sun and Venus in your sign will be protecting you during the second half of the month, so this ending is most likely in your best interest. Attune yourself to the high vibrations of the goddess of pleasure by pampering yourself during this time.
Gemini
It's time to go for it, Gemini. With your ruler Mercury in fiery Aries, the cosmos is encouraging you to assert yourself. Just watch out that in your search for stardom, you're not coming through as blunt. After all, Mars is still in your sign, giving you tons of energy and ambition. You only get to hold this energy every two years, but you have to be smart about how to use it. If you've been wanting to start a new workout schedule, there is no better time than now! Pencil-in April 17th as the best day of the month to sign important documents or negotiating a deal, which is when your charm will be off the charts.
Cancer
April is a month that will test your patience, but you're up for the challenge, dear Cancer. With both the Sun and Mercury in Aries during most of the month, you might be running into setbacks and communication snafus while trying to materialize your most precious goals. Don't give up—because, by the time Venus enters Taurus on April 14, things will begin to lighten up as love goddess showers you with her magic. Oh, you will be feeling her sensuality, especially by the time Mars enters your sign on April 23rd to turn up the heat even more. Lastly, as Pluto starts its retrograde on April 27th, an important partnership begins a process of transformation. Let it flow!
Leo
With the Sun, your planetary ruler, in Aries during most of the month, you're feeling yourself and are most likely enjoying all the attention coming your way. Mercury is also helping you in the communication department by getting your point across and allowing the exchanges to flow easily. Things do begin to get intense a few days prior to the April 26th Supermoon, which will be in intense Scorpio. Surrounded by Plutonian energy, this strong lunation might push you to make an important decision. Don't resist it, Leo. By gracefully releasing what needs to go, you allow for new and exciting things to find you in the future.
Virgo
An important planetary event is happening in your sign this month, Virgo! Vesta, the asteroid of spirituality and sacred feminine energy, is going direct in your very own sign. In astrology, Vesta represents our inner fire and what is most sacred to us, so during the time it has been sleeping in your sign (since January 19th), you have been giving the opportunity to rethink where you want to invest your precious energy. Around April 20th, the answer to this question should begin to get clear as Vesta begins to move forward. This incredibly inspirational asteroid will remain direct in your sign until July 19th, gifting you the rare opportunity to connect to your inner flame of desire.
Libra
You begin the month with the lingering effects of April's Full Moon, which happened in your sign. For this and other reasons, the first two weeks of the month are all about adjusting to the recent changes that took place within your relationships. It's been intense, to say the least—however, as your planetary ruler, Venus, enters Taurus on April 19th, things begin to mellow out. If you're looking for a special date to launch a product, have an important conversation, or begin something new, April 17th is your date, which is when Mars and Jupiter will harmonize in air sign pals Gemini and Aquarius.
Scorpio
You'll most likely like April's astrology vibe, Scorpio, as it's full of one of your favorite things: transformation. The month gets to an active start as all the Aries planets occupying your house of work and daily routine to keep your schedule full. Once Venus enters Taurus on April 14th, you'll be feeling the call to chill out a little more. Listen to it, because the days leading to the April 26 Supermoon in your sign are most likely going to be intense. This is your yearly opportunity to release what no longer serves you in order to make room for something new. During this time, your intuition will be at an all-time high, so listen to it!
Sagittarius
You love the fiery Aries energy, Sag, and the first half of the month is full of it. Use it to have some good old fun, or even hit one of your most desired targets! This month's New Moon is especially auspicious to begin or retake a creative project or endeavor. The vibes get a little more intense once Mars enters Cancer, which is set to bring some challenges your way. Combined with the April 26 Scorpio Supermoon happening in a sensitive part of your chart, this energy is one to watch out for. Try keeping a low profile, as well as your wits about you around this time, dear Sag.
Capricorn
March was an easy month for you, but April is bringing cloudier skies your way, Capricorn. Finding opposing opinions as well as setbacks at work might very well be possible. There's not really a good reason to fight back, as the energy to advance might not be there right now. This will be especially true during the last ten days of the month, once Mars enters Cancer, your opposite sign. The good news is that lovely Venus in Taurus from April 14th on will be helping you out in the form of assistance from friends and associates. It also means that the softer you communicate with others, the more support you will receive, ambitious Capricorn.
Aquarius
You are going through a big period of growth, dear Aquarius, and in April, you get to make some progress when it comes to your objectives. With both Jupiter and Saturn currently in your sign, you're being asked to expand and transform your vision of self, and this month, both planets receive energy from other planets that should not go unnoticed. The days between April 10th and April 17th are stellar as you receive cosmic encouragement to go after your dreams. During this time, you will find the drive and enthusiasm to present projects, close deals, and take risks that can bring you long-term success. Take advantage of this sweet energy while it lasts, Aquarius!
Pisces
We get it—it's been hard to come back down to Earth after such a dreamy Pisces season. But it's good you got some rest, because in April, the cosmos is really asking you to get to work, Pisces. With so much activity in your second house of money, values, and material possessions, this is a month to assert yourself and get down to business! This will be especially true around mid-month, when the Moon becomes New in this sector of your chart on April 11th, which is when you should be formulating a plan to achieve your long-term financial goals. You only get this type of influence once a year, Pisces, so make use of it.
Athena Antares is a traveling writer, astrologer, and mystic who believes in adding a touch of magic to everyday life. She has written horoscopes for numerous lifestyle publications and has dived deeply into astrological magic and manifestation spell work. In her spare time, Athena enjoys exploring new places, spending time in nature, and reading charts for her worldly clientele.