Your guide to Neptune retrograde 2021, according to an astrologer
Neptune retrograde 2021 is officially here, and it won't change until the winter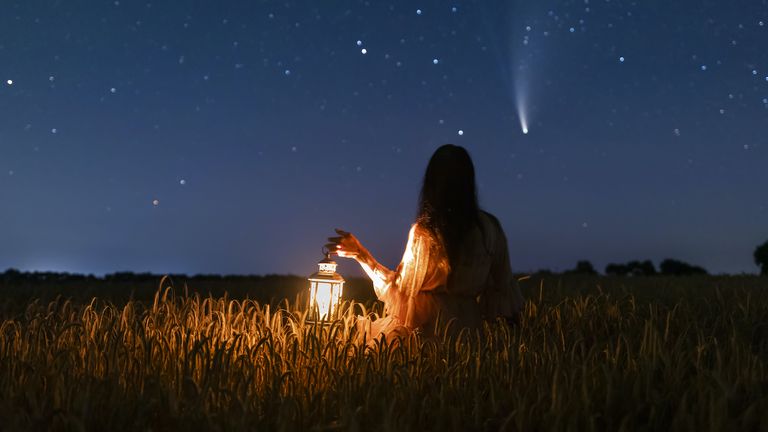 (Image credit: Getty Images)
The cosmos are at it again. Next up? Neptune retrograde: 2021 continues to bestow planetary occurrences upon us, and the latest will be occurring well until the end of the year. But there's no need to feel overwhelmed by the longevity—Neptune is Mercury in retrograde's less intense cousin, thankfully.
"Because Neptune is so much further from Earth, its retrogrades are much longer and its effects are much more subtle," says author and astrologer Narayana Montufar. "They happen at a subconscious level."
This makes Neptune retrograde a bit harder to pin down, so there is no need to fear that the world has turned upside à la Mercury in retrograde. Plus, we'll guide you through everything you need to know, even if you still feel slight hints of Mercury's doings. Consider us an astrological shoulder to lean on!
When is Neptune retrograde 2021?
Neptune retrograde 2021 will take place from June 25th to December 1st. Neptune in retrograde will be in Pisces, a dreamy and emotional sign.
What happens when Neptune is in retrograde?
"Because Neptune is the planet of illusion, delusion, and fantasy, when it is direct and in connection with an important part of our charts, Neptune can cast a spell on us and confuse us by putting a veil over our eyes," Narayana Montufar says. "Then, once it goes retrograde, Neptune loses its power and suddenly, the veil is gone, sometimes leaving us with tough realizations."
It's not uncommon to expect an "a-ha" moment—or perhaps even a reality check—while Neptune is in retrograde. You might do a double-take and ask, "How did I just notice this now?" "How did I let this person affect me so much?"—the classics, as Narayana refers to them.
Who will feel the effects of Neptune retrograde?
While enduring the ups and downs of Mercury retrograde feels like a collective effort, not all star signs are treated equally under Neptune.
"Neptune retrograde will only affect people who have any natal planets (Sun, Moon, Mercury, Venus, Mars, or their rising sign) in the late degrees of Pisces, Gemini, Virgo, and Sagittarius," Narayana says.
Although there is typically no way to prepare ourselves for Neptune retrograde, it is a good time to reflect and see things for what they really are instead of what we might perceive them to be. We'll go so far as to say that Neptune retrograde has its positives.
"The one thing Neptune retrogrades can be good for is for readjusting our boundaries, in the case that they have been a problem for us lately," Narayana says. "This is a time to re-examine where do we end and other people begin, for example."
Still need some more reassurance? Be sure to explore our 2021 horoscope predictions to see what's in store for you. And, when in doubt, we've uncovered the best crystals for anxiety to help you feel more zen, so you'll be ready for anything the planets throw our way!
Danielle is a writer for My Imperfect Life, where she particularly enjoys covering lifestyle and entertainment news. She was previously the editor of Time Out New York Kids and a news editor at Elite Daily. When she's not working, you can find her reading a good book and enjoying a cup of coffee. Follow her @dvwrites.