What planet is in retrograde? Your guide to 2021's cosmic events
We'll keep you up-to-date on what planet is in retrograde, when it's happening, and what to expect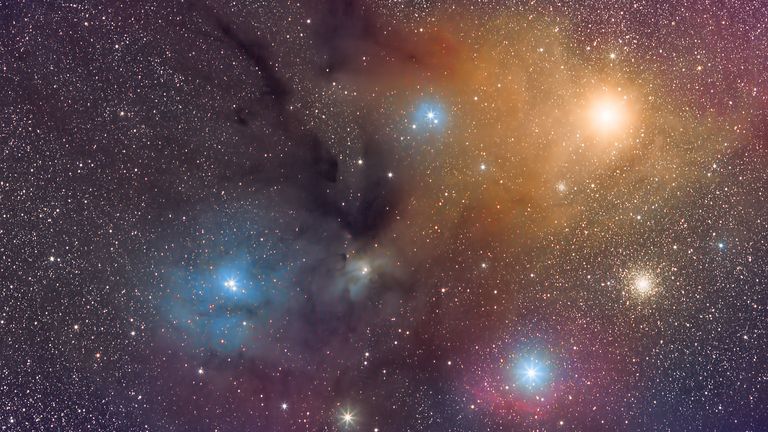 (Image credit: Getty Images)
Curious what planet is in retrograde? The mere thought sends us into a tizzy—mostly thanks to Mercury in retrograde—and has us fearing the worst. But planetary shifts are actually an excuse to be gentle with ourselves and reexamine what might not necessarily be working, according to astrologer Renée Watt. 
"Because retrogrades ask us to go internal, they allow us to be more self-aware," she says. "People like to feel like they can tap into the energy outside of themselves."
Since Watt also notes that retrogrades are happening "all the time," we've broken down the 2021 dates that you should keep in the back of your mind. Before you panic over each planet's motions, take a step back and embrace what the solar system has in store. 
What planet is in retrograde? A 2021 guide
Saturn retrograde 2021
When: May 23rd–October 10th
According to astrologer and author Narayana Montufar, Saturn is one of the big players in 2021. It's the planet that is responsible for our boundaries, structure, and habits that keep our daily lives in check. In particular, she believes Saturn's retrograde is the time to reevaluate your professional lives. Now's the time to take a step back and look at our passions, what we want from a new work-life balance now that offices are beginning to reopen, etc. 
Jupiter retrograde 2021
When: June 20th–October 17th 
Jupiter is the planet that is typically associated with growth, so its retrograde is a time to bring things to fruition. 
"It's about fine-tuning things that didn't fully manifest and adjusting our point of view, seeing more of the big picture," says Montufar.  
Neptune retrograde 2021
When: June 25th–December 1st 
It's not uncommon to expect an "a-ha" moment—or maybe even a reality check—at some point during Neptune's retrograde. Expect the "How come I didn't realize this until now" phrase to pop up at some point. 
"The good news is that if we are having a Neptune transit and struggling with confusion and having the rose-colored glasses, Neptune retrograde can be a good time to put our feet back on the ground and see things for what they are instead of what we want them to be," Montufar says. 
Venus retrograde 2021
When: December 19th–January 29th, 2022
This is an intense one, and all star signs are likely to feel the effects of the Venus retrograde. Although it is typically geared towards relationships, that doesn't mean a breakup is on the horizon, it just means you'll take a gander at what's going on with all types of relationships (not just the romantic kinds) to get to the root of any issues that might abound. 
Since it'll be Venus in Capricorn, which is geared towards work, this might be a productive time to hash things out with a boss or colleague. 
Uranus retrograde 2021
When: August 19th–January 18th, 2022
Considered the wild-child planet, Uranus retrograde might yield unexpected results. Watts suggests we'll be affected on an internal level since the planet is further out than others and therefore might not affect us quite as severely. Now is the time to make sure you're not acting on your impulses, so be mindful of your behaviors. 
Mercury retrograde 2021
When: January 30th-February 20th, May 29th-June 22nd, and September 27th-October 17th
Ah, the infamous Mercury in retrograde, the planet that steals the spotlight, likely because it is most frequently in retrograde. While it's famous for wreaking havoc on our love lives and misplacing objects, Montufar says it forces us to approach challenges from a new perspective.
"All the setbacks, all the roadblocks, it's actually an opportunity to make things better," Montufar says. "It's just that from our perspective it can feel like it's ruining our high. But the truth is, Mercury in retrogrades are opportunities to get things right." 
Mars retrograde 2021
When: Fall 2022
Fortunately, Mars is in retrograde every two years, and it's likely to be the case in the fall of 2022. 
"It's my least favorite," Montufar reveals. "Mars rules your drive and energy. You can't function at your best." 
Knowing that it has the tendency to make you feel lethargic, take note and make sure to enjoy your favorite self-care practices to feel rejuvenated. During this time, it's possible that sex might feel a bit awkward, so you'll want to take a cue from the experts about how to reset your sex life. 
Important takeaways of retrogrades 
First thing's first, as Montufar states, retrograde shouldn't come with a negative connotation. 
"It's an opportunity to readjust the things that the particular planet rules and revise the way we're going after things," she says. 
So, embrace it! Renée Watts suggests taking a look at your birth chart to see how each planetary shift will affect you personally and go from there. 
The next time the planets start spinning backwards, it doesn't mean you have to follow suit. In fact, it's a good way to get back on level ground, so let's dismiss the negative "retrograde" notion, shall we?
Danielle is a writer for woman&home and My Imperfect Life, where she particularly enjoys covering lifestyle and entertainment news. She was previously the editor of Time Out New York Kids and a news editor at Elite Daily. When she's not working, you can find her reading a good book and enjoying a cup of coffee. Follow her @dvwrites.