10 stylish and affordable nightstands under $100
Finding nightstands under $100 might feel tricky, but we've found some of the chicest options around—and they look far more premium than their price tags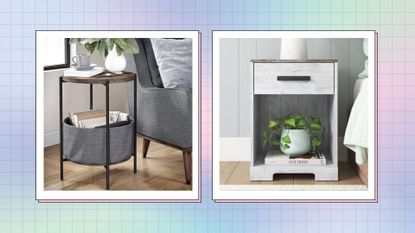 (Image credit: Future)
Scoring chic nightstands under $100 can feel like a daunting task, as it often seems like you need to splurge significantly more to get a quality product for your bedroom. But that's certainly not the case—as we've proven below, with our round-up of some dapper options that will work for an array of decor styles, from industrial to modern.
A bedside table doesn't just serve as the finishing touch to your room. This vital piece of furniture is designed to be totally functional and useful, too, creating a space for all your bedtime essentials within an arm's reach.
But with the dizzying array of furniture brands, sourcing the "Goldilocks" nightstand that fits your bedroom's design aesthetic, restrictive floorplan—and most importantly, your budget—can be a seriously arduous task. Turns out, there are a ton of good-looking, high-quality options scattered across the web, that will feel right at home in your bedroom. From wall-mounted units (one of the best small room ideas) to solid wood side tables, here are our ten picks for the best bedside tables under $100 (before shipping, of course).
And if you're shopping for more home essentials, why not take a look at our guide to the best desk chairs, too?
The best nightstands under $100 to add to your home: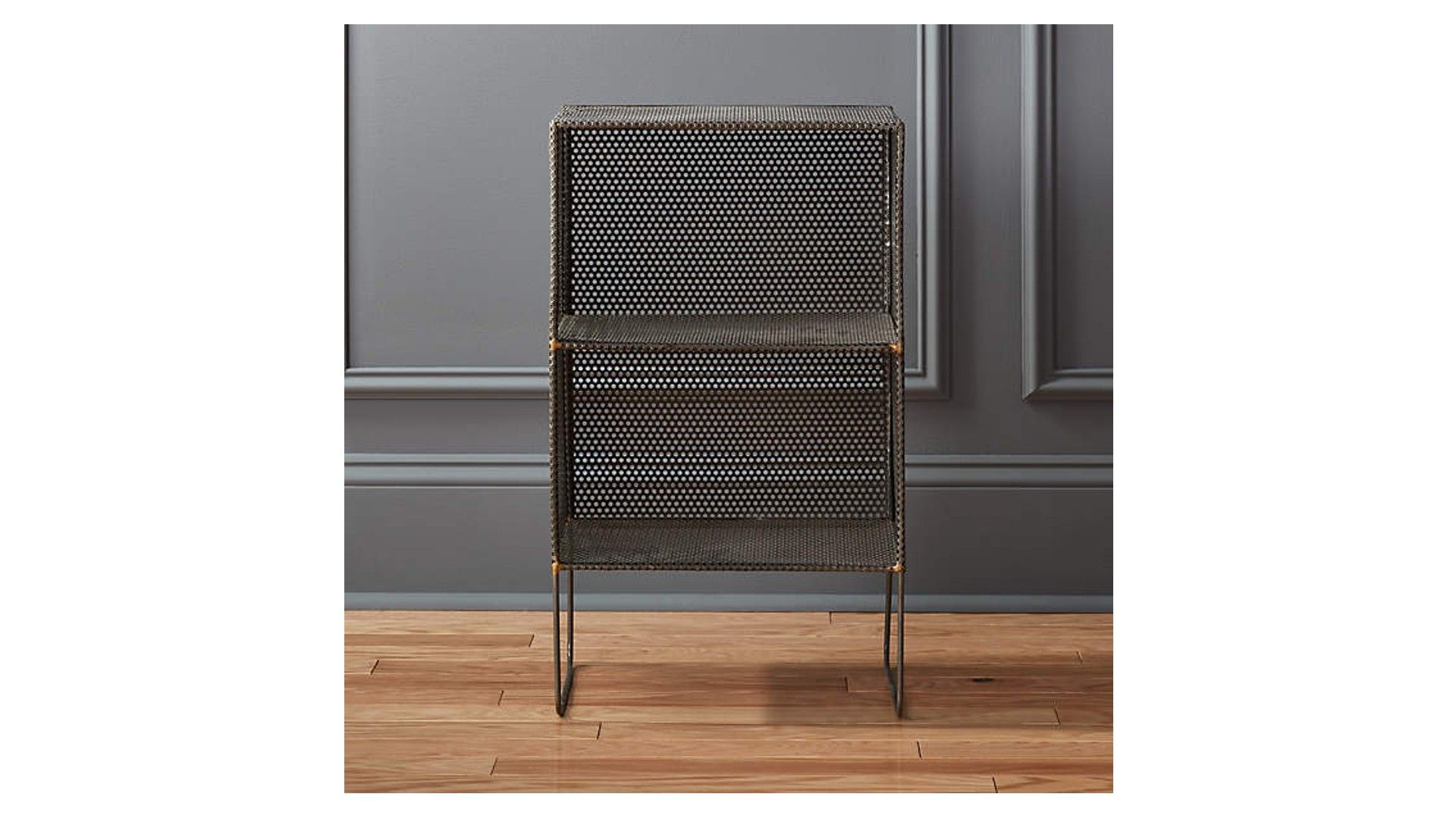 1. CB2 Sift Gunmetal 2-Story Tower
Handcrafted with fine gunmetal iron mesh and exposed brass welding, CB2's two-cube tower is the epitome of industrial-warehouse chic. But, it also comes finished in a striking gold powder coat variation too, if you want something a bit more glam.
The set of two cubbies rises in single file to about two feet, which is a comfortable height for most bedside furniture. Don't stress if a remodel or a move is in your near future; the Sift is so lightweight that you can reposition it around the room with total ease.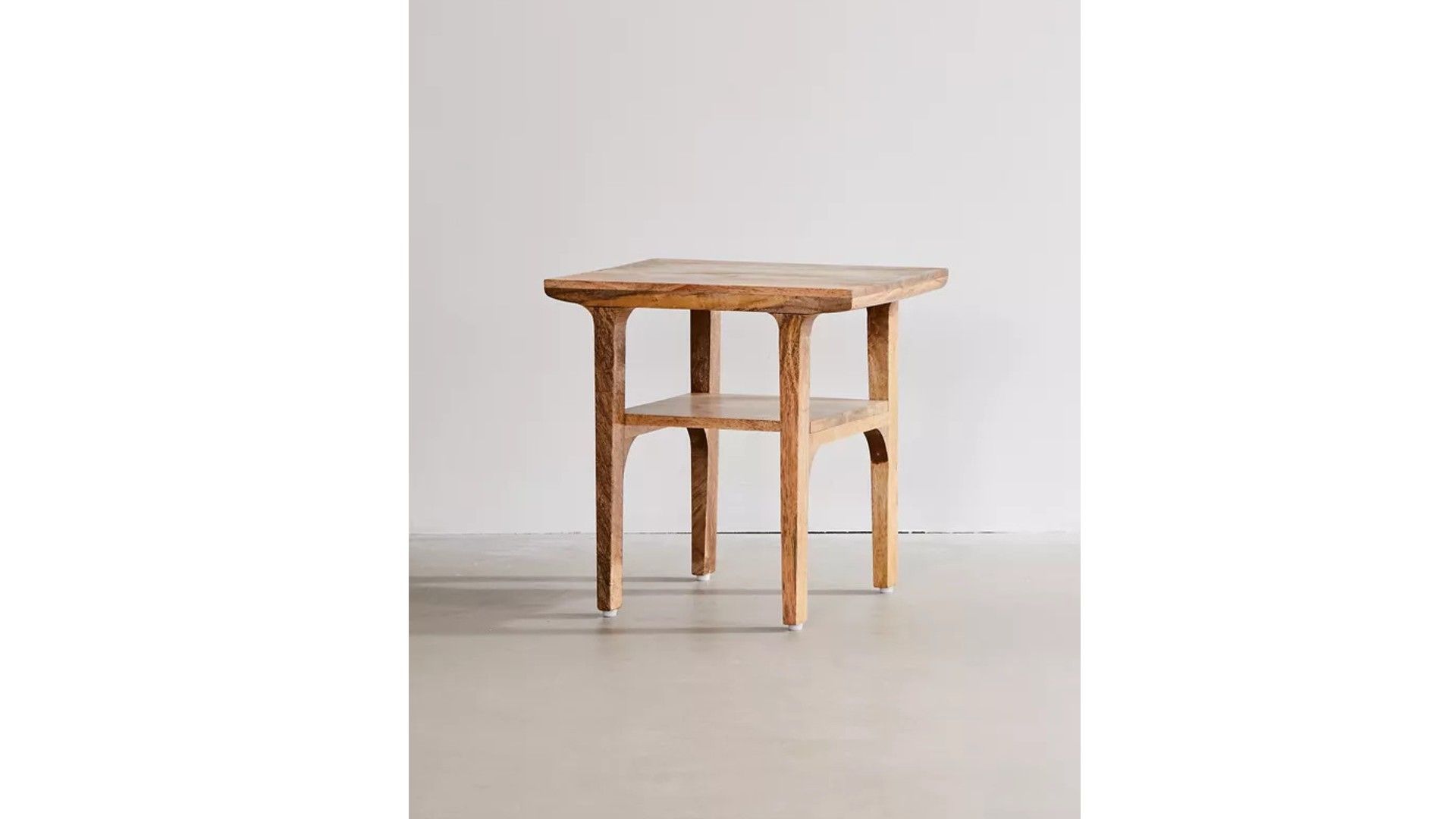 2. Urban Outfitters Wyatt Nightstand
Crafted in India from solid mango wood in a natural finish, the Wyatt Nightstand—an exclusive item to Urban Outfitters—is a perfect combination of sleek form and practical function. With tapered legs that extend elegantly from the smooth tabletop, the super-sophisticated silhouette is versatile enough to live bedside, or anywhere else in the house you might want. And since it weighs in at under 10 pounds, it's easy to move around. Due to natural variations in the wood graining and color, each piece is one-of-a-kind too, so you're getting a unique piece at a high-street price.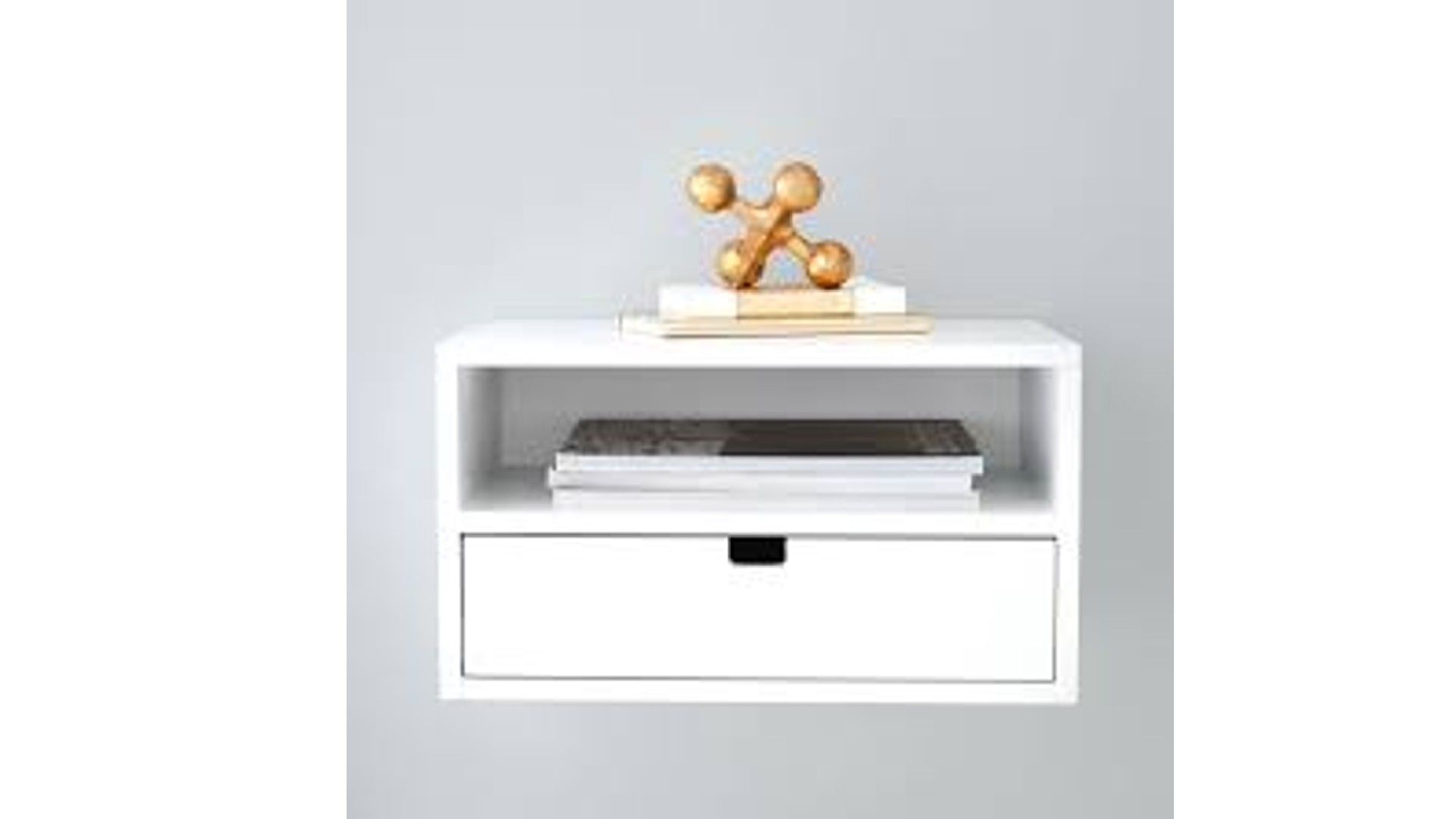 3. PB Teen Lane Drawer Shelf
A mounted shelf is a strategic way to maximize precious real estate in a cramped bedroom, as it takes up no floor space whatsoever. And Pottery Barn Teen's attractive Lane drawer shelves are perfectly suited for tiny spaces where a freestanding nightstand might not fit, such as a kid's bedroom.
There's no compromise on space either. You'll still get a nice, compact drawer to stash your nighttime essentials (with clean metal hardware for the opening), as well as a top cubby for more storage. The medium density fiberboard drawers are painted in matte white, with an eco-friendly water-based finish, meaning this nightstand is good for modern homes.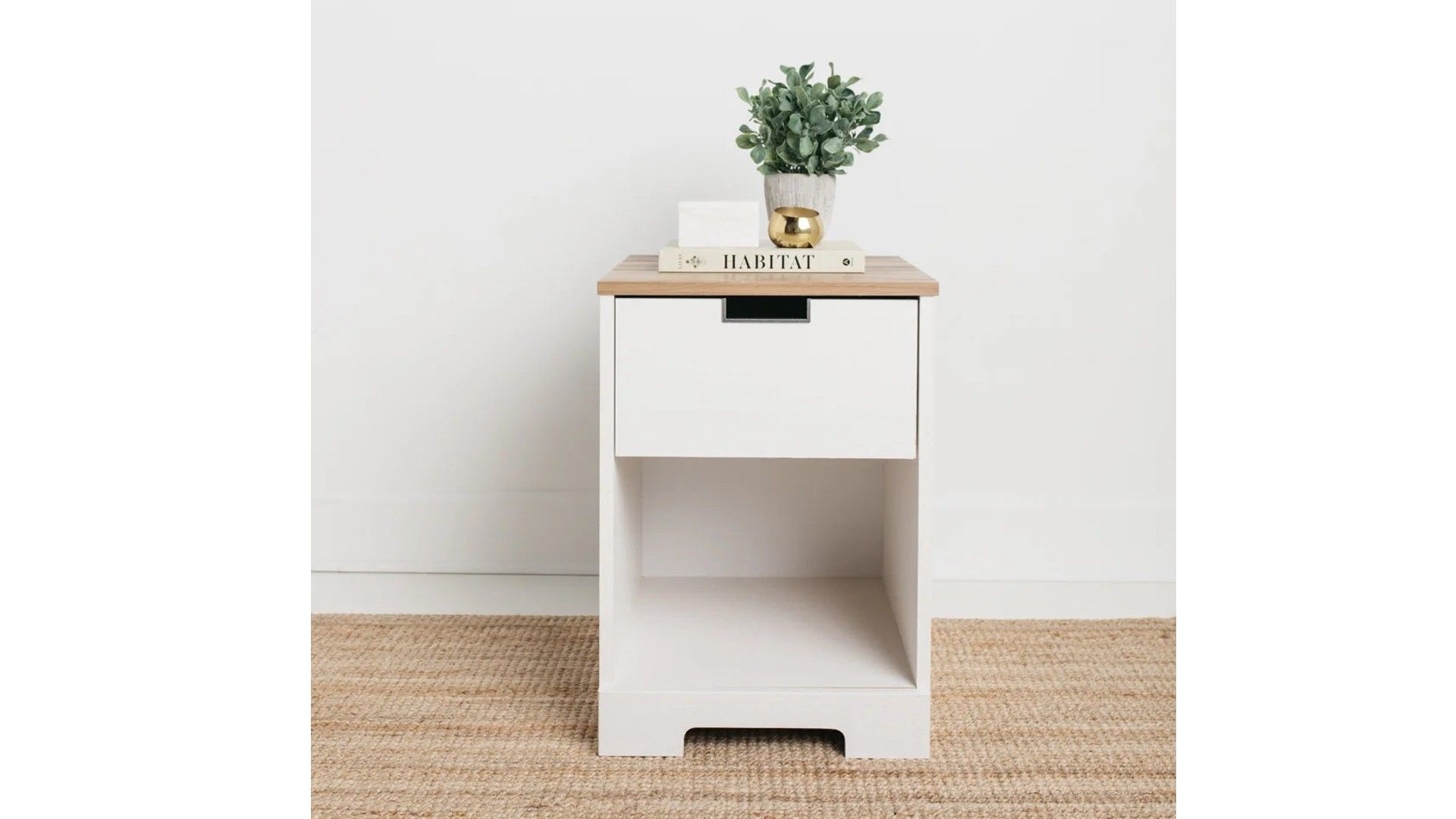 4. Fenley 1 Drawer Nightstand
With its small footprint and streamlined design, this nightstand is an easy winner for whenever your bedroom needs a refresh. There's a spacious bottom cubby to store larger items and a smooth-gliding top drawer that opens with a subtle metal-lined square hole.
Its interiors are wrapped in vinyl for extra durability, and the clean white-painted finish of the frame is balanced with a warm ash wood surface—which has enough room for your essentials, such as a glass of water, phone and eyeglasses.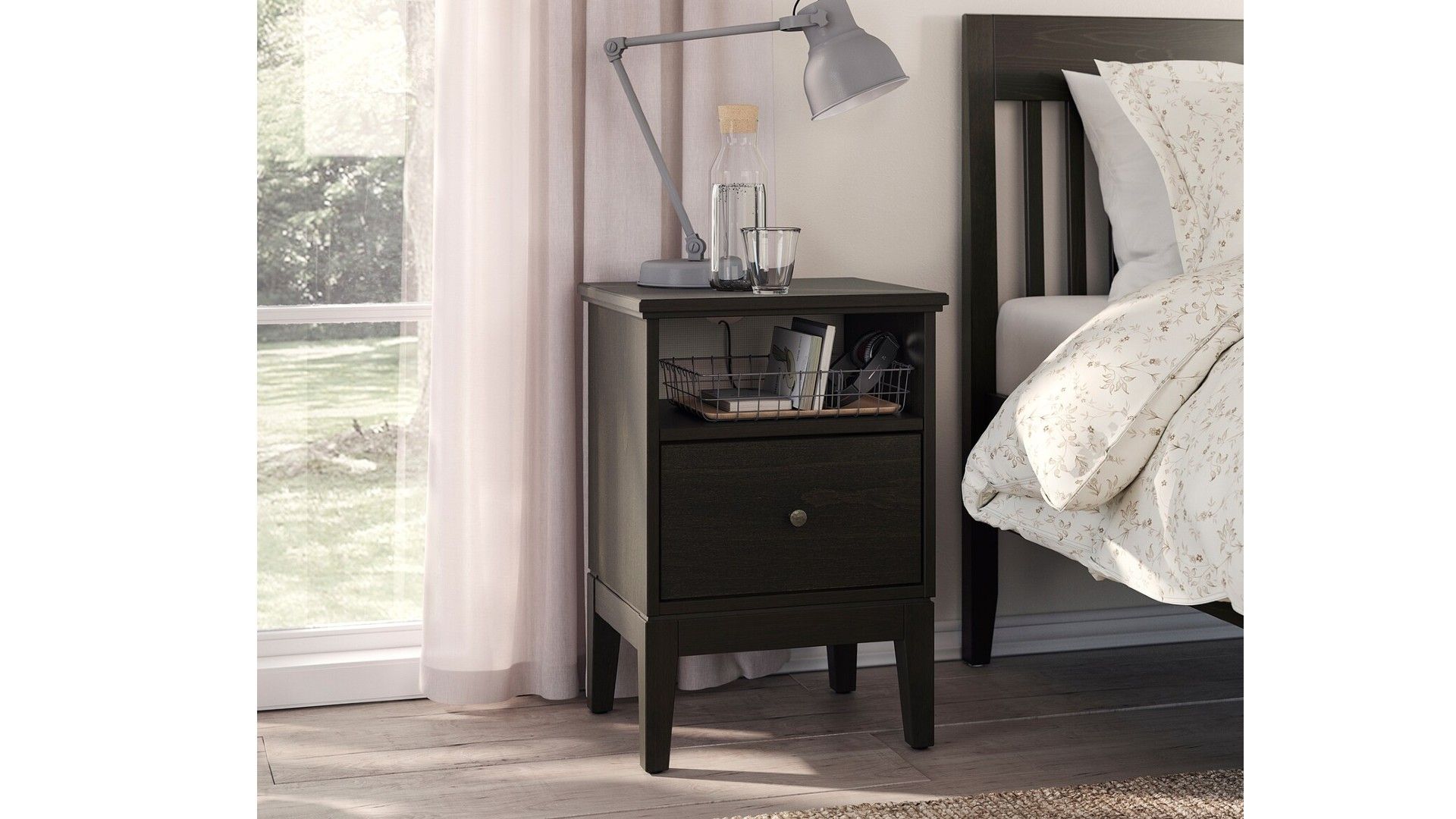 5. IKEA Idanäs Nightstand
Priced one cent less than a hundred buckaroos, this mighty IKEA nightstand—part of the brand's elegant Idanäs furniture series—is a popular pick for its affordability and timeless design.
This bedside table comes in a new dark brown colorway, and has an open top shelf for storing books or other small décor items, plus a lower drawer with very helpful rear cut-outs, for plugging in electronics that you want to be stashed away.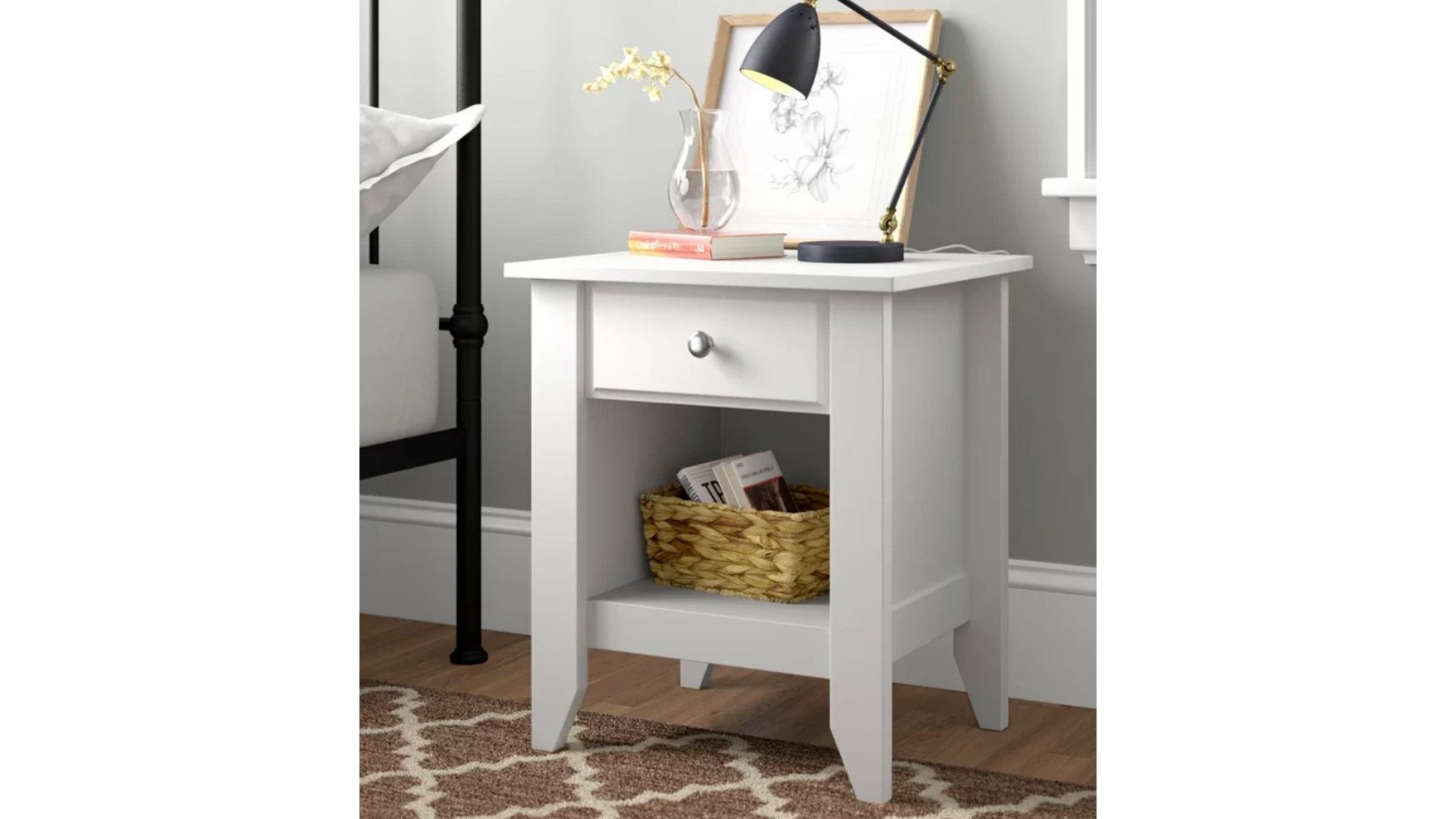 6. Three Posts Olney 1 Drawer Nightstand
What is it about this stylish single-drawer nightstand that makes it look double its price? Is it the premium finish? The wider frame? The sturdy construction? Whatever it is, we're in love. But perhaps most of all because it's a breeze to assemble, thanks to the inclusion of slide-on moldings. It features a lower open shelf that lets you store everything from books to electronic gadgets, and handy a drawer that smoothly opens and closes on metal runners.
You can also add in an optional wireless charging station for all your electronics—though you'll need to pay an extra fee.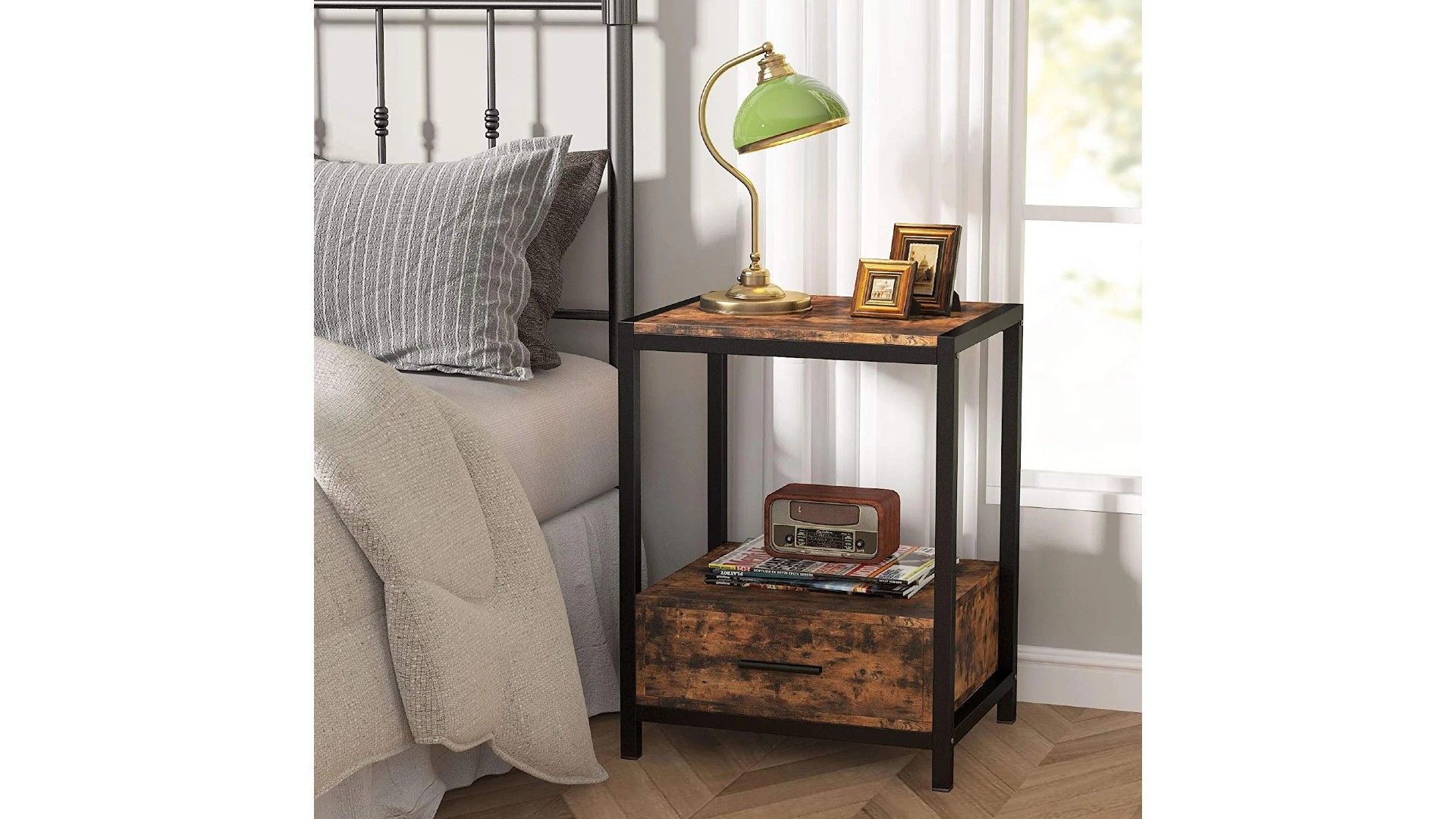 7. Vintage Nightstands With Drawers And Storage Shelf, Industrial End Table
We adore the design of this midcentury modern nightstand, which is why it's made it to our round-up of the best nightstands under $100. There are some fun vintage features included, too, like rustic wooden veneer and industrial-inspired metal legs.
There's ample storage space for one of the best scented candles, a small lamp, picture frames, or a small alarm clock on the tabletop. Plus, you can easily stack this month's book club picks on the 14-inch open shelf, and keep essentials out of sight on the lower shelf. This model is also available in glossy white: one with a matte black metal frame and the other with gold hardware.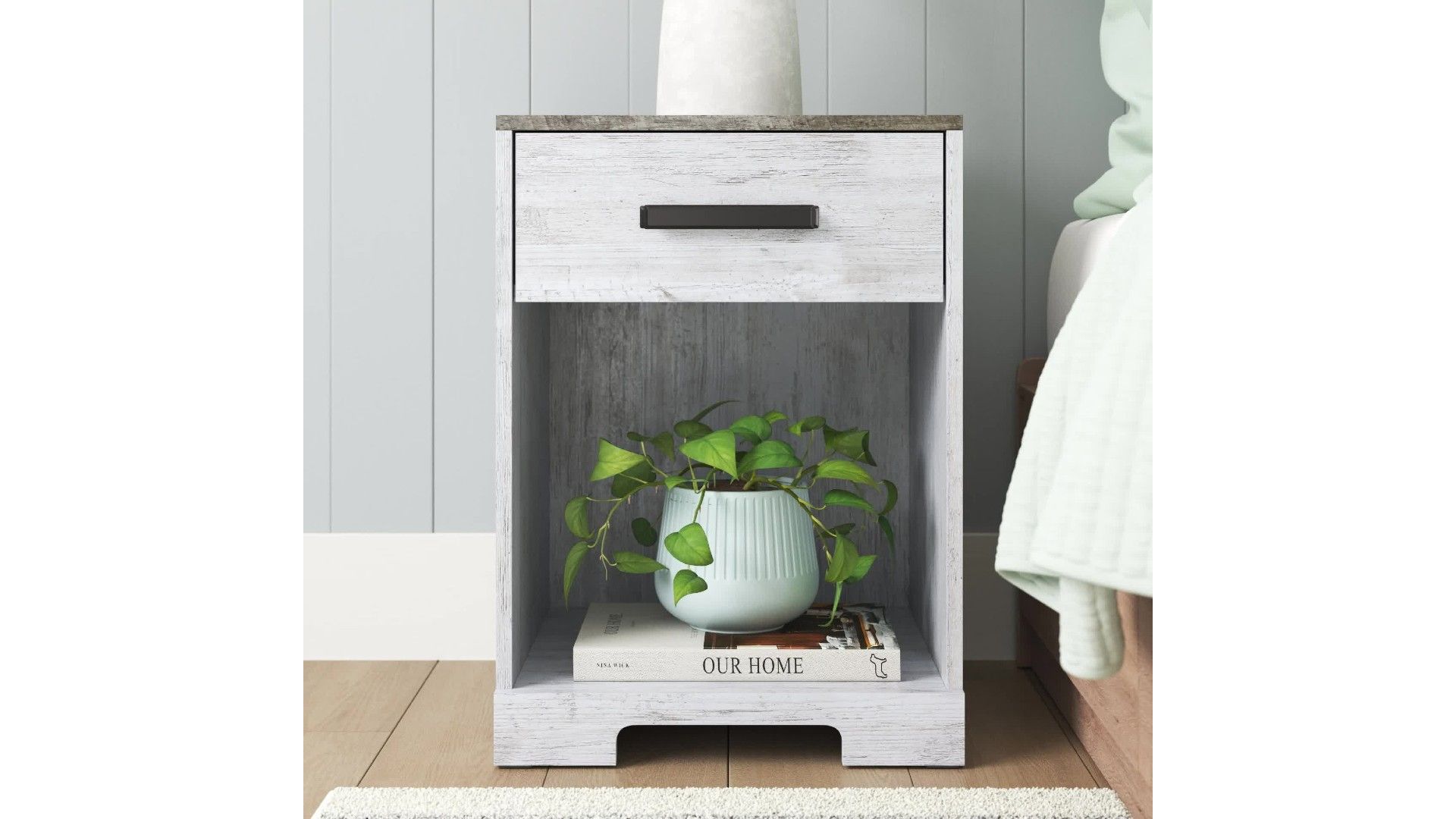 8. Sand & Stable™ Carnforth Nightstand
Lean into the cottagecore trend with the two-tone Carnforth nightstand, which boasts visible wood grain and a distressed whitewash-finished base.
Constructed from both solid and engineered wood, this coastal farmhouse-inspired bedside table is sure to stand the test of time. There's a spacious open cubby for storing items within reach, as well as a single drawer for other essentials, that opens with a contrasting black metal handle.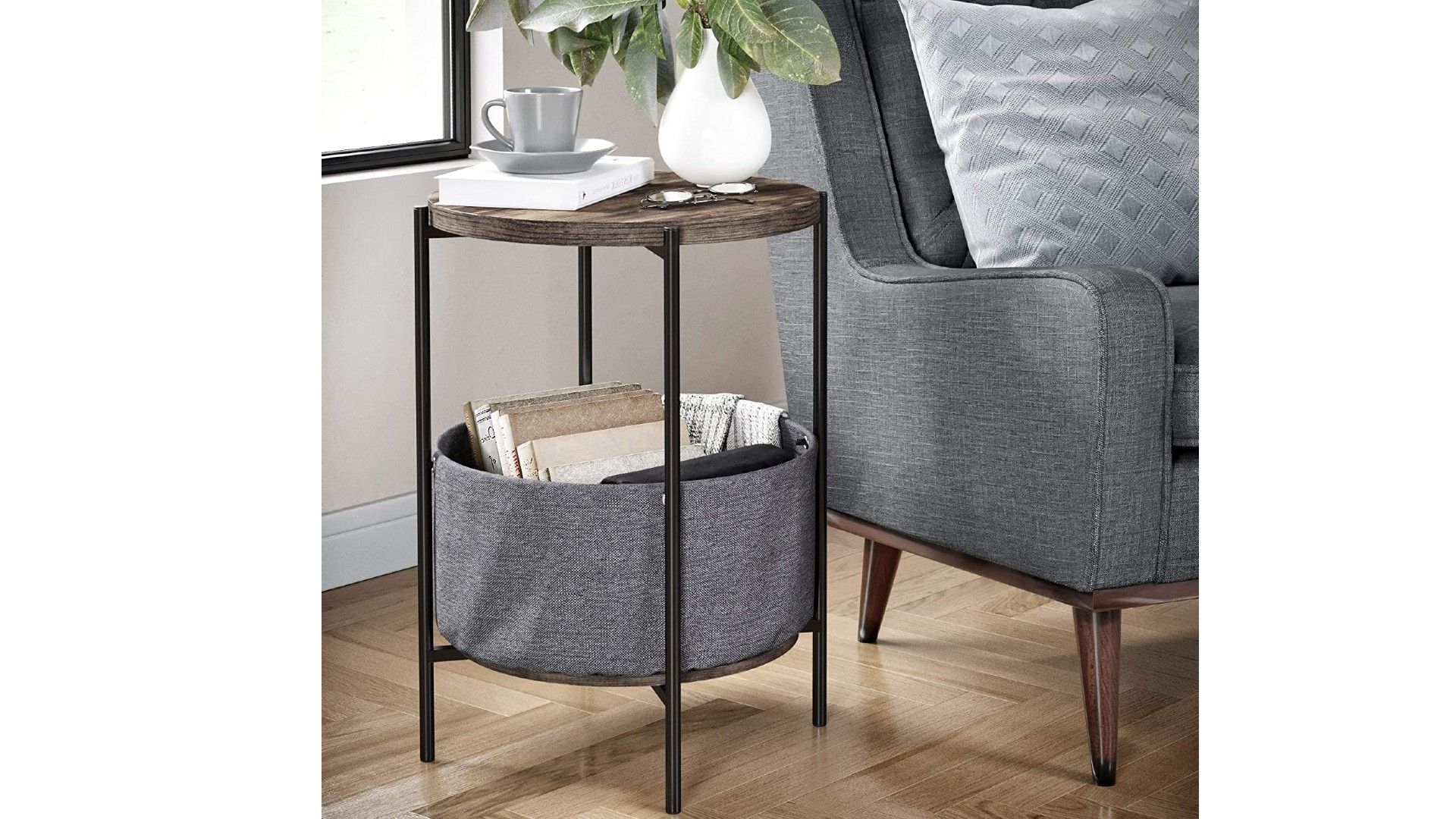 9. Nathan James Oraa Side Table Fabric Storage Bin
If you're looking for nightstands under $100, this option is well under budget. This trendy catch-all side table from Nathan James makes for a smashing addition to any bedroom set-up—or, as a side table in your living space. Once out of the box, it can be put together in a quick 20 minutes too!
Its round design will take up less space than a four-pointed alternative while providing enough surface area on the engineered wood tabletop to house a cute table lamp or mini planter. Place anything from magazines to dog toys in the fabric bin that sits on the metal base. Thanks to its neutral tone and modern style, the Oraa can fit within most decor styles with ease.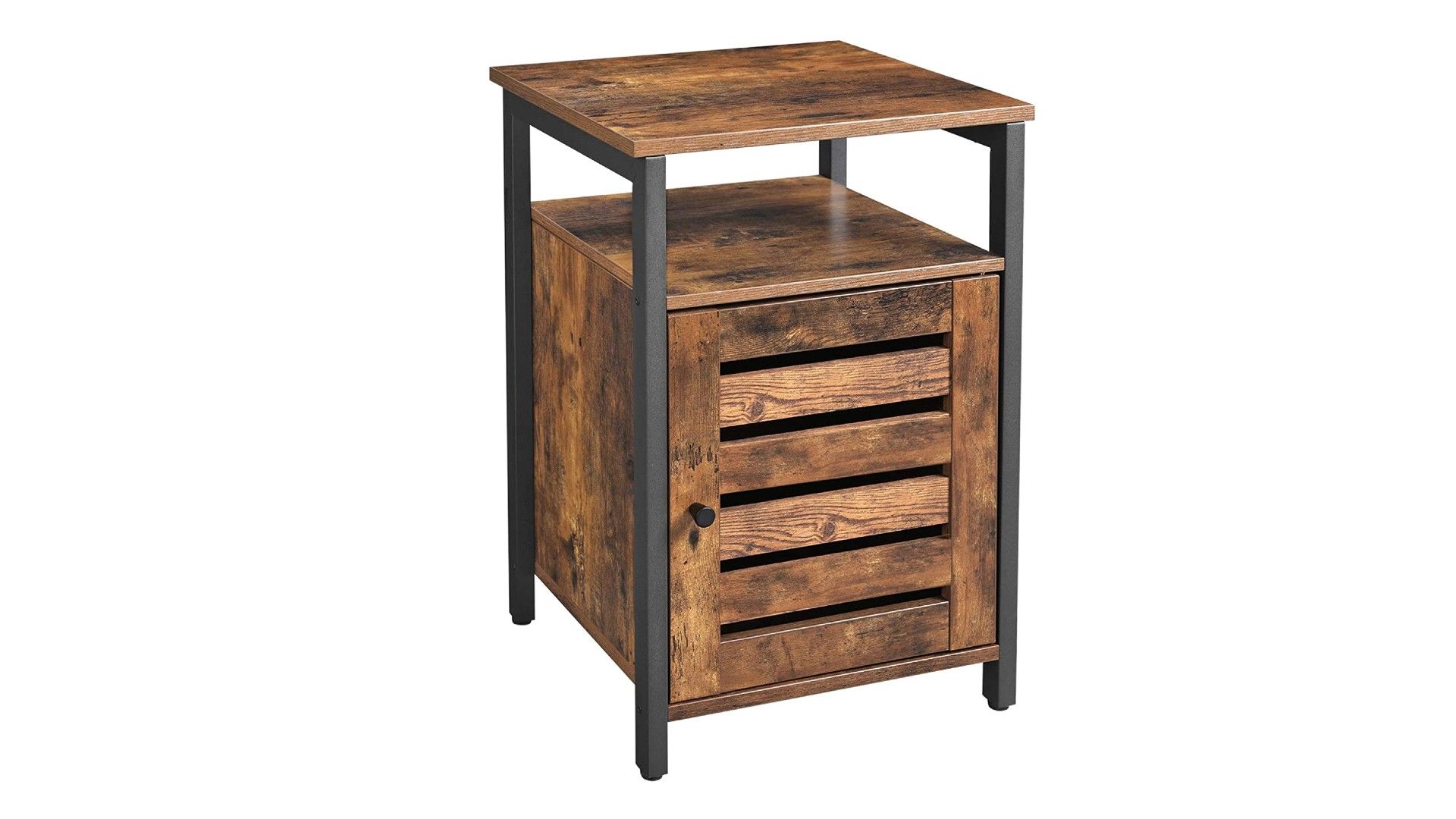 10. Visagle Nightstand With 2 Adjustable Shelves
A nightstand with two adjustable shelves? Count us in! That's what you'll have when you purchase this chic and affordable bedside table from Visagle's Indestic collection, which is armed with a pair of durable mesh shelves. They can be attached flat, or slightly slanted in case you want to display books or magazines. With an eclectic mix of materials including industrial black steel for the frames and a greige particleboard tabletop, those looking for an urban touch that isn't too contemporary will be very pleased.
Paul Jebara is a New York City-based freelance writer and photographer. He covers travel, architecture, design, and style for a number of publications including Condé Nast Traveler, Architectural Digest, Men's Journal, and more. When he's not chasing the sun year-round, he loves to binge true crime documentaries, hit up the farmers' market, study the cosmos, and (try to) learn new languages