These 8 morning routines on TikTok will inspire you to start your day right
From slick skincare to yummy breakfasts, these morning routines TikTok users love will have you jumping out of bed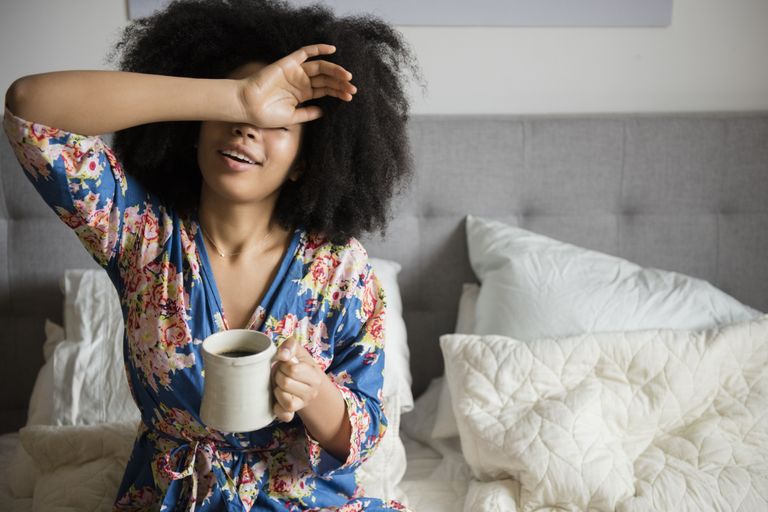 (Image credit: Getty)
Besides silly dance routines and handy food hacks, people have been going viral for sharing their morning routines on TikTok. Indeed, the hashtag #morningroutine currently has more than 5.4 billion views on the platform—indicating that there's something strangely gripping about watching videos of aesthetically pleasing, step-by-step snapshots into what people, predominantly women, get up to in the am.
These posts follow a simple pattern, often featuring skincare regimes, nourishing breakfasts and a heavy dose of self-care practices. If you thought that getting your eight hours was key to a great start to the day (and you're not wrong—have you seen our best sleep aid guide?), these women are fitting in everything from yoga to journaling and fresh coffee without a bleary eye in sight.
And while the willpower of these early risers is seriously engaging, we're pretty sure that being given a sneak peek into some very swanky apartments has many fans going back for more.
Read on to find out exactly why so many of you are hooked on this wholesome hashtag, as well as our picks for the best morning routines to tune into. Because whether you're after some morning ritual inspiration to improve how you begin your day, or simply want to admire how others prioritize their physical and mental wellbeing first thing, it's a TikTok trend we can get on board with...
---
---
Morning routines TikTok: what's the appeal?
"As humans, we are unified by the fact that we are born, we eat, we sleep and— ultimately—we die," says Dr. Marianne Trent, clinical psychologist, founder of Good Thinking Psychological Services and creator of The Our Tricky Brain Kit.
"I think some of the appeal of these videos is that they cover some of these universal levelers, often focusing on seeing how others wake up from sleep, how they eat and care for themselves. It feels like an intimate fly-on-the-wall, a sneak peek into the lives and homes of others. This can be especially compelling at a time when it is more difficult to spend time in other people's homes due to the pandemic."
While the posts may be heavily-curated and aspirational, there is also an element of attainability at play. "There are some surprisingly simple techniques and tips, which we can all do, like making our bed and lighting a candle," notes Dr. Trent.
The clips also tap into other human instincts. "We are interested in—or nosy—at the chance to see others in their 'natural' habit," she continues. "Many of the videos have an anonymous, in-person view, so it feels like the viewer can imagine it is actually themselves doing the action."
There is evidence that the mirror neurons in the brain react the same way when we watch others do things, as when we physically do those same activities. Therefore it could actually be possible that viewing these posts triggers the release of the same soothing and calming hormones as if we were there ourselves. It's no wonder we can't get enough!
Here are some of the most inspiring morning routines on TikTok:
1. @auteur.k
@auteur.k

Had a super early meeting this morning and I was rewarded with the most spectacular sunrise in NYC 🌇 ##nyc ##morningroutine ##adayinmylife

♬ powerful - favsoundds
This video is one of the most-seen #morningroutines on TikTok, and has an eye-opening 14.3 million views. It's understandable—Audrey's New York bedroom view is beyond stunning. In this post, she shares that she had an early meeting and was "rewarded with the most spectacular sunrise." Her colorful breakfast features bread with coconut and ube jam, as well as a mug of matcha green tea, beside a chic candle. Classier than our kitchen table, that's for sure.
2. @sundyp
Dana is a student based in London, and she has built up a huge TikTok following primarily for her beautiful am videos set to calming music. This is one of her most popular posts, and it sees her preparing for her mom coming to visit one sunny November morning. She gets up at 9.20am, snuggles up in a cozy blue cardigan, applies The Ordinary skincare and switches her diffuser on, before enjoying cream on top of her homemade latte.
3. @kaelimaee
In this post, TikTok user Kaeli Mae uses productivity-boosting ASMR sounds as her soundtrack. We see her start by taking her multivitamin supplements, then using Drunk Elephant skincare, before proceeding to make her bed, note down some thoughts in The Five Minute Journal (also want to start your day right with writing? This is our journal for beginners guide), and making herself some pancakes topped with strawberries. Yummy!
4. @coastalflix
In this relaxing morning clip, we see Jess, who lives on Australia's Gold Coast, making her bed, before enjoying a bowl of porridge layered with fruit. She then puts on her gym kit for a workout, takes a shower, enjoys a pink-hued post-exercise smoothie in front of her laptop and does some journaling. Can we have some of that energy, please?
5. @mary.anna.jckv
This TikTok user, named Mary, gives us a very detailed insight into her morning routine. In this post, she gets up at 6 am, fills in her journal and then makes her bed—all within 15 minutes. This is swiftly followed by lemon water, working out on her Lululemon yoga mat, washing her hair using Olaplex shampoo (here's our take on the new Olaplex No.4 Purple Shampoo), eating a nourishing breakfast and getting dressed. All, incredibly, by 7:35am—you go girl!
6. @shaynateresetaylor
This video is a morning routine with a difference. Shayna Terese Taylor is a holistic chef, and she demonstrates in this post what she does to tackle waking up with "low energy." Her tips are simple but helpful—they include drinking water, washing your face, brushing your teeth, putting on clothes that "make you feel good," lighting incense, making a mug of matcha, reading a book for ten minutes and doing some stretching. Bliss.
7. @wellnesswithshreya
In this post, Shreya gives viewers an insight into what she considers a "productive" am before starting her 9-to-5. This includes making her bed (this easy hack is definitely a common theme), writing in her journal, reading some of the habit-building book Atomic Habits, using Tatcha cleansing oil on her face, before going for a walk in her gym kit to pick up a coffee. Finally, back at her apartment, she lights a candle before logging on to her laptop.
8. @sami_clarke
This post is one of the most inspiring of all—TikTok user Sami Clarke reveals the am routine that "changed my life." She explains how she wakes up "with gratitude," stretches while looking out of the window, and sets the "vibe" by lighting a candle and reading her affirmations. Next, it's hydrating, meditating and reading for ten minutes, journaling, having some coffee, exercising (this is the perfect workout schedule, BTW) and then eating breakfast. All in a successful morning's work...
Lauren is a freelance writer and editor with more than six years of digital and magazine experience. Most recently, she has been the Acting Commissioning Editor of Women's Health—where she co-produced the Going For Goal podcast—and has previously also written news and features for titles including The Telegraph, Grazia, Stylist, Dazed, The Sun's Fabulous, Yahoo Style UK and Get The Gloss. She covers all aspects of lifestyle, specializing in health, beauty, and travel. Can't live without: oat milk lattes, new podcast episodes, long walks, and great skincare.