Who is Bridgerton star Regé-Jean Page dating now?
Is Bridgerton's Regé-Jean Page dating anyone? It looks like the answer is yes...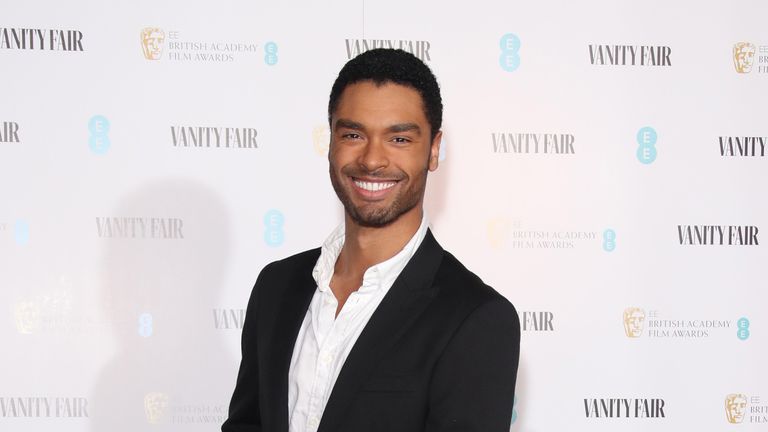 (Image credit: Photo by Mike Marsland/WireImage)
Who is Regé-Jean Page dating now? That has been the question on everyone's lips ever since we fell in love with the Duke of Hastings after binging Bridgerton, Netflix's addictive period drama. 
If like us, you've become completely obsessed with the Shonda Rhimes produced series, there's no doubt you've been frantically researching the Bridgerton cast with questions about their love lives and what they've been in before. 
Bridgerton was the escapism we all needed, packed full of gorgeous period costumes, romance, gossip, and the charming-yet-broody duke, played by Regé-Jean.
In the Regency-era drama, Regé-Jean plays the Simon Basset, who enters into an alliance with Daphne Bridgerton, played by Phoebe Dynevor.
While we now know that the actor will not be coming back for the second season of Bridgerton (we're still crying over here), here's what to know about the British-Zimbabwean actor who played the show's dreamy Duke... 
Is Bridgerton's Regé-Jean Page dating anyone? Or is he married?
Regé-Jean has been all kinds of tight-lipped about his personal life and has not spoken publicly at all about his current or past relationships. However, he does in fact have a girlfriend. *cue our hearts being shattered into a million little pieces* 
Despite his relationship status being a mystery ever since the world fell in love with him on Christmas day, it's been confirmed that that the actor is dating writer and footballer Emily Brown, and there are pictures to prove it. 
Much to the dismay of die-hard fans, who all fantasized about being his real-life Duchess, Regé-Jean was spotted looking very cute and cozy with Emily on a street close to the North London home they share, according to the Daily Mail. Yes, they apparently live together, which means things are serious! 
While we're selfishly sad to hear he isn't an eligible bachelor, we're happy for the couple. Emily, who plays for South-West London's FBB Warriors and supports non-league side Dulwich Hamlet, is pretty impressive so he's a lucky man. 
A few years back, rumors were sparked that the 31-year-old actor was dating actress Antonia Thomas in 2016 (who starred in the comedy-drama series Misfits) after the pair were spotted on the red carpet together. But again, neither ever confirmed they were anything more than friends.
Regé-Jean Page and Phoebe Dynevor: did these two ever date?
We love it when the actors playing a fictional couple end up together in real life, but sadly there's no evidence to suggest the duo were ever together. In fact, in a recent interview the pair did with Access Hollywood, Regé-Jean insinuated that the two were close but were only romantic on-screen—a fact that has now been confirmed, considering he has a girlfriend. 
"I think that everything you need to know is on camera. All the sparks that flew came off the beautiful scripts we were handed," he explained. "So I think that the sparky words, scripts, and material are more than enough."
Regé-Jean Page age: how old is the Bridgerton star?
Regé-Jean was born in 1990, which makes him 31-years-old this year. He was born in Zimbabwe and moved to London when he was 14. 
In a chat with Interview magazine, he opened up about his childhood. He said: "But throughout that period my family was rather spread out—I have family in South Africa, Australia, Sweden, Grenada, Florida—so you make pit stops and you grow your perspective."
In his teenage years, he used to play in a band—he was the lead singer of a rock band called The Super Nashwan Kids.
In incredible unearthed photos and videos from the mid-noughties, the actor can be seen playing on stage in London clubs wearing a black baseball cap, unbuttoned shirt with a plain white tee underneath, and black trousers.
Speaking about his music past, in an interview with Square Mile, Regé-Jean said: "What else are you going to do as a teenager? You're going to scream at people one way or another. You might as well do it in a productive way. Was my logic."
What has Regé-Jean Page said about those sex scenes?
The Duke's steamy scenes were just one of the many reasons (yes, multiple) so many of us loved the show. But how does he feel about them now? Well, turns out it was overwhelming for him but he's okay with taking one for the team, given it's made so many people 'terribly happy'...
During the latest installment of The Hollywood Reporter's Emmy Roundtable series, the Bridgerton star said: "No one was sufficiently prepared. I wasn't sufficiently prepared, and I was there. I think people were grateful for the intensity of the romantic aspects of Bridgerton; I'm not sure how grateful I was to watch it for myself. It was overwhelming. But I think people were looking to be overwhelmed.
"My family doesn't want to be overwhelmed by my backside, specifically, too often, but they'll take it on this occasion because everyone seems to be terribly happy."
Regé-Jean Page pronunciation: how do you pronounce his name?
According to Popbuzz, Regé-Jean's name is pronounced like 'Reggae', while Jean is pronounced the French way and Page is pronounced like the word 'page'.
Regé-Jean Page height: how tall is Regé-Jean Page?
If you're wondering about Regé-Jean Page's height, we can tell you he's around 5ft 11 inches tall, according to Popbuzz. 
What else has Regé-Jean Page been in?
The acting was just a creative hobby for Regé-Jean until he discovered the British National Youth Theatre whilst at university, where he was studying sound engineering. According to an interview he did with Interview back in 2016, the star—who is the second youngest of four siblings—was also in a band with his brother. "We were writing loud, angry, righteous guitar music and screaming at people with various colors in our hair," he told the magazine. 
After working in theatre at the start of his career, Regé-Jean turned to TV and starred in Waterloo Road in 2015—a show which also marked the beginning of Phoebe Dynevor's acting career. You might also recognize him from other British TV shows, including Casualty and Fresh Meat. 
In 2016, Regé-Jean went over to the US to star in Roots (a remake of the 1977 miniseries with the same name), before being cast in Shonda Rhimes' legal drama For The People.
He's also appeared in the film Mortal Engines and stars with Tessa Thompson in Sylvie's Love.
Eagle-eyed fans have also spotted Regé-Jean Page in Harry Potter and the Deathly Hallows - Part 1, although he's not credited on IMDb for his appearance. He can be seen next to Hermione when Shacklebolt's Patronus arrives to warn the guests of Bill and Fleur's wedding.
The actor made his Saturday Night Live debut in February 2021, when he hosted the popular show and proved that not only is he a great actor in Bridgerton but he's a bit of a comedian too. Could we be seeing him in any upcoming rom coms? There are also rumours he could be the next James Bond... Our fingers are definitely crossed. 
Lizzie is a freelance lifestyle and culture journalist who writes for titles such as Metro.co.uk, Evening Standard, Refinery29, Woman & Home, Ideal Home and Spectator Life. You'll find her looking up new restaurants and bars on Instagram or scrolling through cute dog videos. She also loves travelling, running, cooking and cross-stitching.