Who is Bridgerton star Regé-Jean Page dating now?
Is Bridgerton's Regé-Jean Page dating anyone? He is, and it's serious!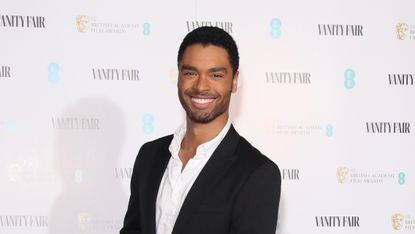 (Image credit: Photo by Mike Marsland/WireImage)
Who is Regé-Jean Page dating now? That is the question on everyone's lips since he swept us off our feet as Bridgerton's beloved Duke of Hastings.
If like us, you've set your calendar and cleared your schedule for March 25th when Bridgerton season 2 finally drops on Netflix, then there's no doubt that you've also been researching the Bridgerton cast and their love lives.
While we now know that the actor will not be coming back for the second season of Bridgerton (which we're not terribly thrilled about), here's what you need to know about the British-Zimbabwean actor and his relationship status. You might want to keep the tissues on hand now if you thought you were going to be the new duchess.
---
---
Who is Regé-Jean Page dating? Is Regé-Jean Page married? What gives?
Regé-Jean Page keeps his private life out of the spotlight, but we have in fact uncovered the truth: he is in a relationship. No, we're not crying...that much.
Sources confirmed in early 2021 that said Regé-Jean Page girlfriend is writer and footballer Emily Brown. Brown plays for South-West London's FBB Warriors and supports non-league side Dulwich Hamlet. Yes, my dears, there are pictures to prove it. We apologize for breaking the news.
Much to the dismay of die-hard fans, Regé-Jean has been spotted looking very cute and cozy with Emily on a street close to the North London home they share, according to the Daily Mail. Yes, they apparently live together, which means things are serious!
In September 2021, fans got a public glimpse of the private couple as they attended the 2021 British GQ Men of Year Awards together, arriving to the event hand-in-hand. Our dreamy duke delighted onlookers in an emerald-hued blazer while Emily wore a sleek black pants suit. According to sources, this is the first time the two have appeared together publicly. They look like quite the couple if you ask us!
Several years ago, before the world learned that the 31-year-old actor was attached to Emily, he sparked dating rumors with Antonia Thomas in 2016. He and the Misfits star were spotted on the red carpet together, but neither party confirmed whether or not they were an item.
Regé-Jean Page and Phoebe Dynevor: did these two ever date?
We love it when the actors playing a fictional couple end up together in real life, but sadly that's not the case here. In fact, in a recent interview with Access Hollywood, Regé-Jean insinuated that he and Phoebe were close but were only romantic on-screen. (Oh, they certainly were!)
"I think that everything you need to know is on camera. All the sparks that flew came off the beautiful scripts we were handed," he explained. "So I think that the sparky words, scripts and material are more than enough."
What has Regé-Jean Page said about those sex scenes?
While the show features plenty of shagging, much to viewers' delight, it was a bit awkward for the duke, and understandably so. Fortunately, he's taken a mature approach to having his bum being a hot topic of conversation.
In an installment of The Hollywood Reporter's Emmy Roundtable series, the Bridgerton star said: "No one was sufficiently prepared. I wasn't sufficiently prepared, and I was there. I think people were grateful for the intensity of the romantic aspects of Bridgerton; I'm not sure how grateful I was to watch it for myself. It was overwhelming. But I think people were looking to be overwhelmed."
He continued: "My family doesn't want to be overwhelmed by my backside, specifically, too often, but they'll take it on this occasion because everyone seems to be terribly happy."
Regé-Jean Page age: how old is the Bridgerton star?
Regé-Jean was born in 1990 in Zimbabwe and moved to London when he was 14.
In a chat with Interview magazine, he opened up about his childhood. He said, "But throughout that period my family was rather spread out—I have family in South Africa, Australia, Sweden, Grenada, Florida—so you make pit stops and you grow your perspective."
Regé-Jean Page pronunciation: how do you pronounce his name?
According to Popbuzz, Regé-Jean's name is pronounced like "Reggae," while Jean is pronounced the French way and Page is pronounced like the word "page."
Regé-Jean Page height: how tall is he?
If you're wondering about Regé-Jean Page's height, we can tell you he's around 5ft 11 inches tall, according to Popbuzz.
What else has Regé-Jean Page been in?
The acting was just a creative hobby for Regé-Jean until he discovered the British National Youth Theatre whilst at university, where he was studying sound engineering. After working in theatre at the start of his career, Regé-Jean turned to TV and starred in Waterloo Road in 2015—a show which also marked the beginning of Phoebe Dynevor's acting career. You might also recognize him from other British TV shows, including Casualty and Fresh Meat.
In 2016, Regé-Jean went over to the US to star in Roots (a remake of the 1977 miniseries with the same name), before being cast in Shonda Rhimes' legal drama For The People. He's also appeared in the film Mortal Engines and stars with Tessa Thompson in Sylvie's Love.
Eagle-eyed fans have also spotted Regé-Jean Page in Harry Potter and the Deathly Hallows - Part 1, although he's not credited on IMDb for his appearance. He can be seen next to Hermione when Shacklebolt's Patronus arrives to warn the guests of Bill and Fleur's wedding.
The actor made his Saturday Night Live debut in February 2021, when he hosted the popular show and proved that not only is he a great actor in Bridgerton but he's a bit of a comedian and singer, too. Could we be seeing him in any upcoming rom coms? Maybe he'll take on some musical roles, too? There are also rumors he could be the next James Bond... Our fingers are definitely crossed.
Lizzie is a freelance lifestyle and culture journalist who writes for titles such as Metro.co.uk, Evening Standard, Refinery29, Woman & Home, Ideal Home and Spectator Life. You'll find her looking up new restaurants and bars on Instagram or scrolling through cute dog videos. She also loves travelling, running, cooking and cross-stitching.