Bridgerton cast: everything you need to know about the stars of Bridgerton
The Netflix Bridgerton cast explained, from the hit new period drama gracing our screens this Christmas.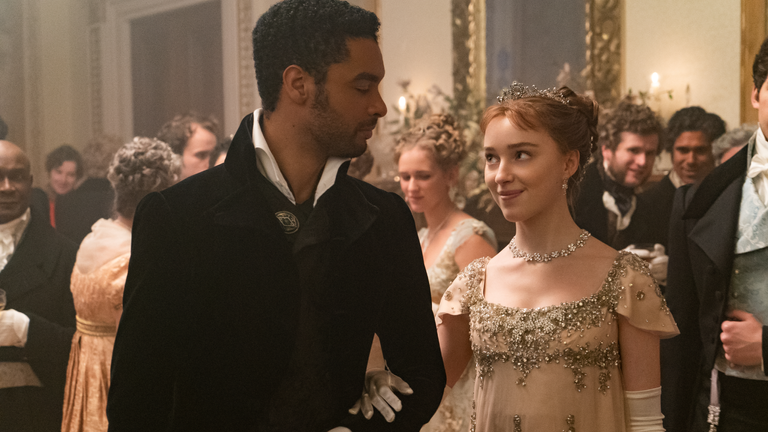 (Image credit: Netflix)
The Bridgerton cast contains a mixture of fresh faces and more well-known stars.
Netflix's adaptation of Julia Quinn's eight part book series is a exhilarating, visually-stunning watch, and it's hard not to get hooked on the 'will they, won't they?' romance between protagonist Daphne and the obstinate Duke of Hastings, plus a whole host of other amusing characters including meddling Queen Charlotte, and the secretive Lady Whistledown.
If you've been glued to your screens watching the highly-addictive show, here's everything you need to know about the casting behind it. It's time to meet the actors donning those 19th-century Regency-style costumes.
Who plays the Queen on Bridgerton series?
Golda Rosheuvel plays Queen Charlotte in the Bridgerton series, a highly-influential and hilarious character recognisable from her towering, powdered wigs.
Rosheuvel, 49, is known for roles in Lady Macbeth (2016) and Silent Witness (2008-2019).
Was Queen Charlotte Black or white?
There is a theory that Queen Charlotte was Black. Netflix's decision to cast Roshevel, an actress of Guyanan descent - as well as other Black actors - was 'very much a conscious choice, not a blind choice', Julia Quinn, the author of the Bridgerton book series which the series is based on, told The Times.
According to historian Mario de Valdes y Cocom, the German queen, who married into the royal family after wedding King George III in 1761, was descended from a bi-racial branch of the Portuguese royal family. According to the theory, this is traced back to 13th-century ruler Alfonso III, who had a mistress, Madragana, who was a Moor from north Africa.
Quinn has noted 'many historians' argue Queen Charlotte, born Charlotte of Mecklenburg-Strelitz, had 'some African background'.
Who plays Daphne Bridgerton?
Daphne Bridgerton is played by Phoebe Dynevor. The 25-year-old actress stars as the young, angel-faced protagonist – declared the 'diamond' of the season by the approving Queen Charlotte – who captures the attention of many-a-suitor.
While still a rising star, Dynevor has previously starred in comedy-drama Snatch (2017-2018) and Dickensian (2015-2016).
Who plays the Duke of Hastings?
Simon Bassett, the Duke of Hastings, is played by Regé-Jean Page. Page, 30, a British-Zimbabwean actor, plays the handsome love interest of Daphne. Is his face familiar? Previous acting roles include television mini-series Roots (2016) and sci-fi flick Mortal Engines (2018).
Who plays Penelope Featherington?
Penelope Featherington, a fellow debutante of Daphne's, is played by Nicola Coughlan – already known to many as the 33-year-old actress behind Clare Devlin on the hit Channel 4 series, Derry Girls.
Who plays Anthony Bridgerton?
Jonathan Bailey plays Anthony Bridgerton, the protective older brother of Daphne. The British actor, 32, has starred in 2016 Channel 4 drama, Crashing, and ITV crime drama Broadchurch (2013-2017).
Who is the actress who plays Siena Rosso in Bridgerton?
The actress giving life to Siena, the Ton's opera singer and Anthony's mistress, is none other than English actress Sabrina Bartlett. Previously she's featured in Da Vinci's Demons, Knightfall and Game of Thrones.
Who plays Eloise Bridgerton?
Eloise is the second eldest daughter in the Bridgerton family. Unlike her sister Daphne, she has no interest in marriage or the idea of being someone's "wife" and instead has a passion for writing. She's played by British actress Claudia Jessie, who is known for TV roles as Annie Taylor in the third BBC One series of WPC 56 and Amelia Sedley in the ITV series Vanity Fair.
Who plays Benedict Bridgerton?
The second eldest of the eight Bridgerton siblings, Benedict isn't a particular focus in the first season. However, something tells us we'll be seeing a lot more of him in upcoming seasons after witnessing him be introduced to sexual liberation and potentially exploring his own sexuality. He is played by actor Luke Thompson, who starred in Dunkirk.
Who plays Lady Danbury?
Lady Danbury was a dear friend of the Duke of Hastings' mother, Sarah. When she died shortly after giving birth to her son and her husband, the former Duke of Hastings rejected his son for being an "imbecile" as he struggled with speech, Lady Danbury raised him as her own. She is played by British actress Adjoa Andoh.