Will there be a 'Russian Doll' season 3?
Sweet birthday baby! Season two has dropped, but we're already curious about 'Russian Doll' season 3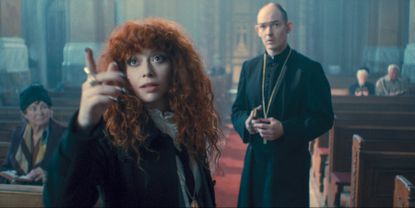 (Image credit: Netflix)
If you've already binged every episode of Russian Doll's second season, you are likely already wondering how the show could possibly top those twists and turns with a third season.
Russian Doll season 2 premiered on Netflix on Wednesday, April 20, bringing with it new cast members (Annie Murphy!), new tunes (add the Russian Doll soundtrack to your Spotify ASAP) and the return of series star, writer, director and co-creator Natasha Lyonne.
And while we have the answer to the question "how many episodes of Russian Doll are there?' we don't yet know "how many episodes of Russian Doll will there be?" Will we get a season three—and will that be the final season of the series? Here's what we know so far.
*Warning: spoilers ahead!*
Will there be a 'Russian Doll' season 3?
Though the show has not officially been picked up by Netflix for season three, Natasha Lyonne has previously mentioned a prospective third season. Initially, she pitched Russian Doll as a three-season series, according to an interview with The Hollywood Reporter.
"I see it quite concretely, and it will be interesting to see what evolves. The beauty of the power of the writers' room is that Alan (Charlie Barnett) was a very different character in the original pitch and pilot. Month two of the room is where he really came alive. Before then, he had been a whole variety of other figures and now, looking back, imagining that show without Alan is almost impossible."
Lyonne continued: "Because of that experience, I know there has to be space left open for something beyond my limited imagination in this moment to know if that is still where the series begins, middles and ends. Maybe it's only two seasons. Maybe it's four seasons. Right now, it feels quite clearly that it is those three."
What will 'Russian Doll' season 3 be about?
In an interview with Variety, Lyonne touched on the notion that season one of the show is about the present and season two about the past. Does that mean that season three sees Lyonne's Nadia Vulvokov bopping around the future?
"The show is always going to be a philosophical, psychedelic meditation on the nature of time, mortality and so on. Yes, one of the jumping off points of Season 2 is this Italian physicist Carlo Rovelli and this idea about the arrow of time and asking the question, why can I remember the past, but I can't remember the future?" Lyonne told the outlet.
"That opens up some big questions. And who knows? Who knows if they'll ever let me do this again?"
"It feels like there's an idea cooking for season 3," Lyonne says in the interview, but also doesn't write off a third season as the be-all, end-all final one for the series.
"It would be really fun if it was one of those shows where, five years later, it's like, 'No, wait a second! I think we've got another idea for a few episodes.' I would love to see that for Russian Doll. 'Oh, wait, I think we've got an idea of our original movie now. It's been 20 years later.' I don't think I'll ever be done with this show. It depends a lot about appetite and reception."
Fingers crossed!
Who will be in the 'Russian Doll' season 3 cast?
It's safe to say that series star Natasha Lyonne would return for a season three. Also, regulars including Charlie Barnett, who plays fellow time traveler Alan, and Greta Lee and Rebecca Henderson—who play Nadia's close friends Maxine and Lizzy, respectively—will likely feature in a third edition of the show.
One character that we're less than sure we'll see again is Ruth Brenner, Nadia's close family friend and surrogate mother, played by Tony Award winner Elizabeth Ashley in the present day and Emmy winner Annie Murphy in the 1980s. The final episode of season two featured Nadia at Ruth's funeral, but Russian Doll has been known to play with flashbacks, so there is a small possibility Ruth could make an appearance from beyond the grave.
Is there a 'Russian Doll' season 3 release date yet?
Nope. Since there hasn't been an official pick-up just yet from Netflix, we don't yet have a release date for a potential Russian Doll season 3.
While we wait for the news, you can catch up on Russian Doll seasons 1 and 2, now streaming on Netflix.
Christina Izzo is the Deputy Editor of My Imperfect Life.
More generally, she is a writer-editor covering food and drink, travel, lifestyle and culture in New York City. She was previously the Features Editor at Rachael Ray In Season and Reveal, as well as the Food & Drink Editor and chief restaurant critic at Time Out New York.
When she's not doing all that, she can probably be found eating cheese somewhere.