Bridgerton music unveiled - we break down the soundtrack to the popular Netflix Regency drama
Bridgerton music revealed - if you've been dying to create your own Bridgerton playlist, you can now...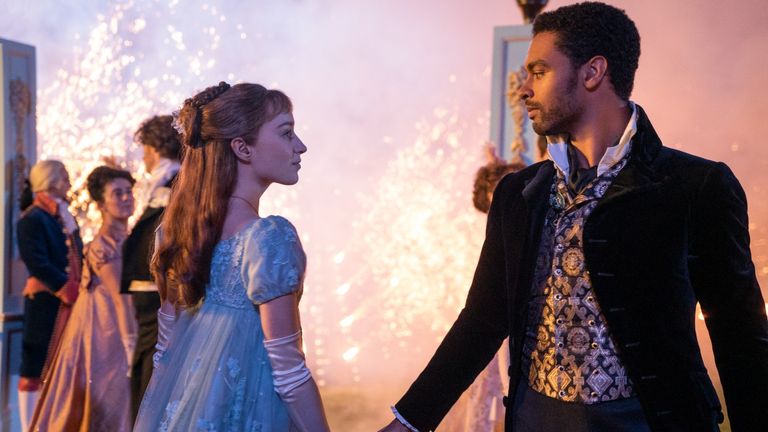 (Image credit: LIAM DANIEL/NETFLIX © 2020)
Bridgerton music sound familiar?  If you're wondering which songs are featured throughout the popular Netflix drama and can't wait for the official soundtrack to drop then fear not, for the music has been revealed.
The lavish Regency parties throughout the show feature a variety of entertainment - from orchestras, pianofortes to open-valve trumpets. We also see Daphne (played by Phoebe Dynevor) and Simon's (played by Regé-Jean Page) romance blossom to these tunes. But when it comes to mixing a period drama with popular music - Bridgerton has it covered.
Forget historically-correct Haydn and Mozart minutes and trios, for the music that sounds familiar to our ears is the pop songs remastered into orchestral arrangements.
What pop songs appear in Bridgerton?
Whether you are a fan of Ariana Grande, Shawn Mendes or Taylor Swift, you're sure to be pleased with the outcome. With a nod to its own wonderfully contorted aesthetic, the series in large part eschews classical works. Instead, it subs in orchestral arrangements of these artists and more, all in the appropriate classical style.
Giving viewers an irresistible blend of ancient and modern, here are some of the pop songs you might have heard in the series, arranged for string quartet...
All the cover songs featured in Bridgerton
Girls Like You – Maroon 5
Thank U, Next – Ariana Grande
Written in My Blood – Shawn Mendes
Bad Guy – Billie Eilish
Wildest Dreams – Taylor Swift
Strange - Celeste (feat. Hillary Smith) and Kris Bowers
Who composed the music in Netflix's Bridgerton?
Kris Bowers, American pianist and composer, penned the score to the series and made these arrangements. If his name sounds familiar, that's because he's previously provided soundtracks to films and video games including Green Book, Dear White People and Madden NFL.
Classical music featured in Bridgerton by episode
Episode 4 - Lady Lady Trowbridge's guests at her steamy soirée dance to the Waltz from Shostakovich's Jazz Suite No. 2. Followed by the 'Barcarolle' from Offenbach's 1881 opera The Tales of Hoffmann.
Episode 5 - The queen's rage-filled reading scene is accompanied by Beethoven Symphony No. 5 and later one of his 'Razumovsky' string quartets is played at the wedding party.
Episode 7 - The scene opens with Daphne playing the German composer's fiery Piano Sonata in C, 'Waldstein'.
At the final rain-drenched ball you can hear an adaptation of the Gigue from Bach's Cello Suite No. 6. The music is taken from the 2018 album Recomposed by Peter Gregson: Bach – The Cello Suites and if you're a fan of that music then the entire album is worth a stream.
The last episode of Bridgerton features music from Recomposed by Max Richter: Vivaldi – The Four Seasons, interpretations on Vivaldi's famous concertos.
So there you have it, stream to your heart's content or set up that Bridgerton playlist to get you through the start of 2021.