Shows like Bling Empire: what to watch if you love the Netflix hit
In search of binge-worthy shows like Bling Empire? Look no further!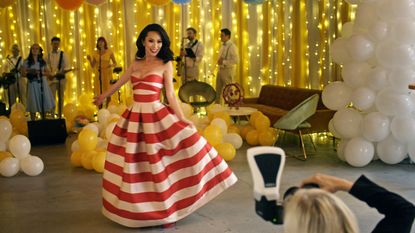 (Image credit: Netflix )
We've been dying for more shows like Bling Empire ever since we finished the first season of the binge-worthy series.
Something fun, entertaining, and easy to watch is exactly what we need right now and while we may have finished all eight episodes of the Crazy Rich Asians-esque reality show the day it landed on Netflix, you'll be pleased to hear that the streaming giant actually has a lot more of where it came from.

In case you've been on a TV hiatus for the past few months or just been living under a rock, Bling Empire has become one of the best reality binge-watches of 2021, gaining a giant fan base around the world.
The show is all about a group of super-wealthy Asian-Americans who live a lavish life of luxury with all the drama. From tracking down birth fathers and tackling emotionally abusive relationships, to arguing over who the wealthiest jeweler in Paris is, if there's one thing Bling Empire has, it's range.
The adventures of the cast—including some of our favorites Anna Shay, Kevin Kreider, and Kim Lee—have fascinated us, and now we really want to know what happens next. But as we patiently wait for news of a potential Bling Empire season 2, there are a few similar shows to get stuck into if you haven't already.
We recommend these shows like Bling Empire for your dose of luxury drama and the reality TV messiness we just can't seem to get enough of these days!
Shows like Bling Empire: 5 series to watch next
1. Selling Sunset
Selling Sunset became our lockdown savior last year when Netflix kindly dropped seasons two and three within months of each other after the show received a warm reception by viewers.

The gang at the Oppenheim Group, including our favorite Queen Christine Quinn, will keep you entertained as they show off the glamourous and often pressurizing sides of life as real estate agents in sunny LA.

Prepare to drool over million-dollar mansions and sit at the edge of your seat at the daily work politics and drama among the team as they share a life of work and play—all while we wait to find out when Selling Sunset will return to our screens.
From Bling Empire to Gossip Girl: there's actually an evolutionary reason we can't resist TV shows about gossip
2. Singapore Social
Just like Bling Empire, Singapore Social is another reality TV show on Netflix that has been dubbed the real-life version of Crazy Rich Asians.

As the title suggests, the show is set in Singapore (just like the blockbuster movie that inspired it) and it follows the lives of a group of young, wealthy Asians as they navigate friendships, romance, careers, and family expectations—all, of course, in a glamorous manner.
3. Real Housewives of Beverly Hills
We all know that the Real Housewives franchise dominates the reality TV space. After all, who can get enough of rich women who live for petty drama, shiny diamonds, and meddling in each other's marriages and family lives? We're obsessed!

While there are plenty of versions of the popular Bravo franchise, including Real Housewives of Orange County, Atlanta, Potomac, and New York City, to name just a few, the Beverly Hills seasons are most like Bling Empire. Not only is it set in the same place as the Netflix show, but Anna Shay definitely gives us Lisa Vanderpump vibes. Who knows, they might even be neighbors!
4. Terrace House
Yet another Netflix gem, Terrace House is a Japanese reality TV show that sees six young men and women who don't know each other move into a house together as cameras follow their every move. It's just like Big Brother, but much smaller and set in the Setagaya ward of Tokyo.

Terrace House hit Netflix in May 2019 and was a huge topic on social media at the time—and as with other shows like Bling Empire, the drama was enticing!
5. Love Is Blind
If you enjoyed the romantic storylines of Netflix's blingiest series (even though it meant witnessing the toxicity between Bling Empire's Kelly and Andrew) then Love Is Blind should be one of your go-to shows like Bling Empire.

The Netflix show is a bit of a social experiment as it follows thirty men and women hoping to find love. For ten days in a speed-dating format, the men and women date each other in separated "pods" where they can talk to each other but can't see each other.

The men must then propose to the partner they feel the strongest connection with before the two get to actually see each other in person and all the brand-new couples are whisked away on a lovely honeymoon-esque holiday to get to know each other.
Sagal is a journalist, specialising in lifestyle, pop culture, fashion and beauty. She has written for a number of publications including Vogue, Glamour, Stylist, Evening Standard, Bustle, You Magazine, Dazed and Wonderland to name a few.