Shows like 'Bling Empire' and 'Bling Empire: New York' to keep you hooked to the TV
Need some glitz and glam? Our go-to shows like Bling Empire will definitely do the trick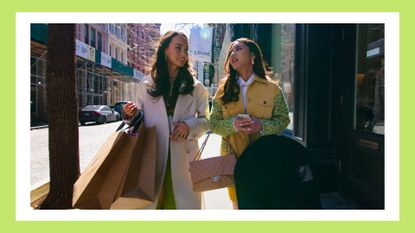 (Image credit: Netflix © 2023)
In search of shows like Bling Empire? We're here to help plan your next TV marathon.
The debut series introduced us to an ultra-wealthy group of Asian Americans in Beverly Hills—Anna Shay, Kevin Kreider and Kim Lee, to name a few. After three hit seasons, a spinoff premiered across the country in 2023.
The Bling Empire New York cast has kept reality TV fans buzzing with plenty to dissect: Dorothy Wang's relationship status, Tina Leung's extraordinary fashion moments or Vika's elusive behavior. (If you wanted an update on whether or not Vika and Richard are still together, we've got you there, too.)
Like any good reality TV franchise, the series has given us a sneak peek inside one group's lavish, dramatic and intense lifestyle. Needless to say, we'll take more of it. Once you're all caught up with the bling, we'll tell you what to watch next.
Shows like 'Bling Empire' to add to your watch list
Does your screen time next an extra helping of glam? How about some awkward interactions and over-the-top behavior? Look no further.
1. 'Selling Sunset'
The gang at the Oppenheim Group, including our favorite Queen Christine Quinn, will keep you entertained as they show off the glamorous and often pressurizing sides of life as real estate agents in sunny LA.

Prepare to drool over million-dollar mansions and sit at the edge of your seat at the daily work politics and drama among the team as they share a life of work and play. Let's not forget about its spinoff, Selling the OC: season 2 is on its way!
2. 'Singapore Social'
Just like Bling Empire, Singapore Social is another reality TV show on Netflix that has been dubbed the real-life version of Crazy Rich Asians.
As the title suggests, the show is set in Singapore (just like the blockbuster movie that inspired it) and it follows the lives of a group of young, wealthy Asians as they navigate friendships, romance, careers and family expectations—all, of course, in a glamorous manner.
3. 'The Real Housewives'
We all know that the Real Housewives franchise dominates the reality TV space. After all, who can get enough of rich women who live for petty drama, shiny diamonds, and meddling in each other's lives?
While there are plenty of versions of the popular Bravo hit, including the Real Housewives of Orange County, Atlanta, Potomac, and New York City, to name just a few, the Beverly Hills seasons are most like the OG Bling Empire. Not only is it set in the same location, but Anna Shay definitely gives us Lisa Vanderpump vibes. Who knows, they might even be friends!
Don't forget about the upcoming Real Housewives Ultimate Girls Trip' season 4, which is likely to be a disaster of epic proportions.
4. 'Terrace House'
Yet another Netflix gem, Terrace House is a Japanese reality TV show that sees six young men and women who don't know each other move into a house together as cameras follow their every move. It's just like Big Brother, but much smaller and set in the Setagaya ward of Tokyo.
5. 'Rich Kids of Beverly Hills'
Recognize any Bling Empire stars here? (*Cough* Dorothy Wang). E!'s over-the-top docu-series followed a wealthy groups of young people in 90210 navigating life, love and plenty of glam along the way.
6. 'The Come Up'
Where to watch: ABC, Hulu
Though perhaps not as heavy on the "bling," Freeform's ethnically and sexually diverse docu-series follows young 20-something—models, artists, photographers and so on—who are trying to make a creative life for themselves in New York City.
7. 'Dubai Bling'
Consider the Dubai Bling cast to be Bling Empire's overseas counterparts. According to Netflix, the new series follows a group "for whom bling is the everyday - and who can fall out over carats as much as diamonds." No need to tell us twice.
Sagal is a journalist, specialising in lifestyle, pop culture, fashion and beauty. She has written for a number of publications including Vogue, Glamour, Stylist, Evening Standard, Bustle, You Magazine, Dazed and Wonderland to name a few.