Selena-inspired costume ideas for Halloween that'll make you stand out
Looking for a Selena costume for Halloween? We've got you covered...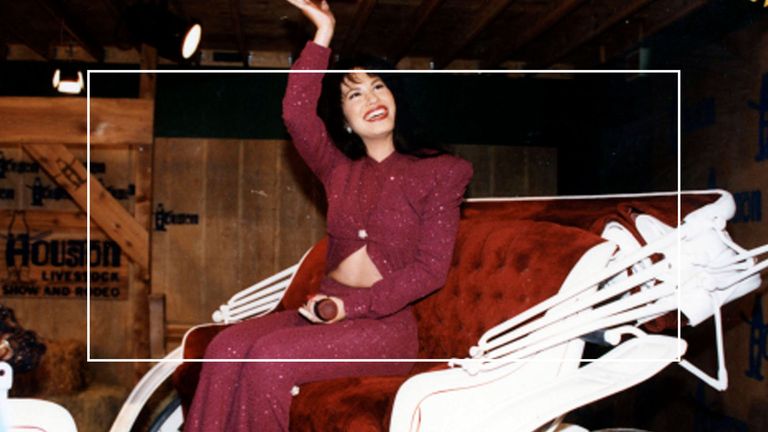 (Image credit: Arlene Richie/Getty Images)
Are you thinking about a Selena costume for Halloween this year? Of course you are. Like us, you'd probably jump at the chance to dress like the late Tejano superstar and as always, Halloween gives us the perfect excuse.
From her chic '90s outfits to Selena's famous make-up routine, Miss Quintanilla was not only breathtakingly beautiful but her unique style mesmerized the world in more ways than one. Her signature red lips and curly locks have inspired countless red carpet moments since she passed away in 1995 and for years, fans have been paying tribute to her by recreating some of her most famous looks for Halloween.
---
---
Now that spooky season is upon us once again, it's time to create your mood board for our 2021 costume. Naturally, we'll be channeling Selena this year and after binge-watching Selena: The Series on Netflix for the first half of 2021, we've got more outfit inspiration than ever.
The iconic purple jumpsuit may be the first to spring to mind when anyone is on the hunt for a Selena costume but it's only one of many looks to choose from. Here are some of our favorite and equally memorable looks by Selena and where to shop them, making sure you stand out this Halloween—you can thank us later!
Selena Halloween costumes
THE BEDAZZLED BRALETTE
One thing about Selena that never went unnoticed was her ability to rock a statement bralette. She had a glamorous silver sequin-covered one in particular that we're obsessed with and makes for the perfect Halloween costume. Selena wore it with black high-waisted trousers and a chic baker boy hat that can be easily replicated. In fact, we've found some uncanny pieces on Amazon that will have you looking just like the Latin queen herself.
THE ALBUM COVER
Selena looked incredible on all of her album covers, there's no denying that. But her fourth studio album, Amor Prohibido, not only gave us timeless hits like the title track (which became the most successful US Latin song in 1994) and the infectious "Bidi Bidi Bom Bom", but it brought us one of the most famous pictures of Selena too. The album cover sees the star wearing a chic 80s style ruffled white shirt with a leather jacket over it, complimented by her signature bangs, red lip and gold hoop earrings. It's iconic yet super easy to imitate with these items...
THE GRAMMY LOOK
Selena's 1994 Grammy's look was one her most iconic of all times, where she wore a stunning Lillie Rubin halter gown. It was also one of the most important nights of her career, as she won the Best Mexican/American Album award. The look has gone down in history ever since and was even recreated by Jennifer Lopez in Selena's 1997 biopic.
While we don't expect you to fork out a fortune for your own custom-made gown this Halloween, we have found a pretty good dupe that's far less damaging to your bank account.
THE SPARKLY POWER SUIT
The oversized suit is a trend that is still going strong today and in Selena's day, she was the queen of the powerful look. While she had several suits in her wardrobe, the one that quite literally outshone the rest was a black glittery co-ord that she wore for her performance at the opening of Hard Rock Cafe in San Antonio, Texas in January 1995, mere months before her death.
THE PUPRLE JUMPSUIT
The purple jumpsuit is the look most synonymous with Selena and one you're guaranteed to see at any Halloween party. If you want people to know exactly who you've dressed up as, then this is the option for you. As the jumpsuit is so popular this time of year, you'll find it as a staple in many costume shops but we've also found a pretty good dupe on Amazon, and it's purse-friendly too!
Sagal is a journalist, specialising in lifestyle, pop culture, fashion and beauty. She has written for a number of publications including Vogue, Glamour, Stylist, Evening Standard, Bustle, You Magazine, Dazed and Wonderland to name a few.