Selena Quintanilla outfits: the best 90s inspiration from the style icon
The Selena Quintanilla outfits we still can't get enough of till this day...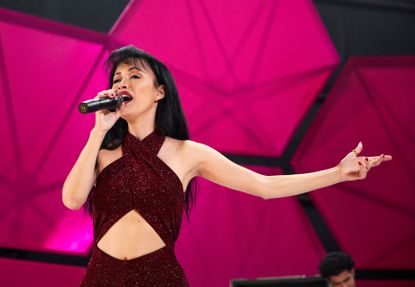 (Image credit: Netflix)
We've been drooling at all of the iconic Selena Quintanilla outfits ever since we started watching Selena: The Series on Netflix. The show is based on the life of the late Latin music legend, revisiting her journey to stardom from childhood to womanhood whilst nostalgically taking us through her greatest career highs, including her everlasting mark on fashion and beauty.
At a young age, Selena, who was born to Mexican parents in Texas in 1971, began performing with her brother Abraham and sister Suzette, with who she eventually formed a family band under the name, Selena Y Los Dinos. Her father Abraham Quintanilla, who was a former musician taught her how to sing traditional Spanish hits. By the late 80s, she had catapulted into a global superstar with chart-topping songs of her own as well as establishing herself as a beauty icon with a signature makeup routine, go-to perfume, and of course, a sense of '90s style that would inspire generations to come before her tragic murder in 1995.
As we watch part two of Selena: The Series, we've been reminded of all of the outfits we still can't get enough of, including that famous purple jumpsuit. Let's take a look at our favorite style moments for Selena...
1. The iconic jumpsuit
Possibly the most iconic look from Selena, this dazzling purple jumpsuit has become synonymous with the late singer and her fiery on-stage presence. There's a reason why people always opt for this instantly recognizable outfit when dressing as Selena.
2. The jeans and button-down combo
Selena knew exactly how to rock a good pair of jeans and a button-down shirt. The look, which is often deemed casual, was made into a glamorous on-stage look as she wore it to perform passionately for fans at one of her shows. The belt was also an excellent touch.
3. The mesmerizing metallics
Selena wore a jaw-dropping embellished Lillie Rubin halter gown to the 1994 Grammy Awards. One of her most iconic looks to date, it was recreated by Jennifer Lopez in her 1997 biopic. The moment is also remembered as the night Selena won the Best Mexican/American Album award
4. The power suit
Who doesn't love a fabulous oversized power suit? It won't be surprised to see that Selena wore the chic '90s trend, that's very much still 'in' today, with a glittery touch, making it her own. Not everyone can rock a sparkly suit but she sure could!
5. The bedazzled bralette
Selena was the queen of vibrant, sequin-covered bralettes. A top pick for most of her performances, she always looked incredible in them.
6. The sporty co-ord
Despite being taken in 1994, this picture of Selena could easily be mistaken for a modern-day snap as she's wearing the ultimate Instagram outfit: a casual sports co-ord with an equally Instagram-esque pose. If this doesn't prove how timeless Selena's style was, we don't know what will.
7. The varsity bomber
Was it even the '90s if you didn't have an oversized varsity bomber in your wardrobe? Like everything she wore, Selena made hers look amazing as she performed for fans at the Houston Astrodome in 1994.
8. The ruffled leather jacket
On the cover of her hit record, "Amor Prohibido", Selena wore the ruffled lace leather jacket of dreams, epitomizing the style of her era. Like the purple jumpsuit, it is yet another iconic look that has become renowned thanks to the singer.
9. The choker
Selena looked breathtaking in this cute summer dress but it is the accessories that really steal the show. The singer's choker, in particular, paired with her giant hoops and the sleek, scraped-back bun is a look.
10. The velour set
If you thought Kim Kardashian and Paris Hilton were the queens of the velour set, think again. Selena rocked the trend way before their time and as you can see, she makes it look incredible. Brb, we're off to order a set of our own...
Sagal is a journalist, specialising in lifestyle, pop culture, fashion and beauty. She has written for a number of publications including Vogue, Glamour, Stylist, Evening Standard, Bustle, You Magazine, Dazed and Wonderland to name a few.