Selena Quintanilla's makeup routine is still as iconic as ever
These are all the best products from Selena Quintanilla's makeup routine...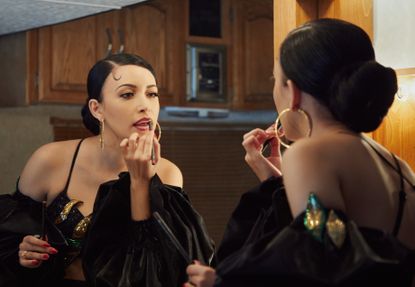 (Image credit: Netflix )
Selena Quintanilla's makeup routine is just as trendy now as it was in the early '90s. Like in music and fashion, the late icon made an imprint in the world of beauty that has continued to inspire generations even 26 years after her tragic death.
Just as beautiful on the inside as she was on the outside, Selena—who was a Mexican-American from Texas—was the first major Latinx celebrity in America. And, despite her life being cut short prematurely, she became an inspiration to many for both her music and her persona. Unlike many of her peers in the '90s, Selena was known for embracing her natural beauty at a time where skinny was 'in' and full lips and curves weren't the sought-after look they are today.
A current reminder of her legacy is Netflix's Selena: The Series, a drama based on her life and road to global stardom from childhood to her early twenties when she passed away. The show not only highlights the best Selena Quintanilla songs, and incredible talent but portrays her as the 90s style icon she was, showing off some of her most famous looks both on and off stage. Another thing we're reminded of is Selena's makeup routine—instantly recognizable, timeless glam that has been replicated for decades. So, what exactly did it consist of?
Inspired by the breathtaking beauty looks in the newly released part two of Selena: The Series, we've broken down all the products the iconic Latin singer used in her daily makeup routine, including her favorite lipstick.
What makeup products did Selena Quintanilla use?
As well as Selena Quintanilla's favorite perfume, she had a selection of makeup products that she gravitated towards, including some affordable drug store offerings. For example, one of her favorite mascara's was Maybelline's Great Lash Mascara, according to an Instagram fan account. The mascara is still in stock today and priced at just $6.99.
When she wasn't sporting her long acrylics, Selena opted for purse-friendly nail polishes including L'Oreal's Sangria, a shade that has since been discontinued but was reminiscent of the wine-colored nail polish Jennifer Lopez wore when she played Selena in the singer's 1997 biopic.
"She didn't care if it was Chanel or Maybelline. It didn't matter to her," Selena's sister, Suzette Quintanilla told E! News. "If she liked it, that's what she would wear."
Similarly, speaking to Hola! USA last year, Suzette explained that Selena liked to do her own makeup. "Whenever we had to do a TV show, on-air performance, or red carpets, Selena did her own makeup," she said. "She didn't have a dedicated makeup artist... She would pull out her brushes and do everything herself, and once we arrived on-set a makeup artist would touch her up here and there."
What was Selena's favorite lipstick?
If there was one product you could always count on her to make in her makeup bag it was red lipstick. A bright bold red became part of her signature look and synonymous with her infectious smile. One of her go-to's was Chanel Beauty's lipstick in the shade Brick according to E! News—a product that has sadly been discontinued.
However, Allure reports that Selena was also a big fan of MAC Cosmetics' Russian Red and So Chaude, both of which are very much still popular shades in the brand's lipstick collection, priced at $19 each.
While red lips became her signature look, Suzette revealed in an interview with E! News last year that her sister also loved lighter tones too. "If you look at her older pictures, where she's got her hair pulled back, she's got the lighter, normal, everyday makeup on. That was her everyday look," she said.
A fan account on Instagram shared a picture of a lipstick believed to be favored by Selena, from the Selena Museum in Corpus Christi in Texas, the product in question being Revlon Softsilver Rose priced at just $4.97. Selena actually wore the lipstick at the Houston Astrodome in 1993.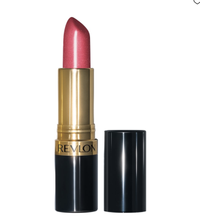 Sagal is a journalist, specialising in lifestyle, pop culture, fashion and beauty. She has written for a number of publications including Vogue, Glamour, Stylist, Evening Standard, Bustle, You Magazine, Dazed and Wonderland to name a few.