Selena Quintanilla at the Grammys: a nostalgic look back at the icon's historic night
Selena Quintanilla at the Grammys is a pop culture moment we'll never forget...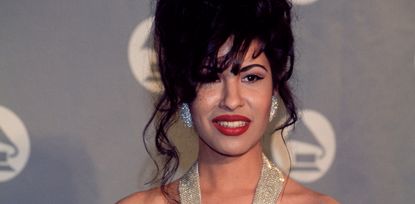 (Image credit: Photo by Larry Busacca/Getty Images)
One of the most iconic music moments of the 90s came from Selena Quintanilla at the Grammys in 1994. The Tejano superstar made history as she won the category for best Mexican/Mexican American album, becoming the first-ever woman to do so.
At the time, Selena was just 23-years-old and had cemented a reputation as the biggest Latinx star in the world. The moment was one to remember for the Quintanilla family and fans around the world, who looked up to the star for not only Selena's best songs, but her infectious energy, incredible style, and even better beauty looks - including Selena's makeup routine.
If you've been watching Selena: The Series on Netflix, then you'll have relived the special night as season two of the biographical drama features an entire episode dedicated to Selena at the Grammys. The moment has, of course, already been portrayed on-screen in the singer's 1997 biopic starring Jennifer Lopez but watching the show has made us feel nostalgic all over again.
Not only was it her first Grammy win but tragically, it would also become her last as she died just over a year later, after being shot and killed by superfan and close friend, Yolanda Saldívar in Corpus Christi, Texas, on March 31, 1995. The Grammys night became one of the last major public appearances we have of Selena and luckily, the footage does not disappoint.
How many Grammys did Selena Quintanilla win?
Selena won a Grammy in 1994. She was awarded the accolade for best Mexican/Mexican American album for her 1993 record, Selena Live!
At the 2021 Grammys earlier this year, the late icon was honored with a Lifetime Achievement Award, alongside Marilyn Horne, Salt-N-Pepa, Talking Heads, Grandmaster Flash & The Furious Five, and Lionel Hampton.
To commemorate the moment, her family shared an anecdote from Selena's night at the 1994 Grammys. "In 1994, hours before the 37th Annual Grammy Awards held in New York, Selena was with her sister Suzette having her hair styled in what would become one her most iconic timeless looks. This was Selena's first Grammy experience and she was very excited," said the post, which included never-before-seen photos.
"Selena took her camera with her so she can take pictures w/ other artists there. However, they didn't allow her to bring her camera with her but she jokingly said, 'They didn't allow me to bring my camera with me, however, I left with this", holding her Grammy in a 1994 interview.'"
What did Selena Quintanilla wear at the Grammys?
Selena wore a jaw-dropping embellished Lillie Rubin halter gown to the 1994 Grammy Awards. One of her most iconic looks, it was recreated by Jennifer Lopez in her 1997 biopic and has become synonymous with the star, much like her famous purple jumpsuit.
Did Selena Quintanilla give a speech at the Grammys?
When Selena's name was announced, the camera caught her excited smile as she got up to accept the award. In her speech, she thanked her management, her father, Abraham Quintanilla, and her band Los Dinos, which featured her siblings Suzette Quintanilla and AB Quintanilla. She also thanked the Latin community, touching the hearts of fans around the world.
"I'd like to thank all my Latin family," she said proudly. "Thank you for having faith in me. I love you. Thank you."
Selena opened up about how she felt in the moment in a post-Grammy interview according to Hola! in which she said: "We all stood up and we screamed. I was wearing this crystal beaded gown and I remember thinking 'geez Selena if you fall you're going to be so embarrassed.' I was trying to be all cool walking up there. It was great. Thinking back, it was an experience I will never forget."
A truly unforgettable night!
Sagal is a journalist, specialising in lifestyle, pop culture, fashion and beauty. She has written for a number of publications including Vogue, Glamour, Stylist, Evening Standard, Bustle, You Magazine, Dazed and Wonderland to name a few.