The best Selena Quintanilla songs you need to listen to immediately
The top ten Selena Quintanilla songs to add to your playlist, whatever your mood...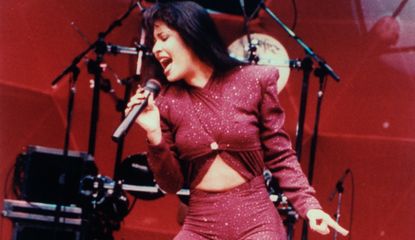 (Image credit: Photo by Arlene Richie/Media Sources/Media Sources/The LIFE Images Collection via Getty Images/Getty Images)
If you're a true fan, picking your favorite Selena Quintanilla songs is like asking a mother to choose between her children. How do you possibly do it?
There's a reason why Selena is an icon in the music industry and beyond. Not only was she one of the first authentic Latinx celebrities to make it big in America but her talent spoke for itself. As we're shown in Netflix's Selena: The Series, the popular drama based on the late singer's family life and rise to stardom, Selena ventured into the music business at just 10 years old in the early 80s. She was part of the band Selena y Los Dinos—a group with her older siblings A.B. and Suzette Quintanilla.
The next decade would see her grow into the legend she became known for and by 1994, she was a full-on superstar with a Grammy award for her album, Live! which was awarded the accolade for Best Mexican/American Album by the recording Academy. However, Selena's life was taken away far too early following her tragic death on 31 March 1995 after she was shot and killed by Yolanda Saldívar, her friend and former manager of her fashion boutiques.
Her life and legacy has been celebrated in multiple ways ever since, be it on-screen through her Jennifer Lopez-led biopic in 1997 or more recently, the second season of Selena: The Series. We've also seen her mark in the fashion and beauty worlds, people for wild for Selena Quintanilla's makeup routine—it even sparked a MAC Cosmetic's Selena-inspired collection last year—and of course, her best '90s style looks. Most notably, however, is the music Selena left behind.
From her first major US single "Como La Flor", which remains her most popular anthem, to hits including "I Could Fall in Love," "Bidi Bidi Bom Bom," and "Si Una Vez," we've rounded up Selena's top ten songs to sing along to, because trust us, it's all you're going to want to do after watching the Netflix show!
1. "Como La Flor"
"Como La Flor" or "Like a Flower" in English is the iconic single from Selena's third studio album, Entre a Mi Mundo, released in 1992. The song peaked at no. 6 on the Billboards Hot Latin Tracks and was the third song to chart from the album. Easily one of the best Selena Quintanilla songs ever.
2. "Sin Una Vez"
The empowering "Sin Una Vez" or "If I Once" in English, is all about a woman questioning why she ever fell in love with her ex and that she'll never make the same mistake again. The fiery track was co-written by Selena's brother, A.B. Quintanilla, and remains a fan favorite.
3. "Bidi Bidi Bom Bom"
The electric summer track is from Selena's fourth studio album Amor Prohibido. The love song is all about the feeling you get in your heart when you see someone you love, with the title referencing the sound of a fast heartbeat. The song earned Selena a four-week-long number one spot on the Billboard Hot Latin Songs in 1994.
4. "Amor Prohibido"
One of the most popular Selena Quintanilla songs, translating in English to "Forbidden Love", "Amor Prohibido" was the debut single from Selena's fourth album of the same name. It marked Selena's first-ever number one the Billboard's Hot Latin Songs as a solo artist. The song was at the top of the charts for nine weeks and has been certified platinum seven times by the Recording Industry Association of America. A legendary hit!
5. "I Could Fall In Love"
Peaking at number two on the Billboard Latin Airplay chart, "I Could Fall In Love" is a sensual R&B infused pop ballad from Selena's fifth studio album, Dreaming of You.
6. "El Chico Del Apartament 512"
This catchy feel-good track was the last single Selena released before she was murdered. The sixth release from Amor Prohibido, the song dropped just one day before died.
7. "Fotos y Recuerdos"
Yet another classic love track, "Fotos y Recuerdos" is about a woman who is so madly in love that she kisses the photo of her lover every night before going to bed. If you're in a long-distance relationship, you'll definitely feel this one. The song topped the Billboard Hot Latin Songs chart, marking Selena's fourth number-one single.
8. "Donde Quiera Que Estes"
This duet with Selena and the Barrio Boyzz, a Puerto Rican boy band popular during the 1990s, bagged the singer yet another number one hit on the Billboard Hot Latin Songs chart, holding the spot for six weeks. Despite being an upbeat pop anthem, the song, which translated to English is "Where Do You Want Me to Be" is about the heartache of breaking up with your first love.
9. "La Llamada"
"La Llamada" was the second single from Live! as all about a woman who catches her man cheating on her after kissing another girl and furiously tells him to leave her alone. The song charted at number five on the Billboard Hot Latin Tracks chart.
10. "No Me Queda Mas"
When it comes to Selena Quintanilla songs, there's no forgetting "No Me Queda Mas" which was at the top of the Billboard Hot Latin Songs chart for seven weeks. The song also marked Selena's first track on the Billboard Regional Mexican Airplay chart and the most successful U.S. Latin single of 1995. Not only that but the song's music video won the Music Video of the Year award at the 1995 Billboard Latin Music Awards.
Sagal is a journalist, specialising in lifestyle, pop culture, fashion and beauty. She has written for a number of publications including Vogue, Glamour, Stylist, Evening Standard, Bustle, You Magazine, Dazed and Wonderland to name a few.