Too Hot to Handle: Are Cam and Emily still together?
If you've watched the new season you'll be wondering, are Cam and Emily still together? Well, we've got an answer...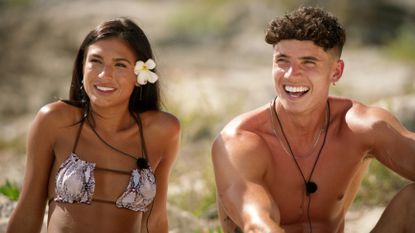 (Image credit: Netflix)
Are Cam and Emily still together?
It's been the question that has been on everyone's lips since Too Hot To Handle season two dropped on Netflix.
The two contestants were immediately drawn to one another, hardly fighting their urges to get physical despite Lana's warnings and the group's cash prize at risk. The chemistry was simply too intoxicating for the couple, who were among this year's line-up of hot sex-obsessed singletons tasked with the challenge of keeping their hands, lips, and genitals to themselves in order to form real, emotional connections.
But of course, as anyone who has watched the guilty pleasure dating show knows, it's clearly a lot easier said than done.
This year, the show was filmed on the dreamy island of Turks and Caicos, where the ten contestants lived together in a Love Island-Esque luxury villa. Londoner Emily Miller and fellow Brit, Cam Holmes, couldn't struggle to keep their hands off each other throughout the show. But did they form a real connection on the outside too or was it simply a case of summer lust?
Here's everything you need to know...
What happened with Emily and Cam?
Cam and Emily were drawn to each other from the very first episode, with Emily too blinded by his looks and playful charms to recognise a few red signals that became apparent in episode 4. When newcomer Christina Carmela arrived, Cam was quick to diminish his connection with Emily (despite the two literally being joint at the hip for days prior), telling her that it was nothing "serious" even though he'd told Emily that it was.
As you can expect this caused a whole lot of drama, especially when Christina came back to the resort and told Emily what Cam had said. Hurt and upset, Emily confronted Cam and decided to cool things off with him. However, after doing a bit fo self-reflection (Lana was very pleased about this), he apologised to Emily and vowed to work on himself - a wise decision that led to his growth. He was put to the test when fellow contestant Natasha teased him with a shower, to which he declined.
Ultimately, he opened up to Emily sharing a more vulnerable side to himself when he admitted that his parents' turbulent relationship could be the reason behind his commitment issues but that he was willing to make a change. He asked Emily to be his girlfriend and even dropped those three little words to her. How lovely! Perhaps all those thousands of dollars they lost the group in the first few episodes was worth it? It all depends on where the two stand now.
Are Emily and Cam still together?
As it stands, the two have yet to reveal their relationship status which we reckon is down to Netflix. The show has only just dropped on the streaming service so the contestants have likely been told to keep things under wraps for a little while. However, eagle-eyed fans (including us) have spotted that Cam and Emily have liked a few of each other's pictures on Instagram. Emily even posted a shot of her and Cam getting cosy on the show with the caption"eye spy @camholmess" and Cam later reshared it. Oh, and we saw Cam comment the flirty eye emoji under one of Emily's recent bikini pics. Could that be an indication of the two's relationship? In all honestly, it could mean anything but we've got our fingers crossed fort their happily ever after.
For now, we'll wait patiently for the Insta official status.
The My Imperfect Life team is all about helping you navigate your world. We bring you the latest on fashion, beauty, travel and wellness so you can live life on your terms.