Meet the 'Too Hot to Handle' season 3 cast: sexy singletons are here!
Will Lana's challenge prove to be too tough for them? Here's what to know about the 'Too Hot to Handle' season 3 cast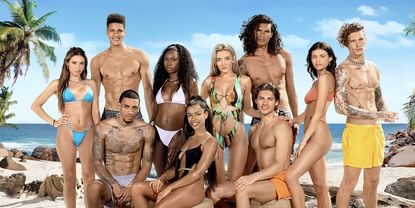 (Image credit: Netflix)
Netflix just said happy new year in the best way possible—with the Too Hot to Handle season 3 cast. The third season of the super-hot reality show is here to heat up our winters and it's given us a whole new mess of flirty singletons.
We've got a Harry Styles lookalike, an Elle Woods wannabe and lots of heartbreakers heading on what they think is going to be the sexiest holiday of their lives, but will be the most celibate holiday of their lives once they meet Lana, who wants to set them on the path of celibacy to win prize money almost as high as their sex drives. But will this season's cast be able to stick to the rules?
Here's everything you need to know about the steamy Too Hot to Handle season 3 cast.
---
---
'Too Hot to Handle' season 3 cast: what to know
1. Beaux Raymond
Age: 24
Job: Legal secretary
IG Handle: @_beauxraymond_
Hometown: Kent, UK
Legal secretary Beaux Raymond—or as she describes herself as the cockney Elle Woods—was born in London but now lives in Kent. With all the glamour of a classic Essex girl, it's safe to say Beaux will be pulling out all the stops to catch a guy's attention (but definitely not Lana's!)
Beaux is on the lookout for a guy that can keep up with her banter and who can keep her entertained. With Beaux seeking a cheeky chappie, along with her long history of boyfriends, will she be able to resist the temptation under the eyes of Lana's challenge?
2. Georgia Hassarati
Age: 26
Job: Student midwife
IG Handle: @Georgiahassarati
Hometown: Brisbane, Australia
Globetrotter Georgia is known for being a serial ghoster. She gets bored easily and moves on quickly, so don't be surprised if you see a string of broken hearts behind her.
The Aussie loves a bad boy, Justin Bieber and if you're blonde, toned and tattooed, you're right up her street. But will the student midwife commit to Lana's challenge and learn to look beyond the looks or will she forever stay a heartbreaker?
3. Harry Johnson
Age: 29
Job: Tree surgeon
IG Handle: @harryjohnson92
Hometown: Middlesborough, UK
Fun fact: He's a self-proclaimed Harry Styles lookalike.
Middlesbrough-born Harry is a fun-loving party boy who is known for charming his way around the world—from Thailand to Dubai to Ayia Napa, Harry's charmed them all. With his infectious laugh, Harry is one to look out for but will his time on Lana's retreat help him keep his player ways in check?
4. Holly Scarfone
Age: 23
Job: Student/model
IG Handle: @hollyscarfone
Hometown: Colorado, USA
Student-model Holly Scarfone isn't looking to settle down. She's this season's :work hard, play hard" girl. Studying at the University of Colorado, Holly's dream is to have boyfriends all over the globe. So will Lana be able to teach super-confident Holly that relationships aren't boring?
5. Izzy Fairthorne
Age: 22
Job: PT
IG Handle: @Izfairr
Hometown: Manchester, UK
Personal trainer Izzy from Cheltenham is a rule breaker. At boarding school, she was regularly in trouble for sneaking off to meet boys. Since then, she has been embracing the single life, having a new man every week. (We need tips!) A keen hockey player, Izzy is competitive both on and off the ice. There's no doubt she'll have her eye on the prize, but will her rule-breaker personality get in the way of her winning the prize money?
6. Jazlyn Holloway
Age: 25
Job: Entrepreneur/model
IG Handle: @jazkills
Hometown: Virginia, USA
Fashion designer Jaz never misses an opportunity to dress up. Whether it be shopping or dancing, you can bet she will be dressed to the nines. More of a 'situationships' rather than relationships type of girl, Jaz runs when things get too serious. But don't be fooled—she still has high standards, so if any of the guys on the retreat are looking to break the rules with her, they'll have to bring their A-game.
7. Nathan Soan Mngomezulu
Age: 24
Job: Model
IG Handle: @Nathsoan
Hometown: Cape Town, South Africa
Known as Cape Town's most notorious party animal, Nathan can talk any girl into his bed. A model and business management student, Nathan can get bored easily if things aren't kept interesting enough to keep calling himself an "international playboy." With the gift of the gab, this party boy is not planning to give up single life any time soon but who knows—maybe Lana will be able to change the free-spirited Nathan?
8. Patrick Mullen
Age: 29
Job: Model/actor
IG Handle: @Thepatmullen
Hometown: Hawaii, USA
Patrick is more than happy to fulfill any beautiful girl's Hawaiian holiday romance fantasies for a night. But if you're expecting the 6ft 5in hunk to be there in the morning, you'll be very disappointed. Not a relationship guy, Patrick boasts: "I've been in almost every country in Europe, but I've never stepped foot in those places." Well doesn't that sound like fun. He may be beyond Lana's help at this point!
9. Stevan Ditter
Age: 26
Job: Model
IG Handle: @stevanditter
Hometown: Los Angeles, USA
Tattooed model Stevan gets plenty of female attention in LA, but is ready to offer up his bad-boy looks and attitude to the international market. The party boy describes himself as flirtatious and loud, and, to be honest, with those tattoos we're willing to hedge a bet Stevan is right up Georgia's street.
10. Truth
Age: 23
Job: Student
IG Handle: @truthsworld
Hometown: Texas, USA
A basketball scholar and criminology student, Truth is used to shooting his shot and scoring. The star player has no difficulties in securing a team of beautiful girls. But with Lana about to put a damper on all of that, will Truth still shoot and score?
Too Hot To Handle season 3 launches on Netflix on Wednesday, January 19.
Liv is a freelance journalist currently studying English at university. She loves covering everything from entertainment and politics to lifestyle and travel. As well as writing for My Imperfect Life, Liv has bylines in The Times, HuffPost, Den of Geek, Bustle The Metro and The Bookseller.