'Top Boy' cast: Who is in the new season of the Netflix drama?
The 'Top Boy' cast has grown a little since we last saw the London street drama on Netflix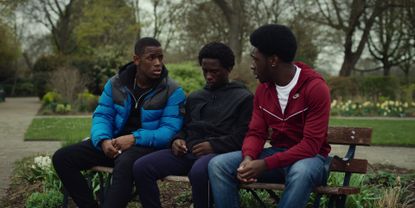 (Image credit: Netflix)
The Top Boy cast has never disappointed us and they're not about to start now. The London street drama is back on Netflix with its second season and while all of our favorites have reprised their roles, there are some new additions to the crew, including one very familiar face.
If you're wondering, "What time does 'Top Boy' come out?" then you'll be pleased to hear that season two will be available to stream starting Friday, March 18. The new episodes have superfan Drake back as an executive producer, just like the first Netflix instalment of the show, which originated on Channel 4 as a limited-series back in 2011.
The new season picks up right where we left off with Dushane (Ashley Walters) and his crew at Summerhouse estate in East London, where they run their drug empire and navigate all the repercussions that follow.
So, as we get ready to watch binge all the new episodes, here's a reminder of the Top Boy cast, from the OGs to the newbies...
---
---
The 'Top Boy' cast: who's who?
1. Ashley Walters as Dushane Hill
As the drug kingpin and man in charge of the Summerhouse crew, Dushane has been on the show since its very first episode aired on Channel 4 and reprised his role when Netflix picked up the revamp. He is played by 39-year-old British actor Ashley Walters, who you may recognize from a number of UK dramas including Doctor Who, Hustle, Silent Witness and Sky series Bulletproof.
2. Kane Robinson (Kano) as Gerald "Sully" Sullivan
Sully is Dushane's best friend and business partner. Having been there for one another since the beginning, they've always worked together to run their drug empire. However, as fans will have seen in the last season, their relationship has become strained and there may not be any going back. Sully is played by Kane Robinson, better known as Kano, his artist name. Aside from acting, he is primarily known as a rapper, songwriter and grime artist.
3. Micheal Ward as Jamie Tovell
Jamie was introduced in season one of Netflix's Top Boy as the new kid running things on Dushane and Sully's turf. He had his own crew and gave his elders a run for their —though it wasn't long before Dushane made sure he had him in his pocket, which we will see more of in season two. Jamie is played by Micheal Ward, whose role on the show made him a breakout star. He went onto feature in Steve McQueen's critically acclaimed Small Axe: Lovers Rock, and the 2019 film Blue Story.
4. Jasmine Jobson as Jaq
Jaq is a key member of Dushane's Summerhouse crew, quickly becoming his right-hand, especially as he drifts from Sully. She's a drug dealer and incredibly loyal to those close to her. The second season will show a more vulnerable side to her as she gains a love interest and drops her hard exterior a little more than we're used to. She is played by Jasmine Jobson, who was BAFTA-nominated for her work in Top Boy season one and also starred in the TV series Dark Heart and the 2020 thriller film Surge.
5. Simbiatu "Little Simz" Ajikawo as Shelley
Shelley is Dushane's love interest, introduced to us in the first season of the Netflix drama when the two fall for each other. The second season delves deeper into her past, giving us a better idea of who she is and where she comes from. Shelley is played by UK rapper Little Simz, who made her acting debut in the E4 series Youngers.
6. Araloyin Oshunremi as Stefan Tovell
Stefan is Jamie's youngest brother. In the first season, his best friend Ats got caught up working with Jaq and Dushane, and was ultimately forced to set up Jamie, causing his arrest. Naturally, this caused a rift between the two friends, which will be explored more in the second season. Stefan is played by Araloyin Oshunremi. Top Boy is the young actor's first role.
7. Hope Ikpoku Jr as Aaron Tovell
Aaron is Jamie's middle brother and the second oldest in the family. Unlike his brother, he has avoided a life on the streets and is focused on his education as a university student. He is played by Hope Ikpoku Jr, who appeared alongside Top Boy co-stars Michael Ward in Blue Story and Ashley Walters in the Sky series Bulletproof.
8. Lisa Dwan as Lizzie
In the first season, Lizzie was Jamie's supplier and the two were also sleeping together. However, towards the end of the season, she switched allegiances and now works with Dushane. She is played by Lisa Dwan, who recently appeared in the James Nesbitt series Bloodlands but is best known for her work on stage.
9. Adwoa Aboah as Becks
Model British model Adwoa Aboah is the latest to join the cast in Netflix's second season of Top Boy. She will be playing a new character, Becks. Speaking to Dazed about her first TV role, Adwoa said of her on-screen alter ego: "I've joined the cast as Becks, Jaq's love interest... Becks doesn't come from Jaq's world at all, but she's a Londoner. She's street smart and a little bougie. She's also confident and stands up for what she believes in and really meets Jaq on an emotional level."
Watch the new episodes of Top Boy on Netflix starting Friday, March 18.
Sagal is a journalist, specialising in lifestyle, pop culture, fashion and beauty. She has written for a number of publications including Vogue, Glamour, Stylist, Evening Standard, Bustle, You Magazine, Dazed and Wonderland to name a few.