Netflix canceled shows: 2021's cancellations and endings
Pour one out for these dearly departed Netflix canceled shows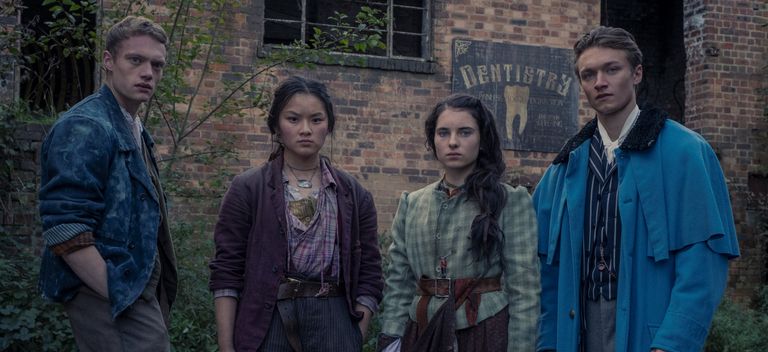 (Image credit: Netflix)
They say all good things must come to an end, and when it comes to these Netflix canceled shows, that's certainly true.

Whether it's a show that's meeting its end naturally or a program whose plug was pulled too early for viewers' liking, plenty of fan favorites and high-profile shows will be leaving Netflix in 2021.

But don't worry, there are dozens of new things coming to Netflix each month to keep you binging and busy. And if you're still struggling to find something to watch, try out the streamer's new Play Something feature—it's the perfect way to introduce yourself to new series and keep boredom at bay.
In the meantime, let's say a fond farewell to the following Netflix canceled shows:
The Netflix canceled shows of 2021 so far:
1. The Irregulars
With nods to Sir Arthur Conan Doyle's famous crime story, The Irregulars puts a supernatural twist on Sherlock Holmes. Taking place in Victorian London, the series follows a group of teens who are coerced into fighting crimes for the nefarious Dr. Watson and his business partner, Sherlock Holmes.
Despite its popularity on the streaming platform—a Nielsen audience report put The Irregulars as the top streaming show the week it debuted, nabbing 643 million minutes streamed and beating out big hitters like Disney's The Falcon and the Winter Soldier, reports Variety—the detective drama has been canceled after just one season.
2. Atypical
Things haven't always been easy for Sam Gardner: He is on the spectrum, and adolescence certainly makes everything seem far more complicated. Despite it all, Sam chooses to navigate the murky waters of young adulthood and tackle everything head-on.
The show will reportedly return for a fourth and final season in 2021, although a specific date has yet to be revealed. Netflix announced the cancellation on its Twitter in 2020, posting: "Join Sam on one last expedition. Atypical will return for a fourth and final season." The announcement continued: "They've brought you laughs, tears, hugs and homies. Now see how the story concludes. Atypical. The final season."
Join Sam on one last expedition. Atypical will return for a fourth and final season. 🐧 pic.twitter.com/0IfN0fEIUGFebruary 24, 2020
See more
3. The Duchess
Katherine is a Londoner, a single mom, and seemingly a bit out of sorts. She's wild, brash, and—from the looks of it—her pre-teen daughter, Olive, just might be more mature. (We're getting Ginny and Georgia vibes, no?) Despite the hot mess she has to grapple with, Katherine is considering bringing another baby into the world...with her ex.
Alas, the six-episode season from British comedian Katherine Ryan, which launched in September 2020, has been canceled after only one season and will not return for a second, Deadline reports. Ryan told Vicky Pattison on The Secret To… podcast: "I was so grateful to able to make it, but I think it speaks for itself. I kind of like the way it ended."
4. Feel Good
Mae Martin has a lot to juggle with her sobriety, but her complicated new relationship with her girlfriend isn't making matters any easier. How will things unfold for the standup comedian?

Unfortunately, we won't have too much time to find out, because the semi-autobiographical, London-based show is returning for only a second and final season in 2021, says Variety. Thankfully, fans of Martin will be relieved to learn that the streaming giant is developing another series with the Canadian comic and actress.
5. Ozark
Financial advisor Martin "Marty" Byrde tries to offset the turmoil of a money-laundering scheme...so he concocts an even bigger plan.
The beloved series—which stars Jason Bateman, Laura Linney, and Julia Garner—is returning for its fourth and final season in 2021. Season four will comprise 14 episodes in total, up from the show's usual 10 episodes, and will drop in two seven-ep batches. Filming is reportedly due to start in November and though there's no release date yet, fans can expect the finale sometime in 2022.
They're going to go out with a bang. Ozark will be back with an expanded 14-episode final season. pic.twitter.com/otIoUeTXyHJune 30, 2020
See more