Free willy: Why TV's prosthetic penis trend signals a dangerous double-standard
More series are showing all when it comes to male "nudity," but it's not as progressive as it seems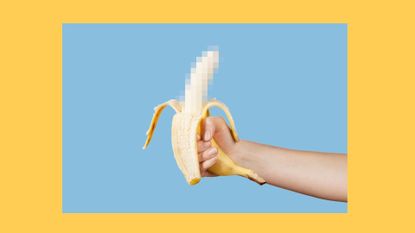 (Image credit: Getty)
The Year of the Tiger? More like The Year of the Cock.
The past year has seen a, ahem, rise in full-frontal male nudity on TV, from that viral Adam Demos shower scene in Sex/Life, to a particularly ballsy moment on The White Lotus, to recent risqué episodes of Euphoria season 2.
And while on first glance that might seem like a good thing, something verging on progressive—narrowing the gender divide! a heightened female gaze!—the bulk of the full monty trend has been based on phallic phoniness, a cock-out cop-out if you will. We're talking about prosthetic penises.
Real male nudity has been a rare commodity onscreen, largely because of the Motion Picture Association's rating system, a rating scheme that judges a movie's audience suitability based on its content, from violence to language to, yes, nudity.
Though the MPAA clarified in 2018 that the rating system does not "define [nudity] as male or female...usually, we just mention partial nudity, [or] graphic nudity," there are decades of proof that, where female nudity will usually equate to an R rating, full-frontal male nudity routinely gets slapped with a debilitating NC-17 rating. It's no surprise, then, that a 2018 analysis of 1,100 movies found that more than a quarter of women actors had roles featuring nudity, versus only 9.6 percent of their male counterparts.
Premium cable TV networks, such as HBO and Showtime, and digital juggernauts like Netflix and Hulu don't adhere to such MPAA standards, so they are freer to let it all hang out. And while onscreen peen has definitely gotten a bump thanks to the golden age of streaming, most of the much-talked-about male nudity you're seeing nowadays is not even real.
logging into HBO Max: h-HBO Max: LOOK at this prosthetic penisJanuary 31, 2022
See more
No one has stayed busier in Hollywood during the pandemic than penis prosthetic companiesJanuary 31, 2022
See more
In episode four of Euphoria's sophomore season, Eric Dane's Cal Jacobs whips out his (fake) dad dong and urinates on the floor of his family home in a drunken meltdown. The actor previously used a silicone appendage in season one of the HBO hit but claimed back then that he was initially open to reveal the real deal for the scene.
"I'm willing to do anything that's critical to the story and crucial to creating a very real and truthful feel to how the story is gonna go down," he told Entertainment Weekly in 2019. "I just don't see how you shoot a scene like that without showing nudity. And, you know, it kind of matches the stakes. The stakes are so high, you can't hold anything back, really."
However, in a talk with TVLine, Dane says of the season two exposé: "It's a prosthetic again. It has to be. I don't know if I would last 15, 16 takes if it were real."
The artificial anaconda recently popped up in a recent episode of another popular HBO series, And Just Like That, the Sex and the City reboot. In episode eight, Charlotte York (Kristin Davis) is caught in flagrante delicto with hubby Harry Goldenblatt (a prosthetic-wearing Evan Handler), who accidentally gives an eyeful both to their unsuspecting teen daughter and to the audience.
On the official And Just Like That...The Writers Room podcast, series creator and showrunner Michael Patrick King said: "It wasn't enough for us to have it happen [like] in other TV shows where you never see the d***." But despite that stigma-breaking boast, you never actually see the dick, just a carefully chosen replica.
If all the men on #Euphoria can use a prosthetic penis, then no female cast member should be naked on screen. That's not equity. Not at the slightest.January 31, 2022
See more
It rubs the wrong way how they have prosthetic penis in euphoria but the ladies gotta show their actual tittiesJanuary 27, 2022
See more
It's worth noting that both Euphoria and And Just Like That featured real-life male full-frontals in those very same episodes, but by minor characters, not main cast. It's not that these series have ever shied away from IRL nudity—it's more so that they've so flagrantly and frequently relied on women's nudity.
Before And Just Like That leveled the genital playing field, the Sex and the City universe featured little to no male nudity (save for a few rogue rear ends), while its leading ladies Kristin Davis, Cynthia Nixon and Kim Cattrall were regularly required to strip off during all six seasons of the series. (Sarah Jessica Parker famously has a no-nudity clause in her contract).

And Euphoria so routinely calls on the no-holds-barred nakedness of its women actors that cast member Sydney Sweeney asked creator Sam Levinson to cut back on her number of topless scenes. "There are moments where [my character] Cassie was supposed to be shirtless and I would tell Sam, 'I don't really think that's necessary here,'" Sweeney told The Independent.
Sweeney spoke with Teen Vogue on the nudity double standard in Hollywood: "I know many successful male actors who, if you put all their films together where they're either nude or have a sex scene it could be hours worth. But then they win Oscars. The moment a girl says it, it takes away from their acting. Everyone's like, 'she just shows her boobs because she can't act.'"
"I'm very proud of my work in Euphoria. I thought it was a great performance. But no one talks about it because I got naked," Sweeney said in her The Independent interview. "I do The White Lotus and all of a sudden critics are paying attention. People are loving me. They're going, 'Oh my god, what's she doing next?' I was like, 'Did you not see that in Euphoria?"
The recent proliferation of male nude scenes is a small step forward in breaking that double standard and lessening the ubiquity and objectification of female nudity onscreen. But the reliance on prosthetic penises by male actors on TV, especially when their women counterparts are not afforded the same opportunity of bodily privacy or professional adaptability, means that any so-called progress is always going to be skin deep.
Christina Izzo is the Deputy Editor of My Imperfect Life.
More generally, she is a writer-editor covering food and drink, travel, lifestyle and culture in New York City. She was previously the Features Editor at Rachael Ray In Season and Reveal, as well as the Food & Drink Editor and chief restaurant critic at Time Out New York.
When she's not doing all that, she can probably be found eating cheese somewhere.