Twentysomethings: Austin is the latest Netflix reality TV series that'll have you hooked
If you haven't watched Twentysomethings: Austin yet, what are you waiting for?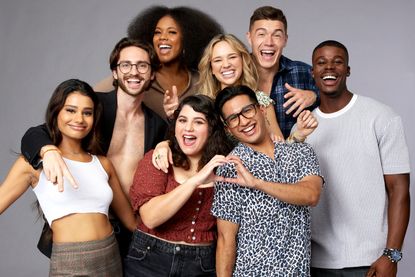 (Image credit: Netflix)
Twentysomethings: Austin is the latest reality TV series from Netflix that has us all in a chokehold and honestly, we're not mad at it. As the title suggests, the new feel-good show follows eight twentysomethings, each from different corners of America, as they embark on a new life in Austin, Texas.
The group of young singletons all live together in a house, where they each have their own rooms—an important distinction, believe us. It's their first post-lockdown adventure and after being stuck indoors for over a year, they're ready to catch up on all the lost times by forming new friendships and romantic connections, all of course, served with a healthy dose of drama.
---
---
While the concepts are very different, people have been comparing the show to similar reality tv hits like The Circle and FBoy Island in its nature but believe it or not, finding love is not the main premise of the show, although it's definitely a big factor—but what did you expect with a group of young attractive people in one place?
So before you start wondering if there will be a Twentysomethings: Austin Season 2, here's everything you need to know about the new show, including the cast and where it is filmed.
Where is the Twentysomethings: Austin house located?
The group all live together in two houses next door to one another, one for the guys and one for the girls. It is located in Austin Texas (of course) and according to one eagle-eyed Reddit user, the houses are on 1112 Ebert Ave #A and 1112 Ebert Ave #B—a vibrant neighborhood in the city filmed full of restaurants and nightlife as we see on the show.
Who are the cast of Twentysomethings: Austin?
ABBEY HUMPHREYS
Now 25, recently divorced Abbey got married when she was 20 and is ready to find herself as the newly single woman she is. She's looking to shed her conservative upbringing and explore her bisexuality.
MICHAEL FRACTOR
Michael is an aspiring stand-up comedian that provides laughs and awkward moments in equal measures. He's also super keen to get a girlfriend and lose his virginity. According to E! Online, his dating criteria consist of being a 'weirdo.'
NATALIE CABO
Natalie grew up in a strict household and has never been kissed. She's looking to change that soon, one date at a time.
ISHA PUNJA
Isha is a fashion designer who studied economics at UC Berkeley. The 24-year-old is clumsy and gullible, but she owns it. After suffering from depression at the height of the pandemic, she's decided to live life to the fullest.
RAQUEL DANIELS
Raquel works in Tech and hopes Austin will bring her networking connections for the startup she works for. Outside of work, she loves roller skating and fashion.
KEAUNO PEREZ
28-year-old Keauno (KiKi, to his friends) from Arkansas came out as gay three years ago, but he has yet to experience a romantic connection or even a kiss. Now, he's looking to find his community and perhaps love along the way.
KAMARI BONDS
Kamari is a model but also dreams of starting his own business. Work aside, he's all about having fun and is pretty popular with the ladies.
BRUCE STEPHENSEN
23-year-old Bruce is a serious baseball fan and hopes to work with a professional sports team one day. In the meantime, he's in Austin to enjoy life and find a lucky lady to sweep him off his feet.
So there you have it. Happy viewing!
Sagal is a journalist, specialising in lifestyle, pop culture, fashion and beauty. She has written for a number of publications including Vogue, Glamour, Stylist, Evening Standard, Bustle, You Magazine, Dazed and Wonderland to name a few.