Forget Christmas and NYE—for me, 'Twixmas' is the most wonderful time of the year
Christmas Day and NYE get all the hype, but what about the bit in between?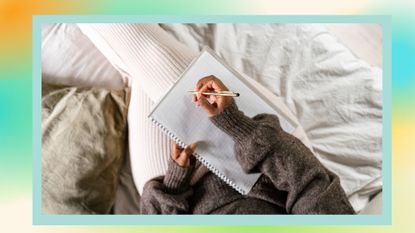 (Image credit: Getty Images)
At this stage of December, most of us have barely had a chance to breathe between buying last-minute Christmas gifts, watching all the Christmas movies and planning New Year's Eve (plus, that killer outfit).
Yet, sandwiched between two of the year's biggest holidays is a golden opportunity to exhale and reconnect with a loved one you've probably been neglecting: you. Twixmas, so called because it's the period of time between ('betwixt', in old English) Christmas and New Year's Eve, is my favorite annual period of 'me-time'.
For me, positive solitude (or 'alonement', as I dubbed it in my book, Alonement: How To Be Alone & Absolutely Own It) is best appreciated before or after a period of heavy socializing. As a natural extrovert, I get energized by social interaction—and equally, always want to know where my next 'fix' is coming from. That's why Twixmas, which is flanked by heavy doses of socializing on either side, is a perfect time to lean comfortably into my inner hermit.
Between 27 and 31 December, I always give myself permission to be selfishly indulgent after a prolonged period spent entertaining others, gift-buying and putting all my energy into social interactions. That (positive!) selfishness takes the form of taking myself out for a slice of chocolate & orange cake at a favorite local bakery, paired with a hot mug of tea and an hour or two of journaling. It's blissful: a perfect time to plan my year ahead (more on that later), and I never ever feel guilty about it…
So if you, too, have been feeling overwhelmed by the pressure to be 'always on' around loved ones during the holiday season (and let's face it, almost all of us, however sociable, struggle to keep this up 24/7), this time is the ultimate recovery from the demands of social interaction.
Let me extol the benefits of a quiet, me-time-filled Twixmas—which, for me, is even more joyful than Christmas and New Year, and might just hold the same magic for you.
Recover from 'festive fatigue' with some all-important alone time
Did you party-hop throughout December, only to follow it up with the chaos of Christmas itself? With the onslaught of office parties, Friendsmas and family time, this is perhaps the most sociable time of your year—and, according to clinical psychologist Dr Marianne Trent, planning alone time afterward can serve a worthwhile purpose.
"People often report that social pressures from friends, family and the media contribute to them feeling like a frenetic ball of energy and productivity ahead of Christmas," she says.
"Then when the big day has been and gone, the pressure valve can be released, and people often find it easier to relax. Given that Christmas can feel draining for some, this 'Twixmas' period can instead be a really nice opportunity to rest, recharge and get you tackling 2023 from a headspace of abundance rather than exhaustion."
How to make the most of 'Twixmas'
The trouble is, sometimes it can be difficult to set boundaries around our schedules—particularly when we've been in a cycle of saying 'yes' to every invitation. But you need to make yourself a priority, advises Marianne, and remember that it's your life, not a 'dress rehearsal'.
"There can be a tendency for us to feel the pressure to say: 'Let's do something between Christmas and New Year' to a number of different people whilst forgetting that there are actually only a few days available," she adds. "But one of the most compassionate things you can do for yourself is to learn to say 'no' to things you don't actually want to do anyway but feel that you should."
Remember—it's OK to be honest if you already feel like you've overcommitted, and make yourself a priority here; it will put you in better stead to both enjoy New Year's Eve, and start the coming year with your best foot forward.
And on that note…
Twixmas is a great time to plan the year ahead
As humans, we benefit both from socializing and alone time—but in different ways. The latter is a much better environment in which to focus on our past and future (instead of the present), according to a study—so in other words, alone time over Twixmas is the perfect occasion to reflect on the past year and make plans for the year ahead.
For the past two years in a row, I've done this through a series of focussed 'Twixmas' journaling sessions, and I can't tell you how useful it's been for planning the year ahead informed by what worked—and what didn't—in the previous year.
Here are some of the prompts I use:
To reflect on the past year
What were the highlights of my personal life?
What was my favorite travel adventure?
Who (and what) energized me in my personal life?
What do I consider my biggest work success?
What career move, looking back, didn't work out as expected?
If I were to give a name to the past year, what would it be?
To plan for the year ahead
What do I want to do more of this year?
Who do I want to see more?
What one thing am I curious about learning more of this year?
What three things do I want to accomplish this year?
This is a brilliant space for short-term intention-setting too, adds Marianne, who suggests: "You might find it helpful to write a list of the things you'd like to achieve by the 3rd of January and then give yourself permission to start ticking them off!"
And with that, I'm off to anticipate my third solo 'Twixmas' period in a row—full of cake rituals, enlightening journal sessions and a whole lot of getting to know me, myself and I. Who's with me?
Francesca Specter is a freelance journalist and the author of Alonement: How to be alone and absolutely own it. Based in north London, she's previously worked for Yahoo Lifestyle, Express.co.uk and Healthy magazine, and has written for the Telegraph, Red and Huffington Post.