Your weekly horoscope is here: December 13 - December 19
It'll be a week of change and betterment, just in time for the new year!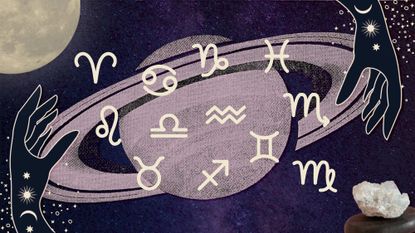 (Image credit: Future)
After a week of confusing energy, the astrology of the days ahead is relatively mellow… until the weekend arrives! The beginning of the week brings two planetary shifts as both Mars and Mercury change their place in the sky.
For the past few weeks, Mars has been in Scorpio, unearthing some of our deepest ambitions and desires. As the planet of ambition and drive enters Sagittarius' fiery territory, our attitude will slowly but surely become more fun and adventurous. And while we will feel more optimistic at starting new projects, we might not be that great at following through on them.
Luckily, Mercury, the planet of communication, enters Capricorn on the same day. This planet-sign combination will help counteract the excitement coming from Mars by grounding us and giving us a practical and pragmatic approach towards work and life in general. During the rest of the year, combining your excitement with a down-to-earth approach can help you set realistic goals for the future. Hello, 2022!
But the biggest news of the week is Venus—the planet of pleasure, love, and money—starting its infamous retrograde, over the weekend. From now until January 29, Venus will have us rethink the way we approach both romantic and business partnerships. This will be especially true if we have been feeling underlying issues within a specific connection. A friendly reminder that from this moment on, we must avoid committing, buying expensive items, and getting a makeover!
---
---
Weekly horoscope: what does this week have in store for you?
Aries
Take a chill pill, Aries. Mars entering Sagittarius combined with Venus going retrograde in your career sector could be quite the impulsive combo for you. Regardless of what happens at work this week, keep a low profile—at least until you get a better picture of the situation at hand. While this retrograde can feel pretty intense for you, it will give you a clear vision of the real power dynamics in your industry. Absorb it all!
Taurus
It's time to dive deep into the unknown, Taurus! Venus is your planet, and its retrograde period could bring a mini-crisis to your spirituality and belief system. Perhaps it's time to change some of the ways you see the world?! 2022 will bring radical change your way, so use this six-week transit to discard what no longer serves you. In the end, Venus will align with the people as well as the beliefs that really feed your mind, soul, and spirit.
Gemini
As sexy Mars enters your seventh house of partnerships, you're feeling hot! You're so ready for romance—but Venus' retrograde could mean more complications than fun. While working on fine-tuning your closest bonds might seem like a drag, this is your chance to leave all your relationship baggage in the past, Gemini. In the end, you're bound to learn how much depth a connection really has. Take a chance at the possibility of reaching a deeper sense of intimacy.
Cancer
This weekend, Venus starts its retrograde in your seventh house of partnerships, starting a six-week period during which you will focus your energy on one-on-one connections. If single, it's not a good time to date—but do expect your standards to change in the year ahead. If you're partnered, the cosmos is encouraging you to start moving, together, in a new direction. Alternatively, there could be the need to adjust a contract, commitment, or deal you recently made.
Leo
Venus' backward dance is happening in your sixth house of daily work and health. So, get ready to fine-tune your career and wellness routines over the weeks ahead to make them work better for you. The good news is that as this transit begins, your planetary ruler, the Sun, is forming a beautiful connection with Jupiter, the planet of luck. This means that the more adjustment you make in your life during Venus retrograde, the more you will grow in the year ahead!
Virgo
As Mars enters your home sector, you could feel an angry energy building up with your partner, a lover, or even a roommate. While it might feel weird to talk things through, this might be your best chance to express what's been bothering you, Virgo. If you're single, Venus retrograde in your dating sector could bring a blast from the past. If an ex knocks at your door in the weeks ahead, remember why they are an ex in the first place.
Libra
Venus is your ruler, so you're embarking on a journey to rediscover what makes you tick, Libra! This is especially true if you have been feeling uninspired lately. Since this retrograde is happening in your home sector, it's the perfect time to start thinking about beautifying your space so it is to your liking. While purchasing big-ticket items is not a good idea, getting creative is—so start working on those DYI projects you've been talking about for years.
Scorpio
Mars leaving your sign this week could mean finally getting some well-deserved rest. Make sure to leave room for some pampering, Scorpio. Venus' retrograde is happening in your third house of communication, signaling a revamp in the way you express yourself—to others and to yourself. If your self-talk has been a little too negative for your taste, it's time to craft some positive mantras that can help you turn your energy around. Start now!
Sagittarius
For you, Venus' retrograde could bring a reality check to your bank account, as it's happening in your second house of money. If you have been spending too much cash lately, this transit will help you focus on your financial future. The good news is that Mars entering your sign will inject you with energy to deal with the curveballs the universe throws at you. All you have to do is stay realistic and you will be fine.
Capricorn
Your sign is the star of this week's retrograde show, Capricorn! With Venus in your sign, your mind has most likely been on relationships. And as it begins its retrograde this week, it's not only time to assess your relationships, but also the power dynamics with them. Which ones are worth your energy and dedication? At a deeper level, this transit also highlights how much love you've been showing to yourself. It might be time to practice more self-care.
Aquarius
Wow, Aquarius! Venus' retrograde will affect you at a deep and subconscious level. From now until February of 2022, you will be releasing everything you know about relationships, love, and commitment. We get it—you're not the most commitment-prone sign. But trust us when we say that you're up for a huge upgrade in matters of love! By the time Venus is done with you, your views and mindset about relationships will be oh, so different.
Pisces
For you, the retrograde of Venus means running an inventory of your social circle. Backtracking on your eleventh house of community, Venus will most likely expose the ones that you might need to say "buh-bye" to! Don't feel bad, Pisces—everyone else is going through it, just like you. Plus, since 2022 is going to be a year of huge growth for you, why not set yourself up for success by clearing the energy that no longer serves you?
Athena Antares is a traveling writer, astrologer, and mystic who believes in adding a touch of magic to everyday life. She has written horoscopes for numerous lifestyle publications and has dived deeply into astrological magic and manifestation spell work. In her spare time, Athena enjoys exploring new places, spending time in nature, and reading charts for her worldly clientele.