Your weekly horoscope is here: December 20 - December 26
Good news: sweet surprises and "magical beams" are coming your way this week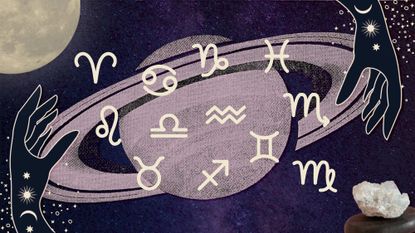 (Image credit: Future)
Get ready for some excitement! During the days ahead, the cosmos will be making waves by bringing surprises, unexpected messages, and a golden opportunity our way. While the last two weeks were impregnated with the energy of confusing Neptune, this week brings the erratic influence of Uranus. Over the days ahead, expect to feel a bit nervous, excited, and sometimes anxious.
On the positive side, this is the type of energy that, when properly channeled, can bring a spark of genius our way. Meditating, grounding, taking the route less traveled, and going with the flow are how we attune to this energy. If an opportunity to make a considerable life change appears to you… take it! Yes, even if it seems scary at first. The third Saturn-Uranus square of the year arrives on Thursday, bringing us the last chance of the year to abandon something that feels outdated and stale in our lives.
This week also brings the Winter Solstice in the Northern Hemisphere, marking the arrival of Capricorn season. Over the next four weeks, we will feel more drive as we set our goals for the future. Regardless of your zodiac sign, the universe invites you to set ambitious and practical goals as we get closer and closer to 2022! However, keep in mind that Venus is still retrograde—so instead of acting, focus on crafting your master plan.
---
---
Weekly horoscope: what does this week have in store for you?
Aries
Chiron, the centaur of healing, is just ending its five-month retrograde in your sign. If you notice an uncomfortable feeling building up inside of you, take it as a call from the universe to focus on healing. Art therapy, Reiki, or any other healing modality could prove to be helpful and calming during this high-intensity moment. On a more tangible note, the Sun entering Capricorn on Tuesday marks the beginning of a four-week period of great activity in your career sector.
Taurus
With cosmic messenger Mercury activating Uranus in your sign, you could be receiving interesting downloads and messages this week. Pay attention to the signs, as they could contain incredibly creative ideas for you to soak up! This week, you also receive the last chance to make a considerable change in your life. You're a creature of habit but trust us when we say that the grass is not only greener on the other side, it's more fun and in line with who you are becoming!
Gemini
Mercury, your planetary ruler, is now in Capricorn, helping you focus on your most ambitious goals. As Mercury connects with Uranus, your mind could be filled with electricity, ready to craft exciting and innovative ideas. Keep a pen and a journal handy so you can write them down. The next step is to edit them down and choose the first two that most resonate with you. While it's not yet time to act on these ideas, it is time to commit to making them happen in the new year!
Cancer
For you, Crab, last week's focus spills into this one as the Moon in your sign activates the need to work on a partnership, contract, or commitment. If things get intense, remember this is a long-term influence, which means that things won't get fixed right away. Practice self-care instead of investing too much of your energy in something that still needs more time to develop. Things will begin to take more shape as soon as 2022 arrives.
Leo
While the energy of the week ahead could be intense for you, it could also bring a nice surprise your way. The beautiful Moon will be in your sign around mid-week—and as it connects with lucky Jupiter, you could receive good news around a partnership or contract. The Moon will also be activating the Saturn-Uranus square, which could mean abandoning something old to be able to take advantage of a new opportunity. What will you decide to do, Leo?
Virgo
The entrance of the Sun into earthy sign pal Capricorn kicks off a four-week period in which the cosmos suggests you take it easy and enjoy life more. As your fifth house of fun and creativity gets activated, you might begin to receive more invitations to socialize and travel. Take advantage of this opportunity to book a vacation or staycation, Virgo. During Capricorn season, you're being productive when you channel and feed your inner child.
Libra
The Moon in Cancer at the beginning of the week could make life busy and a bit intense, Libra. As much as you can, take some time off to decompress on Monday and Tuesday. As the Sun enters Capricorn, your focus will slowly but surely shift toward home and family. The next four weeks are a good time to ground and connect to your ancestral roots. This is especially true if the retrograde of Venus has you looking for some deep answers.
Scorpio
You love the energy of Capricorn, as it allows for the universe to send magical beams your way. It puts the focus on your communication sector, as it teams up with Venus retrograde to modify the way you express yourself. This week's Saturn-Uranus square brings the opportunity to make a considerable change to your routine. Don't miss out and take this opportunity, Scorpio. Even if it doesn't seem like it now, once 2022 arrives, you will be glad you did it!
Sagittarius
The Sun leaves your sign this week to enter your second house of money, where it will team up with Mercury and retrograde Venus to bring order to your financial life. If you're feeling an incredible surge of energy, it's fiery Mars in your sign. For the next six weeks, you'll have energy to spare—so use it wisely by coming up with an ambitious plan to put in place in 2022, once Venus has stationed direct (Jan 29).
Capricorn
Happy birthday, Capricorn. As the Sun enters your sign, it joins Mercury, retrograde Venus, asteroid Juno, and Pluto in your sign. Life could suddenly turn extremely busy for you, so make sure to leave time for yourself. You're entering a month of reinvention in which the cosmos will ask you to abandon what feels stale to make room for the new. If something (or someone) no longer resonates with you, this week provides the ideal astro-weather to let it go!
Aquarius
As the Sun enters Capricorn, it activates four other planetary bodies in your sector of subconscious mind. Your inner life will be busy, to say the least. Over the next four weeks, you'll benefit from journaling about your dreams, consulting astrology or the Tarot, and spending as much time as you can alone. On a super positive note, Jupiter about to leave your sign could mean a sweet and unexpected surprise coming your way!
Pisces
For you, Pisces, last week's theme spills into this one as the Sun's entrance into Capricorn further highlights the need to focus on fine-tuning your social connections and friendships. If one of them is taking too much of your energy, this is the perfect week to stop giving it your attention. On a more positive note, Mars now in your career sector does kick-off a six-week period in which you can make strides at work. You're likely to feel ambitious and your desire to be recognized for your accomplishments will grow.
Athena Antares is a traveling writer, astrologer, and mystic who believes in adding a touch of magic to everyday life. She has written horoscopes for numerous lifestyle publications and has dived deeply into astrological magic and manifestation spell work. In her spare time, Athena enjoys exploring new places, spending time in nature, and reading charts for her worldly clientele.