Your weekly horoscope is here: December 27 - January 2
Your first weekly horoscope of the new year is 'a clear cosmic call to leave the past behind'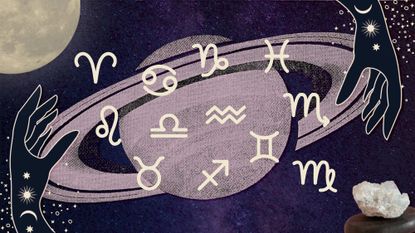 (Image credit: Future)
We have arrived at one of the most important weeks of the year—not only because it's the last one of the year (hello, 2022!), but also because one of our favorite planets will make a significant and positive shift.
On Tuesday, Jupiter (the planet of luck, protection, and expansion) enters the emotional waters of Pisces. This planet-sign combination is expected to increase the flow of abundance in our lives. Over the months ahead, attuning to a more creative lifestyle and a compassionate and adaptable attitude will help us attract our hearts' desires. While this is a long transit (it will last until May 10), there could be a short delay in feeling it. But once Venus and Mercury go direct in early February, we will begin to see how this beautiful influence will pan out for each one of us.
On a more intense note, the Capricorn Sun clashes with Chiron, the centaur of healing. Intense as it can be, this influence is a clear cosmic call to leave the past behind. But to do this, we must face some of our deepest insecurities head-on! Before entering the new year, make peace with what was painful in 2021 with the finality of processing it. 2022 is bound to be a great year, so go into it with a heart full of trust and excitement for the future!
---
---
Weekly horoscope: what does this week have in store for you?
Aries
The beginning of the week could feel intense as the Libra moon escalates your interactions within your most important relationships. Instead of acting impulsively, try finding a deeper meaning behind the tension. There's something here for you to learn. On a more positive note, Jupiter entering your house of subconscious mind kicks off a six-month period of spiritual growth. Dreamwork, meditation, and intuition now serve as your vehicle for evolution, so begin diving into these practices now, dear Aries. (Our guide to the best meditation apps will help!)
Taurus
As Jupiter enters your eleventh house of community this week, you're beginning a six-month period in which you benefit from connecting with others. You're the kind of sign that has few but strong friendships. However, in 2022, make it a point to get out of your comfort zone. Networking, collaboration, and social engagement are the ways in which you will attract more abundance into your life. So even if it seems hard at first, start pinpointing those who align with your vision.
Gemini
You are one of the zodiac signs that will receive more cosmic help this year, but you're going to have to put in the work! Jupiter enters your tenth house of career and public reputation, bringing you six months of success. You could be in for a promotion, award, or at least more visibility. This week, your ruler Mercury meets with powerful Pluto in badass Capricorn. Use this influence to begin crafting your amazing 2022 master plan!
Cancer
This week's Sun-Chiron class could feel intense for you; however, it does provide you with the opportunity to heal some deep-seated insecurities around themes of success and public visibility. The good news is that Jupiter entering your ninth house of spirituality invites you to have a more positive attitude towards the future. If you've been wanting to take a trip to a far-way destination or sign up for a class, the next six months are ideal to do so.
Leo
As your ruler, the Sun, clashes with Chiron, the beginning of the week could be a struggle. If you can, take some time off around midweek to process and decompress. Jupiter entering your eighth house of sexuality and intimacy is about to make your life so much richer. If you're partnered, this influence will bring you closer together. If you're single, you could suddenly begin to feel the need to merge with someone at a very deep, soul level.
Virgo
Your planet, Mercury, meets with Pluto this week, making you a detective! If you've been searching for the answer to a question, this could be the week you discover it. But the best news is Jupiter entering your seventh house of partnerships, kicking off a six-month period in which you could very well meet the person of your dreams! If you're already spoken for, an engagement or wedding could be in the cards. Alternatively, you could form a very profitable business partnership.
Libra
The Moon will be in your sign at the beginning of the week, so expect to feel emotional. Or perhaps it might be just a feeling of nostalgia, as you leave the past behind. Jupiter's entrance into your sixth house marks the beginning of a time in which you are likely to see benefits in the areas of work and health, as well as daily routines. This is especially true if you struggled with keeping a healthy work/life balance in 2021.
Scorpio
As Mercury meets with your ruler Pluto, you're bound to receive an important message, and it most likely contains juicy information about your future. As magnanimous Jupiter enters Pisces, a zodiac sign you love, you're about to bask in full-on glory! For the next six months, you have cosmic permission to grow and expand—and you do so by slowing down, being creative, and having fun. If dating is on your mind, expect some serious action during the months ahead.
Sagittarius
With your ruler, Jupiter, now in such a strong position in the sky, you're about to grow and expand in many ways. In fact, moving in too many directions could be the wrong move, dear Sag. Here's a hint: focus on creating a nest or at least on setting roots. You're a gypsy at heart, but Jupiter is now blessing the sector of your chart that rules home and family. Use it to set yourself up for future success!
Capricorn
Life is moving fast for you, Capricorn! The Sun in your sign clashing with Chiron could mean painful blasts from the past. But you're more than tasked to deal with them. In fact, communicating your feelings around them can be healing. Jupiter's blessings are coming to this sector of your chart, so for the next six months, you receive a cosmic nudge to express yourself in many different forms. Alternatively, you might want to begin studying something new.
Aquarius
Good news, Aquarius! Jupiter leaving your sign and entering your second house of money and value systems could mean two things. One of them could be more money in your bank account or the ability to attract abundance in tangible forms. The other manifestation is more confidence when it comes to your self-worth. Either way, this is a fortunate transit to be happy about. Like 2021, 2022 will keep asking you to work hard—the difference now is that you might see more and quicker results for your efforts.
Pisces
Are you ready for your close-up, Pisces? We certainly hope so! You have so many reasons to be excited as Jupiter, your traditional ruler, enters your sign. From now on, you should be feeling more optimistic and cheerful about the future. Your powers of attraction will also be at their highest, making this a great time to begin thinking about what, specifically, you would like to focus on. Whether it's a partner, a new job, or even just more friends, start requesting it from the universe. It is listening!
Athena Antares is a traveling writer, astrologer, and mystic who believes in adding a touch of magic to everyday life. She has written horoscopes for numerous lifestyle publications and has dived deeply into astrological magic and manifestation spell work. In her spare time, Athena enjoys exploring new places, spending time in nature, and reading charts for her worldly clientele.