Your weekly horoscope is here: December 6 - December 12
Things are about to get steamy!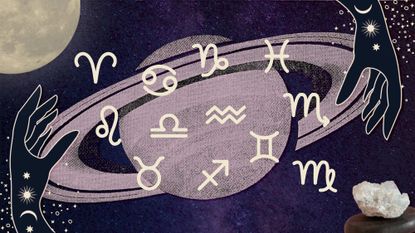 (Image credit: Future)
As we get deeper into December, we remain under the influence of Neptune as both Mercury and the Sun activate this planet's enchanting vibes. During the days ahead, take what you hear with a grain of salt—as you might not be getting the full story or even seeing things clearly.
That being said, the week does provide the perfect cosmic connections for us to explore some of our deeper desires. Mars, the planet of drive and action, will be connecting with Pluto and Jupiter at the beginning of the week. Our sense of ambition will be lit and our hunger for success will be turned on! And even if we don't notice it on the surface, we can trust that deep transformation is happening at a very deep, subconscious level. By the way, this activation of Mars will also be felt at a sexual level—so make sure to channel it in the bedroom!
By the time the weekend arrives, our minds and hearts will be fully focused on relationships. As lover Venus meets with intense Pluto, our need for attention and affection will increase. If you're partnered, your magnetism can be used to lure your partner towards you. If you're single, just make sure you're attracting the correct connections at this time.
---
---
Weekly horoscope: what does the week ahead have in store for you?
Aries
Do you feel your inner fire building up, Aries? As your ruler Mars makes powerful connections this week, you're invited to do some serious networking. It's a wonderful time to reach out to peeps who align with your vision and who could help you execute your master plan for 2022. Your powers of attraction also get a boost—but regardless of how hot things get between you and a colleague, think twice before mixing business with pleasure.
Taurus
For you, Taurus, this is a week to focus your energy on introspection. The Venus-Pluto conjunction turns your attention toward your deeper desires and how they play out in your personal as well as business relationships. Hint: How are you asserting your power? Pay attention to the signs, as they could be very telling of the changes you need to make as 2021 ends and 2022 begins. A huge transformation is on the horizon!
Gemini
The week ahead has a confusing undertone for you, dear Gemini. With your ruler, Mercury, running into a clash with Neptune at the beginning of the week, communication in personal and business dealings gets distorted. You're a social butterfly—but right now, it's best to keep a low profile. Over the weekend, spend some time thinking about what you want to manifest in the year ahead. Lucky Jupiter will be supporting you in being optimistic and thinking big!
Cancer
This week's powerful Venus-Pluto conjunction is happening in your seventh house of partnerships, exposing some of the power dynamics within relationships that are up for renewal. As an intuitive water sign, you're incredibly skilled at getting attention when you desire it. But this week, your behavior could turn possessive and even manipulative if you're not careful. Luckily, this weekend's Moon in Pisces assists you in connecting you to your intuition. Tune in!
Leo
Over the days ahead, your mind is focused on an important relationship—whether it's business or romantic. You're aware that making it work requires hard work, but you're also aware that the energetic investment you're putting in comes with rewards. If it's a romantic relationship, things get hot and heavy around mid-week—in this case, it might be best to "solve your differences in the bedroom" as sexy Mars lights up your fourth house of home.
Virgo
Things can get confusing with a partner or roommate as the Sun and Mercury clash with Neptune this week. Remember, Virgo, that communication is distorted now, so don't be so quick to judge, as you might later regret it. Instead of spending too much energy on it, focus your energy on something that brings you pleasure. This weekend's Venus-Pluto conjunction in your fifth house of fun aids you in getting lost in a book, movie, or creative project.
Libra
This week marks the beginning of a period in which you will be focusing on your home and the relationships you hold in that space. As Venus meets deep Pluto, underlying issues around power dynamics come to the surface to be dealt with. And while you might want to ignore them—they're not going anywhere. Instead, opt for asserting yourself and owning your own power. Doing so might feel better than expected, dear Libra.
Scorpio
This week's clouds of confusion could make you spend way more money than expected, so look for healthier ways of having fun without breaking the bank. On a more positive note, your sex appeal gets a boost as lover Venus gets hot and heavy with your ruler Pluto. Use it to your advantage by luring your partner into your den, asking someone on a date, or networking with big power players in your industry.
Sagittarius
It's your birthday season—but this is not a week to get wild or take risks. Neptune will be casting a spell over you this week, so tune into its energy by exploring your creativity and spirituality. On a more tangible note, this week's powerful Venus-Pluto conjunction is happening in your second house of money, starting you on a journey in which the cosmos will assist you in taking your financial power back!
Capricorn
With the cosmic lovers, Venus and Mars, connecting with Pluto in your sign, you're feeling ambitious and on top of the world! Either in business or romance, you're reaping the rewards of your long-held efforts. So, if you're feeling up for it, why not celebrate? While the upcoming Venus retrograde means there is still work to do, you should rejoice in the fact that you've been doing, for quite some time, deep work on yourself.
Aquarius
Driven Mars in your career sector has been helping you assert yourself—and as it connects with Jupiter in your sign, a sweet reward could be coming your way. The moody Moon will be in your sign around mid-week, most likely making you nostalgic about the past. It's been a year full of change, Aquarius. We get it that it's not you, but try to give yourself the chance to process whatever emotions come up.
Pisces
As the Sun and Mercury in your career sector clash with foggy Neptune in your sign, it might be difficult to focus on the task at hand. If you can, take some time off to rest—or at least spend some time meditating and focusing more on the non-tangible side of life. If you're a creative, this tension does provide the ideal energy for you to explore some of the artistic projects that have been on your mind.
Athena Antares is a traveling writer, astrologer, and mystic who believes in adding a touch of magic to everyday life. She has written horoscopes for numerous lifestyle publications and has dived deeply into astrological magic and manifestation spell work. In her spare time, Athena enjoys exploring new places, spending time in nature, and reading charts for her worldly clientele.