Your weekly horoscope is here: May 16 - May 22
Your weekly horoscope and we finally get a breather after a few intense weeks...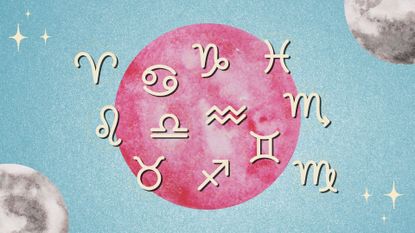 (Image credit: Future)
After last week's astrological intensity (with the May full moon and the May lunar eclipse), the energy begins to slow down as we enter the last week of eclipse season. Tuesday brings a strong merging between Mars and Neptune in Pisces, bringing the perfect weather for us to focus on meditative practices that support us in releasing attachments to the past. Combined with the fortunate connection that the Sun will make with Pluto on Thursday, we can let go of any negative habits or patterns that have been holding us back.
Friday brings a major shift as the bright light of the Sun begins to illuminate the skies of Gemini, bringing a wave of fresh air. This move officially ends eclipse season, which will allow us to move through life in a calmer manner. For the next four weeks, the energy is fun and playful. Being an intellectual air sign, Gemini instigates us to try everything that sparks our curiosity, while also connecting us with people in our community in the spirit of cooperation.
This weekend brings us to a crucial point along our Mercury retrograde 2022 journey as the planet of thought meets with the Sun, bringing lucid and a-ha moments. Pay attention to what comes up in your mind around this time. On Sunday, retrograde Mercury enters Taurus, slowing the pace of life and communication even more, for the next two weeks.
Weekly horoscope: what does this week have in store for you?
Aries
The beginning of the week is ideal for releasing any subconscious negative patterns that lead to self-sabotage, Aries. Deep meditative states, journaling, and practices like hypnotherapy can help with this process in preparation for the shift that's coming. On Friday, the Sun enters Gemini, illuminating your third house of communication, which kicks off a four-week period of busyness and lots of action. You will be meeting new people, socializing, and strengthening your community bonds.
Taurus
The Sun entering Gemini on Friday means the pace of your life begins to slow down, which should be a welcomed shift for you. This is especially true as Mercury enters your sign in retrograde motion. Watch your interactions this weekend, as there could be misunderstandings when you text or DM someone. At a deeper level, the magic of this retrograde will take you through a twelve-day process of transforming your image, Taurus. How would you like people to see you?
Gemini
This could be a lucky week for you, Gemini! Around mid-week, Mercury retrograde in your sign connects with lucky Jupiter, meaning that a past opportunity that didn't quite gel for you could now materialize. Remember to not sign anything until after June 3, however. On Friday, your birthday season begins as the Sun illuminates your sign, heralding a powerful rebirth. For the next four weeks, themes around your personal identity, appearance, and self-expression come to the forefront.
Cancer
The Mars-Neptune conjunction in your tenth house could reawaken the jealousy of some folks in your industry, so tread lightly in your commitments and communications at the beginning of the week. When the Sun enters Gemini on Friday, it activates your subconscious sector for the next four weeks. As much as possible, take time to rest, meditate, and reconnect with your spirituality. Major downloads for information can be the result and will prepare you for your upcoming birthday season.
Leo
The Sun, your planetary ruler, makes significant astral connections this week, which means you're in for some shifts, Leo. Mid-week, think about the changes that you can make to your daily work routine that will lead to long-term rewards. Over the weekend, the Sun in Gemini meets with Mercury in your house of community, bringing your clarity around cooperation with friends and groups that could eventually lead to the materialization of one of your important goals.
Virgo
It's a week of big shifts, Virgo. The Sun enters your career sector, kicking off a four-week period in which you will be focusing on hitting ambitious goals. Mercury retrograde leaves this sector to enter your sector of study and philosophy of life, hinting that to reach a key goal, you must first take a deep dive into a book, course, or deep analysis that will arm you with the knowledge you need to materialize what you desire.
Libra
Last week's relationship intensity begins to melt (Mercury retrograde and relationships is tricky business), and this week's astrology instigates you to expand your mind and see life with more optimism. You love the energy of Gemini—and as the Sun enters this part of the sky, you're ready to think big and maybe even enroll in a course or trip involving something you've been wanting to learn. Over the weekend, doing some research involving this practice or hobby can bring you a moment of clarity and awaken your spirit of adventure.
Scorpio
Things have been intense, Scorpio, and the Sun-Pluto connection that happens midweek illuminates the previously hidden reasons behind all the changes you've been going through. Spend some time being grateful for this epic transformation! As the Sun enters Gemini, it heralds yet another four-week period of deep introspection and inner work. This is an excellent time to create a new financial plan, or to eliminate any bad habits that undermine your sense of personal power and self-mastery.
Sagittarius
This week's Mars-Neptune meetup falls in your fourth house of home, which could either be a dream for your sexual life, or could create struggles with someone who you are close with. With the awareness that Mercury is in retrograde, be careful when approaching important subjects. When the Sun enters Gemini, your sector of partnerships gets lit up, slowly shifting your focus towards creating more profound connections with people who are on your same wavelength.
Capricorn
Communication could get tricky this week, so be mindful when you send messages, open emails, and share information, as Mars and Neptune could bring fog to your interactions. On the flip side, this combination could bring more energy and creativity to a communicative project. Pay attention to your dreams and intuition this weekend, as you could receive valuable messages around the changes you need to make to your daily routine to find bring more balance into your life.
Aquarius
Since March 10, asteroid Vesta has been in your sign, deepening your devotion to growth and self-mastery. As this planetary body prepares to leave your sign on March 24, it's a good time to look back and see what it has meant for you. Did you grow spirituality? Or did you start any daily rituals that gave your life more direction? If you did not, this is the perfect week to commit to a practice that will help you ground whenever you need it the most.
Pisces
Driven Mars meets with Neptune in your sign this week, which could bring a mixed bag of energies. It could make your energy a little more susceptible, especially if you consider yourself an empath. Protecting yourself with crystals and visualization can help, as it will also do surrounding yourself only with positive people. On the positive side, it can fuel your creative juices so you can begin to shape the road towards chasing a big dream.
Cute astrology-themed gifts
Brand
Colour
Price
Refine ☵
Sort By
Athena Antares is a traveling writer, astrologer, and mystic who believes in adding a touch of magic to everyday life. She has written horoscopes for numerous lifestyle publications and has dived deeply into astrological magic and manifestation spell work. In her spare time, Athena enjoys exploring new places, spending time in nature, and reading charts for her worldly clientele.