Your weekly horoscope is here: October 24 - October 30
Your weekly horoscope is here—and it's a big week for new beginnings...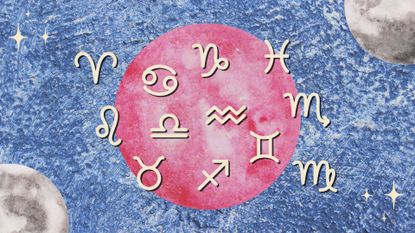 (Image credit: Future)
Welcome to your weekly horoscope! Time to put on your best outfit—because you're about to have a meeting with destiny itself. Tuesday marks the arrival of the new moon solar eclipse in Scorpio, which brings the potency of three new moons in one (it happens on the same night as the October 2022 new moon). This eclipse spells major new beginnings in relationships, as lover Venus is intimately involved in it. Take note of the themes that come up for you now, as they could remain relevant for the next three and even six months.
On Thursday, sleeping giant Jupiter changes signs while in retrograde motion. Since this is a rare movement that brings the planet of abundance from a fire to a water sign, we might feel tired and in need of rest. Jupiter was in Pisces from May 13 to July 28, which means that blasts from the past, from this spring and summer, could return. This time, Jupiter will remain in Pisces until December 20, bringing opportunities for abundance in the realm of relationships, spirituality, and artistry.
There's more news! Mars retrograde finally arrives this weekend, the most important retrograde to watch. From October 30 to November 12, Mars retrograde will slow down the overall energy with the finality of having us look beyond the facades. From this weekend on, taking things slowly, creating awareness around your words and actions, and asking the reasons behind your passions and desires will instigate your overall personal growth.
Check out your horoscope below for your rising as well as your sun sign (and don't forget to check your October 2022 horoscope, your 2022 horoscope predictions and the calendar of October astrology events).
Meet the expert: Narayana Montúfar
Weekly horoscope: what does this week have in store for you?
Aries weekly horoscope
Be patient with yourself, Aries. This week holds major energetic changes for you, which could translate into significant beginnings and endings. There is a big pull to focus on the non-tangible side of life as both Jupiter and the new moon solar eclipse activate your inner life. While it's hard for you to slow down, giving yourself time for some deep introspection can really help you get aligned with the astrological themes of the next few months.
Taurus weekly horoscope
It's time to explore new relationship avenues, Taurus! The new moon solar eclipse is activating your seventh house of partnerships. If you are single, you could no longer be pretty soon. If you are already involved with someone, they could suddenly become interested in being closer. From now until mid-December, you are being invited to expand your group of friends, so try getting out there and mingle! Jupiter in Pisces will bring opportunities for you to meet like-minded people.
Gemini weekly horoscope
A new client or work project could fall on your lap this week, Gemini. While this event feels destined and could be great news for your wallet, it's also important to remember that Mars begins its retrograde in your sign. Be very careful when committing to long-term projects, as it's a sure thing you will need more downtime, starting this week. This could also mean an opportunity from the past returning for a second chance.
Cancer weekly horoscope
This is a fabulous week to attune to your intuition, Cancer. The new moon solar eclipse could disclose information about new interests that you have been developing. Something that you try just for fun now could become a new and exciting career path in the future. You are also being given a window of opportunity in which you can develop your intuition, so for the next few weeks, try to connect with it by meditating and practicing stillness.
Leo weekly horoscope
You have been juggling a great amount of change this year, Leo. And this week's new moon solar eclipse brings you a new beginning. You could finally find a way to balance your busy career life with your private life a little better, however, you might have to give something up. Remember that success begins with making your career work for you—and not the other way around. Put yourself first, and the rest will follow!
Virgo weekly horoscope
Be prepared for some juicy information to be disclosed, Virgo, as the new moon solar eclipse occurs. It could involve a sibling, neighbor, or acquaintance. If what you hear shocks you, take it as a sign from the universe that it's time to question your own beliefs and life philosophy. As Jupiter enters Pisces, your love life receives blessings. From now until mid-December, you could meet someone new if single, or find closeness with a current partner.
Libra weekly horoscope
Take note of what happens this week, Libra! A new financial opportunity could suddenly fall on your lap—or alternatively, you could meet someone who eventually leads you to financial freedom. If you work for someone, you could land a raise. If you own your own business, use this energy to really think about the value of your offer, or if you're even changing enough for your services. If you don't value your gifts—who else would?
Scorpio weekly horoscope
A major new beginning is on the horizon, Scorpio! This year has been one for the books, and this eclipse happening in your sign means you are almost on the other side. A new relationship, contract, or gig could come around now—however, if it involves surrendering a part of yourself that is important to you, think it twice. As Jupiter enters Pisces, an ex could return between now and mid-December. It's okay to give them a second chance, but not if they haven't fixed any of their old issues, correct?
Sagittarius weekly horoscope
It's time to let go, Sagittarius! This potent new moon solar eclipse is asking you to release your old baggage, so this week, make it a point to forgive anyone who has done you wrong. By doing so, you're opening up space for new. Jupiter entering Pisces this week is great news for you, when focusing on spirituality and creativity pursuits will open abundant avenues that could be crucial for your growth in the next twelve years.
Capricorn weekly horoscope
Stay open, Capricorn. The new moon solar eclipse opens new avenues for collaboration, most likely with powerful people, who like you, are not afraid to trailblaze. Someone you meet through a friend or even online could later become an inspiring colleague. Then as Mars goes retrograde this weekend, productivity will slow down for all. If you ever wanted some time to write your book or memoir, mighty Jupiter activating your voice says that the time is now!
Aquarius weekly horoscope
Brace yourself, Aquarius, as this week could be intense at work. Eclipses are super-charged lunations that make energetic and karmic adjustments. This means that doors will open and close when it comes to team members, but could also mean that a new career trajectory is either beginning or taking form for you. All you must do is go with the flow and stay realistic when it comes to committing to new projects so no one's expectations are later left unfulfilled.
Pisces weekly horoscope
It's a sweet week for you, Pisces! As mighty Jupiter re-enters your sign, you're being given a second chance to get something right. In astrology, Jupiter is the expander and abundance-giver, meaning that from now until mid-December, you can manifest pretty much anything you want. That is if you focus your energy on something specific and stay the course. If a theme or situation from May 13 to July 28 returns and you weren't happy with the outcome, try adopting a different approach.
Cute astrology-themed gifts
Brand
Colour
Price
Refine ☵
Sort By
Narayana Montúfar is an astrologer, artist, writer, and energy healer who finds inspiration in the symbolic language of astrology. She is an expert in the astrological studies of the Moon and the author of Moon Signs: Unlock Your Inner Luminary Power. (opens in new tab) She was featured as one of Medium.com's Authority Magazine 2020's Strong Female Leaders (opens in new tab), Destig Magazine's Top Artists to Collect in 2020 (opens in new tab), and one of Vogue's 13 Astrologers to Follow in 2021. (opens in new tab)
Narayana currently serves as the Senior Astrologer of Astrology.com, is the Resident Astrologer for House of Intuition LA, and writes for My Imperfect Life, Cosmopolitan US and Wit & Delight. You can also find her astrological work featured in numerous lifestyle publications like Teen Vogue, Refinery29, InStyle, Brit+Co, Bustle, Pop Sugar, Well + Good, Women's Health, Romper, and more. In her private astrology practice, Narayana's holistic approach seeks to create a positive impact by connecting each one of her clients to the uniqueness of their chart and illuminate their path towards the ultimate state of self-empowerment and self-discovery.