What do women like most in porn? Sexperts reveal the spicy details
'With women increasingly embracing their sexuality, they are naturally seeking out erotic entertainment that focuses on their bodies'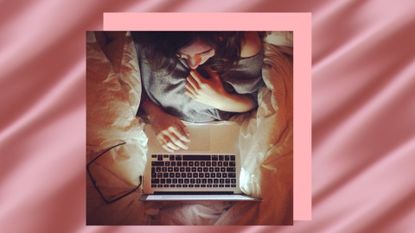 (Image credit: Getty Images/David Crunelle / EyeEm)
Time to dial up the heat! You've asked, "What do women like most in porn?" and the sexperts obliged with some thorough research.
Though watching porn together with a significant other or solo is often a taboo topic, Sssh.com (opens in new tab) aims to take back pornographic pleasure. The female-founded and -led digital destination for sex-positive, feminist and ethical porn is all about presenting intimacy from a women's point of view.
Recently, Angie Rowntree, the site's director and founder, did a little digging to uncover what it is that women truly want. No sex secrets here. Have a look at the on-camera acts that turn women on the most, according to the site's searches and activity.
---
---
What do women like most in porn?
Pornography was once deemed an activity favored by males, but Sssh.com insists there has been a shift.
"An ongoing trend in the adult industry at large keeps showing us that more women are watching porn," Rowntree said. "With women increasingly embracing their sexuality, they are naturally seeking out erotic entertainment that focuses on their bodies, their pleasure and their overall experience."
With that in mind, it's time to cater to the clientele. Ready to get into specifics? (And perhaps enjoy an orgasm in the process?)
1. Female-focused Foreplay
Sexperts are all in favor of foreplay ideas—why rush into something when you can boost momentum? It increases intimacy and, in turn, makes the experience more meaningful for each partner.
Though foreplay was once overlooked in favor of the act itself, there is an increased interest in touching and fooling around before sex. To learn about wild sexcapades and women's ultimate fantasies, Rowntree recommends you venture over to the "Sssh Members Share" section.
Feeling inspired? Lovehoney (opens in new tab) sex and relationship expert, Sarah Mulindwa, shells out some pointers: "Don't ignore the face, the neck, the earlobes, or any other area of the body that's extra-sensitive."
2. Cunnilingus
When on Sssh.com, those interested in oral pleasure should explore Ellington, Mirror Game and A Slice of Heaven, according to Rowntree.
3. Anal sex
Despite misconceptions, anal sex is actually something that has piqued women's interest, provided it's done affectionately.
"Members wanted to see the act done slowly and sensually, with ample foreplay and build-up," Rowntree says of the site's increased search for "intimate anal sex."
To find this sexy act on Sssh.com, you can turn to movies such as The Awakening and Breathless or sex-ed videos including Anal Sex Secrets.
4. Real sex and orgasms
"It's worth asking: are we being influenced by adult entertainment in terms of how our bodies react to sex, or how we vocalize orgasms–or is it the other way around," Rowntree wonders.
She adds: "Sssh encourages people to experience their orgasms organically, however that looks or sounds."
Speaking of which, check out this orgasm hack worth screaming about, literally, and the viral pillow sex tip everyone raves about.
5. MMF
Though most believe this is related to BDSM or femdom, Rowntree says this focuses on two men who are attempting to please one woman. (The site's Concrete Knights film knows this well.)
Hey Alexa, play "Three" by Britney Spears.
6. Sensual pegging
Like anal sex, Sssh.com visitors were interested in witnessing the act on screen, but only if there's intimacy behind the deed. Rowntree says to check out the site's Empowering Ava film for those who are interested.
The My Imperfect Life team is all about helping you navigate your world. We bring you the latest on fashion, beauty, travel and wellness so you can live life on your terms.