What do women like most in porn? Sexperts shell out all of the spicy details
According to these findings, women's porn preferences are all about prioritizing female pleasure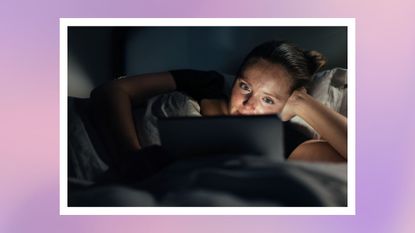 (Image credit: Getty Images/Future)
It's officially getting hot in here. You've asked, "What do women like most in porn?" and the sexperts obliged with some thorough research. So if you're looking to the best sex tips to get you or your lady friend going, you're going to want to read on.
Though watching porn together with a significant other (or even solo) is often a taboo topic, many of us can probably agree that it's not something to be ashamed of; and in fact, sexual pleasure should be celebrated! And the sex experts over at Sssh.com agree, aiming to help women take back their pleasure (whether through visual or audio porn offerings)—is why they've done a bit of digging about what women truly want. Recently, Angie Rowntree, the site's director and founder, did a little digging to discover what women prefer to watch when it comes to porn.
Similarly, Pornhub also regularly reveal what sort of porn is most often viewed by women, and they did the same for 2022. So, you'll find no sex secrets here—have a look at the on-camera acts that turn women on the most, according to the site's searches and activity.
What do women like most in porn?
Pornography was once deemed an activity favored by males, but Sssh.com insists there has been a shift.
"An ongoing trend in the adult industry at large keeps showing us that more women are watching porn," Rowntree said. "With women increasingly embracing their sexuality, they are naturally seeking out erotic entertainment that focuses on their bodies, their pleasure and their overall experience."
With that in mind, it's time to cater to the clientele. Ready to get into specifics?
Angie Rowntree is the founder and director of Sssh.com, which works to destigmatize adult entertainment. Its extensive collection of films, sex-ed videos, ASMR and erotic audio content make it the premiere destination for sex-positive, ethical porn made from a woman's point of view.
1. Female-focused foreplay
The sex experts are all in favor of foreplay; why rush into something when you can boost momentum? It increases intimacy and, in turn, makes the experience more meaningful for each partner, especially for women, who tend to require more foreplay than men.
Though foreplay was once overlooked in favor of the act itself, there is an increased interest in touching and fooling around before sex, which Angie says is clear from viewing habits on Sssh.com
Lovehoney's sex and relationship expert Sarah Mulindwa concurred that this comes as no surprise. "People tend to go right for the erogenous zones when they're in bed. That's nice and all, but there are other parts of the body that shouldn't be overlooked during sex, and touching them helps build up excitement," she previously told us. "Don't ignore the face, the neck, the earlobes, or any other area of the body that's extra-sensitive."
2. Cunnilingus
According to Pornhub's 2022 report, this was one of the most viewed categories for women across the globe, showing that women are keen to see sexual interaction outside of simply penetration.
When on Sssh.com, those interested in oral pleasure should explore Ellington, Mirror Game and A Slice of Heaven, according to Rowntree.
If you need a few pointers about the basics of oral sex, sex educator Kenneth Play can deliver. He told My Imperfect Life, "Don't fake it, but find the part of you that's genuinely interested in loving or giving to your partner and feel into that while you are doing the act."
3. Anal sex
Despite misconceptions, anal sex is actually something that has piqued women's interest, provided it's done affectionately.
"Members wanted to see the act done slowly and sensually, with ample foreplay and build-up," Rowntree said of the site's increased search for "intimate anal sex."
To find this sexy act on Sssh.com, you can turn to movies such as The Awakening and Breathless or sex-ed videos including Anal Sex Secrets.
4. Lesbian
Interestingly, this category came out on top according to Pornhub's annual 2022 report, sharing that women are searching for this category when they watch porn even more than men.
In fact, this category was searched for 69% more by women than by men, perhaps because it focuses on female pleasures, rather than the 'race to the finish' that is often seen in straight porn.
5. Real sex and orgasms
"It's worth asking: are we being influenced by adult entertainment in terms of how our bodies react to sex, or how we vocalize orgasms–or is it the other way around," Rowntree wondered. "Sssh encourages people to experience their orgasms organically, however that looks or sounds."
Speaking of which, check out this orgasm hack worth screaming about, literally, and the viral pillow sex tip everyone raves about.
6. MMF
Though most believe this is related to BDSM or femdom, Rowntree said this focuses on two men who are attempting to please one woman. (The site's Concrete Knights film knows this well.)
According to Rowntree, this is a popular category on Sssh.com—perhaps because it once again prioritizes female pleasure over male?
Hey Alexa, play "Three" by Britney Spears.
7. Sensual pegging
Like anal sex, Sssh.com visitors were interested in witnessing the act on screen, but only if there's intimacy behind the deed. Rowntree says to check out the site's Empowering Ava film for those who are curious.
---
All in all, it appears that as with every woman, interest varies—something Rowntree can confirm.
"Since we began our journey in 1999, Sssh.com has always been about member-driven content," she previously told My Imperfect Life. "Now that we have over 24 years of data on desire and fantasy, we can confidently say that it is impossible to put women's sexuality in a box."
Which findings do you most agree with?
The My Imperfect Life team is all about helping you navigate your world. We bring you the latest on fashion, beauty, travel and wellness so you can live life on your terms.