Where do Lauren and Nathan from 'The Ultimatum' stand now?
Netflix's new hit introduced us to Lauren and Nathan—and their tumultuous journey. Were they able to make it work?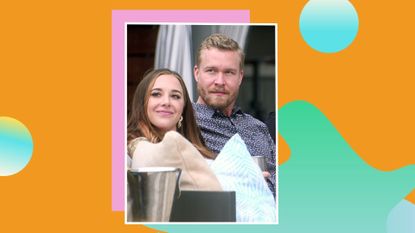 (Image credit: Netflix © 2022)
Like us, you're probably curious about Lauren and Nathan's whereabouts.
After getting sucked into The Ultimatum, Netflix's nail-biting dating experiment, it's difficult to part ways with the brave souls who attempted the journey. We'll confess: we're invested.
As you might've imagined, this series presented fans—and contestants—with a whole smorgasbord of dilemmas. Heck, it was the brainchild of the Love Is Blind creators, after all—drama is a given.
Now that The Ultimatum reunion has blessed us with its arrival on the streaming platform (as of April 13), we're anxious to catch up with everyone...particularly the couple who decided to ditch the series early.
What happened between Lauren and Nathan in 'The Ultimatum'?
Nathan issued an ultimatum to Lauren after two-and-a-half years of dating.
Like Alexis and Hunter, this duo went through the first two weeks of The Ultimatum's shenanigans. But when it came time to choose a new partner, things turned upside down.
Lauren took a liking to her new beau Colby during the initial talking stages, and ultimately, they planned to partner up for two weeks.
Naturally, Nathan didn't enjoy the idea of having "big cheese Colby" live with his girlfriend, and we cannot say we blame him. Nathan felt wary of Colby's intentions and didn't seem to like the way things were headed.
Nathan being the go-getter that he is, got up out of his seat before Lauren was able to make her decision and proposed right then and there. To our surprise, she said yes, but not everyone was overjoyed for the newly betrothed...
How did the other couples react to Lauren and Nathan's engagement?
Very interestingly, to say the least.
April shed more than a few tears, Rae's jaw dropped and Alexis coined the decision as "interesting," given that they're not on the same page with several lifestyle choices—namely, children. Even host Vanessa Lachey didn't know how to respond to this unusual declaration of lob.
Colby also decided to throw some extra shade in there: "Congratulations, but I don't see the excitement within you," as he couldn't believe that Lauren—the person who had been given the ultimatum—had changed her mind so quickly. This understandably created a serious amount of tension between Colby, Nathan and Lauren as the latter argued about the duration of their relationship.
April also made a speech about how they were here on the program to work through some difficult stuff and ultimately people needed to take that seriously. Basically, she was not happy that Nathan decided to flip the script. (Drama, drama, drama!)
It's safe to say that while the cast members may have been happy for Lauren and Nathan, they were also highly skeptical that they had magically worked out all of their problems. Fair enough!
Do Lauren and Nathan come back after episode three in 'The Ultimatum'?
As of episode eight (when we see where all The Ultimatum couples stand), Lauren and Nathan have not made a reappearance in the series.
Are Lauren and Nathan on the renunion?
Thanks to the season 1 kicker, we learn that Lauren and Nathan are in fact still engaged and working through their issues, particularly where they stand on the family front.
The ever-curious Alexis Maloney decided to confront the couple on their decision about kids, and Lauren revealed a therapist encouraged them to start with one and take things from there.
Here's hoping for a happily ever after, despite the differences.
Liv is a freelance journalist currently studying English at university. She loves covering everything from entertainment and politics to lifestyle and travel. As well as writing for My Imperfect Life, Liv has bylines in The Times, HuffPost, Den of Geek, Bustle The Metro and The Bookseller.

With contributions from