'The Ultimatum' ending: where do all the couples stand now?
Can't wait for part two of Netflix's 'The Ultimatum'? We have the rundown of where all the couples stand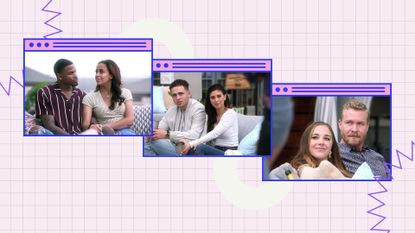 (Image credit: Netflix)
The first eight episodes of Netflix's The Ultimatum: Marry or Move On just dropped on Netflix and to say a lot has happened to The Ultimatum cast would be a massive understatement. With drama every five seconds, the show delivered as our fill-in show until Love Is Blind season 3 drops.
The couples took part in a social experiment that put their relationships to the test as they chose another person to couple with for three weeks. They then recoupled with their long-term partners for another three weeks to see if they had changed and whether or not they wanted to spend the rest of their life with that person.
Episode eight left us on a cliffhanger until The Ultimatum reunion dropped—here's the rundown on where all the couples stood at the end of episode 8...
*Warning: season 1 spoilers ahead!*
Where do 'The Ultimatum' couples stand at the end of episode 8?
Shanique and Randall
Shanique knows exactly what she wants and that is for Randall to put a ring on her finger.
Randall is hesitant to propose because he wants to be more financially stable and able to give Shanique a good life, which actually sounds really sweet. However, sweet is not really how we would describe Shanique and Randall's relationship thus far.
Shanique partners up with Zay and while at first, their three-week relationship is a bit off in comparison to the other couples, they do in the end become really good friends and end up fooling around a little bit.
Randall partners up with Madlyn and they get on like a house on fire. Madlyn is super attracted to Randall but craves more from the physical side of their relationship. One night the pair get into an argument after they come back from their respective girl's and guy's nights (with Randall recalling the argument between Zay and Colby) and Madyln storms out to walk the dogs. Randall follows her and they do makeup. Madlyn even says she can imagine herself with Randall while Shanique is sitting right in front of her (brave girl!).
Madlyn's comments about Randall make Shanique break the rules and meet up with Randall prior to the official three weeks they're supposed to spend together. They talk about their relationship but Shanique gets upset and also leaves.
When the couple do reunite for the three weeks, there are still a lot of issues arising around Shanique not listening to Randall but in the end, they do seem to have some more productive discussions.
Whether or not this will lead to the couple being engaged by the end of the series is another thing, as Randall still seems unsure. For now though, they look like they are on more stable ground than some of the other couples.
April and Jake
April issued Jake with the ultimatum as she wants a baby. While April was super sure of their two-year relationship, their experience hasn't been as smooth sailing as April expected. When Jake coupled up with Rae, who he really got on with, the cracks started to become more visible in April and Jake's relationship.
Jake and Rae are both very similar personality-wise—basically the female/male versions of each other. They got on like a house on fire and spent their three weeks making out, dancing in the club (we'll get to that later) and using a gold box full of blindfolds and other fun things.
April had partnered up with Colby mostly because they were the only two people left after Lauren and Nathan, and Hunter and Alexis went and got engaged. The pair just used the time to grow as people.
Meanwhile, Jake introduced Rae to his mum. While she liked Rae, she felt that he should stick with his relationship with April as they have history and has good qualities. However, when April and Jake got back together for the next three weeks of the experiment, even more issues occurred for the couple as Jake became mad at April for playing games and supposedly giving her number out to guys when she went out. Even though she denied this and said it was actually just her Instagram account, this was just one of the arguments the couple had.
The next one occurred one night when Jake was drunk and passed out. April checked his phone and airdropped videos that Jake had filmed of Rae twerking on Jake at the club. As we said, the couple's relationship was not really plain sailing at all...
There was also the small moment that made us wonder if April was pregnant. Whether or not the couple make it out of this series together is yet to be seen but they do have some serious stuff to work through.
Rae and Zay
Rae is the one who issued the ultimatum to her partner Zay. She believes that the way things should go is to finish college, get married, have kids, then honeymoon in Cancun. Zay does not agree.
When the couple split up and actually get on better with their new partners Shanique and Jake, it doesn't really set a good foundation for their relationship going forward. In fact, when Zay finds the gold box full of fun objects under Rae's bed, it starts an argument.
The couple's arguments seem to escalate even in front of Rae's mum, who has to mediate the situation when Rae admits that she feels Zay talks for too long during arguments.
The big fight between the pair spills out over episodes seven and eight when Zay stays out all night and comes home at 8 am without a single text or phone call to April to let her know he's ok (even turning off his location, which April states he never does). The fight gets so big that April ends up hitting Zay and the couple break up, even though Zay still wants to be with her.
The break-up leads to Rae admitting her feelings to Jake. Zay also talks to Shanique, who admits not many women would accept their man staying out to 8 am and that he can't keep blaming everything on their past, which creates a big argument between her and Zay.
It's safe to say this is the first couple we know for sure doesn't make it.
Madlyn and Colby
Colby issued the ultimatum to Madlyn. Madlyn got on really well with Randall and when she reunited with Colby, she admitted this to him after he had just gone out and bought her flowers. He obviously got upset. The big argument came thought when Madlyn found out Colby had gone out to clubs and had been messaging with a bunch of girls. Madlyn found this shocking considering they didn't even go out to clubs together. Colby got mad and stormed out not returning until the next morning drunk, when Madlyn was talking to Rae.
All of Rae's friends said to dump him because he obviously doesn't care for her in the way she wants. He also said that he messaged all those girls because of Madlyn. The incident gets heated as Madlyn has been drinking and she says can't even defend him anymore. The couple do seem to make up after they have a heart-to-heart.
However, when Madlyn meets up with her mum in episode eight, her mum talks about how Colby was the loveliest guy when they first met, but now he barely glances at her and acts so differently.
All we know is Madlyn has some tough choices to make if her mum and friends are so disapproving of Colby.
Alexis and Hunter
Alexis and Hunter didn't survive to see the ending of this social experiment but in a great way.
Alexis had issued an ultimatum to Hunter. In the first section of The Ultimatum's social experiment, which was around finding a new partner they wanted to live with for three weeks, the couple really got involved.
Alexis got pretty close to Colby and thought he felt the same until he said that he didn't find her attractive, which created an argument between the two and created a lot of tension during Alexis' remaining time on the show. Likewise, April got close to Hunter and was choosing him to be her partner for the three weeks, when the fog cleared from Hunter's brain and he realized he wanted to marry Alexis. It was a shock none of us really saw coming at all but it obviously worked out for the couple. As even though they left in episode three, Alexis returned in episode seven to celebrate her bachelorette party with the girls.
Lauren and Nathan
Nathan issued his partner Lauren with the ultimatum. The main cause of friction for the couple was that Nathan wanted kids and Lauren didn't.
Both Lauren and Nathan went through the first few days of The Ultimatum experiment getting to know other people. However, it was when they sat down to choose their new partner that things truly got real for the couple. Lauren got on well with Colby during the initial talking stages and as Colby was expressing his intentions to choose Lauren as his partner, Nathan got jealous as he felt wary of Colby's intentions towards Lauren.
Nathan being the go-getter that he is and following in Hunter's lead, he got up out of his seat before Lauren was able to make her decision and proposed to her saying he didn't mind whether or not they had kids, he just wanted to be with her. The decision created a lot of tension among the group who couldn't believe that Nathan had proposed, considering they still had that ever-so-small issue of one of them wanting loads of kids and the other not wanting them at all.
After they leave in episode three, we do see a small clip of Lauren approaching the subject with Nathan but it gives us no indication about whether or not they are still engaged now, got married or if she even had a bachelorette party like Alexis.
Liv is a freelance journalist currently studying English at university. She loves covering everything from entertainment and politics to lifestyle and travel. As well as writing for My Imperfect Life, Liv has bylines in The Times, HuffPost, Den of Geek, Bustle The Metro and The Bookseller.