Will Alexis and Hunter from 'The Ultimatum' get a happy ending?
Alexis and Hunter's journey on the show was cut short. Where do they stand now?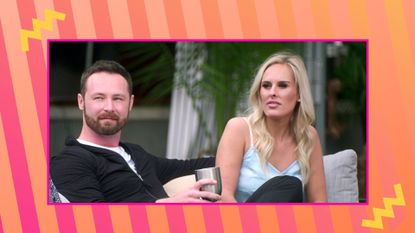 (Image credit: Netflix)
Though Alexis and Hunter willingly agreed to participate in The Ultimatum, Netflix's most addicting dating show yet, it appeared they weren't terribly keen on following the rules.
Those who issued ultimatums were required to swap significant others in order to uncover their true feelings for their actual partner. However, they are one of The Ultimatum couples who decided to take matters into their own hands, much like Nathan and Lauren.
They might not have followed through with the show's demands, but now that The Ultimatum reunion has hit Netflix, we're just as curious where the two stand now that the debut season is behind us.
As Alexis stated, "Tying the knot is hot," but will they make good on their word? We'll fill you in on what happened and what's next for these two.
What happened between Alexis and Hunter during 'The Ultimatum'?
The couple had every intention of following through with the show's social experiment, but Netflix subscribers might not have guessed it.
We were curious how things would play out, as Alexis took a liking to Colby. However, he deemed her unattractive when she decided that he might not be her best fit. (Well, there's no need to be rude, Colby, you knew what you were signing up for!)
When the group got together to make their decisions about their partners, Hunter did something none of us saw coming—he proposed to Alexis! April had expressed her interest in Hunter, but it was Alexis' upset at the prospect of Hunter living with another woman that some could say cleared the fog in Hunter's mind.
We didn't get to see how things panned out, as the couple left the experiment to begin their lives together. So, are they still planning their wedding? Are all systems still a go?
Do Alexis and Hunter reappear after episode three in 'The Ultimatum'?
Alexis reappears in episode seven for her bachelorette party with the girls on the show. Knowing Alexis from the three episodes we saw her in before she left, we are under no assumptions this is the only bachelorette party she had. This is Alexis Maloney after all!
Her reappearance was as fashionable and as dramatic as her initial debut. Unsurprisingly, she brought the drama by asking her peers all of the tough questions. She put Rae on the spot regarding her true feelings for April's boyfriend, Jake (after that moment when we were wondering if April was pregnant). So much for a little levity!
Where do Alexis and Hunter stand after the reunion?
These two are still going strong, so much so that Hunter's mom is stepping in as the wedding planner. (Honestly, that sounds like a reality show in the making, if you ask us.) The two are expected to say "I do" in June 2022. Guess ditching the show had its perks!
Hopefully, we'll be able to see how matters of the heart played out for all those involved with the show. Netflix, we're not pitching ideas or anything, but we're all in favor of another reunion within a year...just sayin'!
Liv is a freelance journalist currently studying English at university. She loves covering everything from entertainment and politics to lifestyle and travel. As well as writing for My Imperfect Life, Liv has bylines in The Times, HuffPost, Den of Geek, Bustle The Metro and The Bookseller.