'The Ultimatum' reunion: which couples are still together now?
Want to know what happened at Netflix's 'The Ultimatum' reunion? We give a rundown of the couples who are still together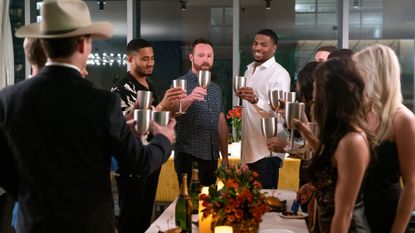 (Image credit: Jody Domingue/Netflix © 202)
Netflix's The Ultimatum: Marry or Move On has provided the drama we didn't know we needed. From early shock proposals to suspected pregnancies, every episode has been a rollercoaster for every cast member involved and fans love it.
Six couples started out the show with one-half of the pair issuing their partners with an ultimatum. As part of the show, the couples then put their relationships to the test with a social experiment put together by Netflix, where they chose another person to couple with for three weeks. They then recoupled with their long-term partners for another three weeks to see if they had changed and whether or not they wanted to spend the rest of their life with that person.
As the 'Marry or Move On' indicates in the title, it was a given that some couples might not end up together by the end of the show. But after watching episode nine and the reunion, some decisions were pretty shocking... So, let's break down what happened to each of The Ultimatum couples.
*Warning: season 1 spoilers ahead!*
What happened at the end 'The Ultimatum' episode 9?
At the end of episode eight, we saw Madlyn and Colby, Shanique and Randall, April and Jake and Rae thinking about whether to propose to their partners, move on or get together with the person they had initially spent their first three weeks of the social experiment with.
It was very touch-and-go for every single couple, but the finale did see two couples get engaged, one split up and one new couple formed. Oh and let's not forget the couple that took a leaf out of Kourtney Kardashian and Travis Barker's book and decided in the spur of the moment to get married too.
Shanique and Randall had a difficult journey, with communication being at the root of their problems, as well as Randall's want for financial stability. However, that didn't stop Randall from proposing to Shanique, declaring that she's the girl for him.
Next up to make their decision was April and Jake, who arguably had the most rollercoaster-like relationship in the whole show. Jake chose to end his relationship with April after realizing their issues were just too big for him to consider proposing to her or even continuing the relationship. But this wasn't the end for Jake's journey on the show, as he and Rae decided to give things a go.
The final couple to make their choice was Madlyn and Colby. They not only got engaged but Colby also asked if they could get married right that second and Madlyn—the spontaneous girl that she is—said yes and the two said their vows there and then, finishing the experiment as husband and wife.
'The Ultimatum' reunion: which couples are still together?
Netflix's The Ultimatum reunion served us with lots of juicy details that we never expected so let's run down the drama couple by couple...
Shanique and Randall
Original couple
Season finale status: engaged
Reunion status: in a relationship but not engaged
At the end of episode nine, Shanique and Randall were engaged. But the reunion revealed that shortly after the show ended, the couple also ended their engagement and took a six-month break.
In that time, Shanique did go on a couple of dates, but Randall didn't as he went through some really hard personal stuff. This sadly included some family losses and even though they were apart, Shanique still supported him throughout. Randall stated that this reconfirmed to him that Shanique was the one for him and they're now taking their relationship slowly but know they absolutely want to be with each other. We think it's just a matter of time before this couple gets engaged again...
The other big shocker in regards to their relationship was that Shanique and Zay had been physical while coupled up. The show gave us an extended clip of the two discussing how they wanted to explore the physical side of their relationship since everyone else was. Shanique revealed that it was exploring that physical aspect with Zay that allowed her to realize that they were just friends. It was also something that she revealed to Randall when they got back together, so while he had never seen the clip, he did know about it.
Rae and Jake
New couple
Season finale status: together
Reunion status: not together
At the end of episode nine, Rae and Jake had decided to pursue a relationship and go on a trip together (after splitting up from their original partners, Zay and April, respectively).
However, the reunion revealed that this couple also split. They didn't go on a trip together at all because they felt their relationship would hurt the other people they had just split up with. They also felt their old relationships were still a bit raw and so they needed time.
In the meantime, Rae reconnected with Zay and they had 'tried' to work things out. Things didn't really work out between them as Zay accused Rae of still seeing Jake after they split.
So Jake and Rae are not together. Neither are Rae and Zay. However, Rae did reveal that she's bisexual and now happily pursuing a relationship with a girl. Go, Rae!
Zay
Single, after splitting up from Rae
Season finale status: single
Reunion status: single
After all the drama with Rae, Zay is currently single and working on himself.
April
Single, after splitting up from Jake
Season finale status: single
Reunion status: in a relationship
Ms. April, who loves to talk about herself in the third person, revealed that she and Jake did not try to resume their relationship and had a clean break after the ending of the show. But like Rae, she did reveal that even though after the show she wasn't looking for love, she is now in a super happy relationship with an older guy who regularly tells her he loves her and wants to marry her.
Alexis and Hunter
Original couple
Season finale status: engaged (left on episode three)
Reunion status: still engaged!
Alexis and Hunter exited the show early in episode three after Hunter proposed to Alexis, saying she's the one. The couple are still planning a wedding for June this year and Hunter's mum is the wedding planner. So cute!
Lauren and Nathan
Original couple
Season finale status: engaged (left on episode three)
Reunion status: still engaged!
Lauren and Nathan also exited the show early in episode three and while most fans were confident about Alexis and Hunter's engagement, people were much more hesitant about Lauren and Nathan's engagement and the circumstances surrounding it—mainly Nathan wanting to have kids while Lauren didn't.
The couple revealed they were still engaged and had discussed their problems extensively but initially didn't reveal what they had landed on regarding children. That is until Alexis Maloney, the queen of asking the important direct question, asked what about kids. To which Lauren responded they had come to a compromise of having one kid to start with after getting help from a therapist.
Madlyn and Colby
Original couple
Season finale status: married
Reunion status: still married
Last but certainly not least, the biggest shock of the whole reunion was that not only are Madlyn and Colby still married, but they are also now expecting a baby— a girl! The show even gifted them an ultimatum silver metal Sippy cup. Madlyn looked absolutely glowing and the couple looked incredibly happy as they revealed they always wanted to start a family soon after getting married.
When asked about whether Madlyn's friends now accept him, Madlyn revealed that her friends just #TeamMadlyn all the way, so they are much more accepting of Colby now he was their husband.
Colby also clarified that he regretted telling another woman that they were in an open relationship. It's obvious the couple has moved on and is now more focused on their own family. Congrats!
Liv is a freelance journalist currently studying English at university. She loves covering everything from entertainment and politics to lifestyle and travel. As well as writing for My Imperfect Life, Liv has bylines in The Times, HuffPost, Den of Geek, Bustle The Metro and The Bookseller.