When does Love Island UK go on ITV hub, now known as ITVX?
We don't like waiting and luckily ITV knows that, so when does Love Island go on ITV Hub?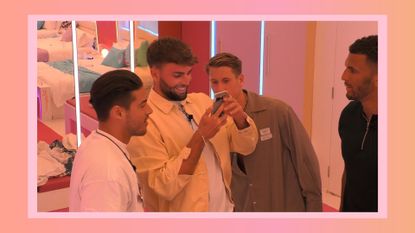 (Image credit: ITV/Future)
When does Love Island go on ITV hub? It may be a question you're asking if you're desperate to catch up on the latest drama—because let's face it, Love Island UK season is like no other TV season. There's always so much going on that you don't want to miss even a second of the action. So if you do miss the live airing (or an appearance from Maya Jama), how long do you actually have to wait for the episodes to be available on the ITV Hub (which has now been rebranded as ITVX)?
If you're based in the UK, we're sure you're well aware how to watch Love Island now; but if you aren't able to watch the show on ITV2 live, or need to catch up on episodes generally, ITVX (the streaming platform for ITV shows) is the best way to see the latest episodes of the dating reality show.
Plus, many of us also watch the show via ITVX (opens in new tab) whether we're in the UK or not, thanks to the special powers of a VPN (opens in new tab). So how long do we actually have to wait for the show to be available there once it's aired on TV? Here's what you need to know about how soon you can catch up, and the answer to the question, when does Love Island go on ITV hub after it has aired?
When does Love Island go on ITV hub? What time?
Daily episodes of UK Love Island, which air on ITV2 at 9pm BST (2pm PT, 5pm ET), are available on ITV Hub as soon as the show has finished on ITV2. That's usually around 10 or 10:30pm BST (3/3.30pm PT, 6/6.30pm ET), depending on how long the show runs for.
As explained on the ITVX website, most shows—including dramas, soaps, and anything that isn't actually live—become available on the streaming platform as soon as the program has finished on TV.
"We want you to be able to watch our shows when it suits you, so we aim to get them onto the ITV Hub as soon as possible. Many shows, such as the soaps, dramas, and documentaries will be available to watch just after they've finished on TV," the website explains under its Help section. "However, live shows like This Morning, The X Factor, and sports matches may take a little longer, but should be available a couple of hours after they've finished."
Alternatively, those UK-based viewers who have missed the episode can also catch up an hour later on ITV2+1, which runs the same TV schedule but an hour later. So if you are in the UK, you can always catch Love Island an hour after it originally started—usually at around 10pm. So, really, there's no excuse to miss an episode!
When does the Love Island final go on the ITV Hub?
We've still got a little while until the final of the winter Love Island 2023 (this is how long Love Island usually lasts), but if you know you won't be able to watch the show live, it's understandable that you may be wondering how soon you can catch up!
Timings are slightly different for the Love Island final because it's aired as a live show (the rest of Love Island isn't technically live), as the platform explains above.
It therefore takes a couple of hours before it is added to ITVX—so come finale day, make sure you avoid social media if you don't want to find out who will win Winter Love Island UK 2023 before watching for yourself!
Sagal is a journalist, specialising in lifestyle, pop culture, fashion and beauty. She has written for a number of publications including Vogue, Glamour, Stylist, Evening Standard, Bustle, You Magazine, Dazed and Wonderland to name a few.