When does Love Island UK go on ITV hub, now known as ITVX? What you need to know ahead of the final
If we miss an episode we're always keen to catch up quickly, so when does Love Island go on ITV Hub?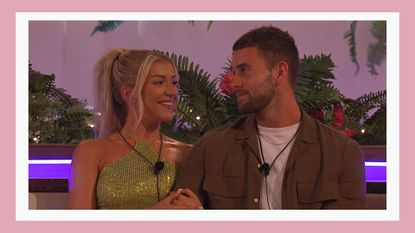 (Image credit: ITV/Future)
When does Love Island go on ITV hub? It may be a question you're asking if you're desperate to catch up on the latest goings-on at the villa this series, and ahead of the final next week—because let's face it, Love Island UK season is like no other TV season. There's always so much going on, so if you do miss the live airing (or an appearance from Maya Jama), how long do you actually have to wait for the episodes to be available on the ITV Hub, now ITVX?
If you're based in the UK, we're sure you're well aware how to watch Love Island UK by now. But if you aren't able to watch the show on ITV2 live, or need to catch up on episodes generally, ITVX (the streaming platform for ITV shows) is the best way to see the latest episodes of the dating reality show. And if you're not in the UK, it's likely that you also watch the show via ITVX, thanks to the special powers of a VPN.
But how long do we actually have to wait for the show to be available there once it's aired on TV? Here's what you need to know about how soon you can catch up if you missed the live episode, and the answer to the question, when does Love Island go on ITV hub after it has aired?
When does Love Island go on ITV hub? What time?
Daily episodes of UK Love Island, which air on ITV2 at 9pm BST (2pm PT, 5pm ET), are available on ITV Hub as soon as the show has finished on ITV2. That's usually around 10 or 10:30pm BST (3/3.30pm PT, 6/6.30pm ET), depending on how long the show runs for.
As explained on the ITVX website, most shows—including dramas, soaps, and anything that isn't actually live—become available on the streaming platform as soon as the program has finished on TV.
"We want you to be able to watch our shows when it suits you, so we aim to get them onto the ITV Hub as soon as possible. Many shows, such as the soaps, dramas, and documentaries will be available to watch just after they've finished on TV," the website explains under its Help section.
"However, live shows like This Morning, The X Factor, and sports matches may take a little longer, but should be available a couple of hours after they've finished."
Alternatively, those UK-based viewers who have missed the episode can also catch up an hour later on ITV2+1, which runs the same TV schedule but an hour later. So if you are in the UK, you can always catch Love Island an hour after it originally started—usually at around 10pm. So, really, there's no excuse to miss an episode!
Does Love Island go live on ITV Hub?
Love Island UK isn't a live show, in that it isn't filmed live, apart from the final and the spin-off show Love Island: Aftersun. But can you still stream the episode as it happens, via the ITV Hub, which is now called ITVX?
If you're in the UK and out and about, but still keen to catch up with all the recoupling and cracking on, you can watch Love Island live on ITVX. It'll be the exact same show as if you were watching it on your TV, with adverts thrown in there too. Although be warned that we've found a few minutes delay when watching live on ITVX, so avoid social media for a few minutes if you don't want spoilers!
And of course, if you're not in the UK, you can watch Love Island live on ITVX if using a VPN.
When does the Love Island final go on the ITV Hub?
The summer 2023 final of the show is now just around the corner, (this is how long Love Island usually lasts), so if you know you won't be able to watch the show live, you're probably wondering how soon you can catch up!
The final is set to take place on Monday 31 July, and timings are slightly different for the Love Island final because it's aired as a live show; the rest of Love Island isn't technically live.
It is set to take place between 9pm-10.35pm UK-time, to allow UK viewers to watch live. So if you can tune in to ITV2 in the UK or ITVX live, this is when you'll need to do so!
If you miss it, because the final is live, it will take a couple of hours before it is added to ITVX, though it will likely go live that same evening. So come finale day, make sure again that you avoid social media if you don't want to find out who wins Love Island UK 2023 before watching for yourself!
Sagal is a journalist, specialising in lifestyle, pop culture, fashion and beauty. She has written for a number of publications including Vogue, Glamour, Stylist, Evening Standard, Bustle, You Magazine, Dazed and Wonderland to name a few.