Is 'Love Island' live? This is how the iconic show is actually filmed
If you've ever found yourself wondering, 'Is Love Island live?' We've got all the answers about the reality of filming the hit dating show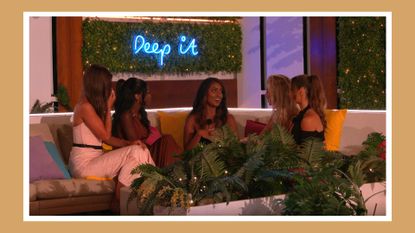 (Image credit: ITV/Future)
Is Love Island live? If you're anything like us, this is *probably* something you've asked yourself while watching the dating reality show. And because we like to treat you right, we're sharing all our insider knowledge on the filming of the show with you (not caught up on the most recent action? Here's how to watch Love Island UK).
Following the end of winter Love Island 2023 a few months back, we're now getting pumped for the break-ups and make-ups that the next Love Island UK will bring—especially given that it will be Maya Jama's very first summer series! But as with every season, the non-stop drama often leaves us wondering how much of the show is actually live, and how much is pre-recorded for our enjoyment.
While the Islanders always look flawless, and our favorite Love Island quotes are as present as ever ('unreal' proved to be a big one for the winter 2023 series), we all like to experience the drama of the show as unfiltered and authentically as possible. So here's how filming of the show works, to answer your burning question: is Love Island live or not?
Is Love Island live or pre-recorded?
Is Love Island live then? The short answer is no—for the most part, Love Island is not live.
It might be a reality TV show—charting the true relationship highs and lows of the couples—but its drama-filled episodes are pre-recorded and edited for your viewing pleasure in advance. Before you feel mugged off, there's actually a very practical reason for this.
In order to package the juiciest and most entertaining bits up into those one-hour episodes, the producers need time to go through all the footage, meaning it is filmed a day or two in advance. By past Islanders' own admissions, there's a lot of time to kill during the day—they can't be serving live drama 24/7! And we're pretty sure most of us wouldn't want a constant live-feed of the Islanders eating their breakfast, washing up, or hanging around not talking about much in particular...
Not being live also gives the producers the chance to shape more of a story for gripping viewing, by deciding what is and isn't broadcast—something which has, unfortunately, irked past contestants. "I think that had [a conversation that wasn't aired] been shown, maybe the way that the public sat on the entire argument would have been different," Sharon Gaffka told My Imperfect Life, speaking of her clash with fellow contestant Hugo Hammond and his "fake girls" comments that rocked the Love Island 2021 cast during season 7.
Obviously, there are lots of bits of the show which are clearly not live too, such as the dramatic walks into the villa from 'bombshell' contestants, and our ever-fabulous host Maya. But it's clear why these shots are pre-recorded—the camera crew obviously need to get various different angles for these shots, which means they are likely taken a few times over.
So in answer to the question, is Love Island live? The reality is that like every show similar to it (be it Too Hot to Handle, or Love is Blind, for example) there is an element of Love Island that is constructed to provide a storyline for viewers.
And for those who are worried that you may be missing out on some good gossip because Love Island isn't totally live, never fear. As fans will know, during every season, there is also a weekly Unseen Bits episode, which shares with the viewers many of the most hilarious unseen conversations, goings-on, and tasks from the week before.
So even though we don't get to see a live-stream of the boys and gals living their lives in the villa, you can rest assured that we see pretty much anything entertaining that goes on.
Is Love Island: Aftersun live or pre-recorded?
The Aftersun spin-off show, on the other hand, which usually airs on Sunday evenings, *is* transmitted live from the UK studio. This means that unlike the iconic reality show Big Brother—when contestants were interviewed as soon as they were evicted—the Islanders have had a day or two to cool off after leaving the villa before doing a live interview.
This explains why certain gems have been let slip over the years—including how, during the 2018 series, Jack Fincham accidentally gave away that Dr. Alex George would get a kiss on his upcoming date before it had even aired. Oops!
Have any other questions about how Love Island is filmed in the run-up to the next series? Whether you're wondering, 'is Love Island scripted', or 'do Love Island contestants get paid', we've got all the answers!
Best Love Island gifts and merch to shop now
Price
Refine ☵
Sort By
Lauren is a freelance writer and editor with more than six years of digital and magazine experience. Most recently, she has been the Acting Commissioning Editor of Women's Health—where she co-produced the Going For Goal podcast—and has previously also written news and features for titles including The Telegraph, Grazia, Stylist, Dazed, The Sun's Fabulous, Yahoo Style UK and Get The Gloss. She covers all aspects of lifestyle, specializing in health, beauty, and travel. Can't live without: oat milk lattes, new podcast episodes, long walks, and great skincare.