Who is Bud on Firefly Lane?
You may have heard the name thrown around on Netflix's new hit but who is Bud on Firefly Lane?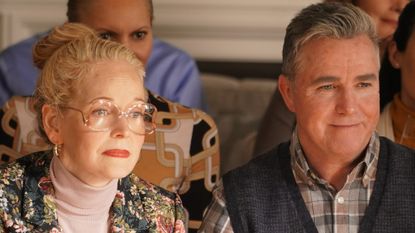 (Image credit: Netflix)
Who is Bud on Firefly Lane? It's a question many people have been asking since watching the wholesome new Netflix show. Luckily, we're here to clear up any confusion.
*Warning* Contains spoilers.
The series, which is made up of 10 episodes for its first season, is made by Maggie Friedman and based on New York Times best-selling author Kristin Hannah's 2008 novel of the same name. It follows best friends Tully and Kate, played by Katherine Heigl and Sarah Chalke, whose 30-year friendship started in the eighth grade when Tully and her drug-addicted mother moved in next door to Kate and her all-American family in 1974.
However, the ending of Firefly Lane changes everything as we're shown a flash forward to the future where Kate and Tully are no longer friends in the season finale. The cliffhanger has had us all desperate to know: what did Tully do to Kate? And more importantly, will there be a season 2 of Firefly Lane?
While we wait for those to be confirmed, let's take it back to a question we can in fact answer...
Who is Bud on Firefly Lane?
While the show centres the main characters Tully and Kate, the cast is of course made up of plenty other supporting members including Bud Mularkey, Kate's beloved dad. Bud is played by Scottish actor Paul McGillion.
McGillion is best known for his roles on Girlfriends' Guide to Divorce, which he appeared in alongside Beau Garrett (who plays Tully's mom, Cloud) and The Flash. In Firefly Lane, he appears as Bud numerous times in the flashbacks to the 70s, when Kate and Tully are teenagers. The main storyline around him is the fact that Kate's mother, Margie, is having an affair. After having Tully's mother Cloud over at the family home, Bud is triggered and gives Margie an ultimatum—she either chooses him or the man she is having an affair with. She ultimately chooses him, as the pair continue their marriage.
The next time we hear of Bud is in the final episode, when we get confirmation that the person whose funeral Kate and Marah are attending in the future is Bud. The cause of his death isn't revealed but a previous incident in an earlier episode gives us an idea of what it could be. During one of the flashbacks on the show, we're taken to the aftermath of a heart attack Bud suffered in the 80s, where we see Johnny (Kate's husband who at the time was her boss that she was in love with) comforting Kate and the two finally expressing their love for one another. So, perhaps Bud died from a heart attack?
We guess we'll have to wait and see what happens in season two of Firefly Lane.
Sagal is a journalist, specialising in lifestyle, pop culture, fashion and beauty. She has written for a number of publications including Vogue, Glamour, Stylist, Evening Standard, Bustle, You Magazine, Dazed and Wonderland to name a few.