Who is Bud on 'Firefly Lane'?
You've heard his name thrown around but who is Bud on 'Firefly Lane' and how does he impact the story?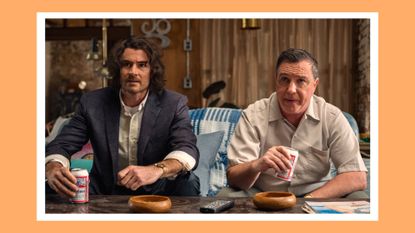 (Image credit: DIYAH PERA/NETFLIX)
Who is Bud on Firefly Lane? It's a question many people have been asking since the wholesome Netflix show first premiered in February 2021. Luckily, we're here to clear up any confusion about the character.
The streaming series, which consisted of 10 episodes in its first season but a supersized 16 for Firefly Lane season 2, was created by Maggie Friedman and is based on the 2008 best-selling Kristin Hannah novel of the same name. The story follows best friends Tully and Kate—played by Katherine Heigl and Sarah Chalke, respectively—whose 30-year friendship started in the eighth grade when Tully and her drug-addicted mother moved in next door to Kate and her all-American family in 1974.
However, the season one Firefly Lane ending changes everything between them, as we're shown a flash-forward to the future where Kate and Tully are no longer friends. The cliffhanger has had us all desperate to know: exactly what did Tully do to Kate?
While you wait for intel on that question, which you'll get when season 2 drops on the streamer on Friday, December 2, let's get back to the one we can answer: who is Bud on Firefly Lane?
Who is Bud on 'Firefly Lane'?
Bud Mularkey is the father of Kate Mularkey on Firefly Lane, played by Scottish actor Paul McGillion.
While the show centers on the main characters Tully and Kate, the cast is, of course, made up of plenty of other supporting members, including Ben Lawson as Kate's ex Johnny Ryan, Beau Garrett as Tully's mom Cloud and, yes, McGillion as Bud.
McGillion is best known for his roles in Girlfriends' Guide to Divorce (which he ironically appeared in alongside Beau Garrett) and The Flash.
In Firefly Lane, he appears as Bud numerous times in the flashbacks to the 1970s, when Kate and Tully are teenagers. The main storyline around him in season one is the fact that Kate's mother, Margie, is having an affair. After having Tully's mother Cloud over at the family home, Bud is triggered and gives Margie an ultimatum: she must either choose him or the man she is having an affair with. She ultimately chooses him, as the pair continue their marriage.
The next time we hear of Bud is in the final episode of Firefly Lane season 1 when we get confirmation that the person whose funeral Kate and Marah are seen attending in the near future is Bud.
The cause of his death is not explicitly mentioned in season one, but clues at the time pointed to a heart attack, given that we see that he previously suffered one in the 1980s. However, in season two, we find out that Bud died in his sleep sitting in an armchair after Thanksgiving dinner in 2004, with Kate discovering her deceased father. Given the flashback nature of Firefly Lane, though, we do continue to encounter Bud throughout the show's second season, especially in scenes with Kate and the rest of the Mularkey family.
The first part of Firefly Lane season 2 is now streaming on Netflix.
Sagal is a journalist, specialising in lifestyle, pop culture, fashion and beauty. She has written for a number of publications including Vogue, Glamour, Stylist, Evening Standard, Bustle, You Magazine, Dazed and Wonderland to name a few.
With contributions from