What did Tully do to Kate in 'Firefly Lane'? The answer we've all been dying to know
Netflix's 'Firefly Lane' ended in a cliffhanger that left us wondering why best friends Kate and Tully broke up. So what actually happened?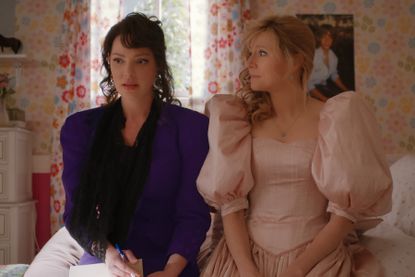 (Image credit: Netflix)
We've been glued to our screens this year, having had the likes of Married at First Sight Australia, Pam and Tommy, and soon, Bridgerton season 2, take up way more of our time than we care to mention.
So we're happy to admit that we were more than a little obsessed with Firefly Lane, starring Katherine Heigl which premiered early last year—we were completely hooked from the very first episode.
The show started out as a wholesome watch, but did a 180 with a major cliffhanger that we're desperate to get to the bottom of; what did Tully do to Kate?
*Warning* Contains spoilers for season one of Firefly Lane.
The show, which stars Katherine Heigl as Tully and Sarah Chalke as Kate, is based on New York Times best-selling author Kristin Hannah's 2008 novel of the same name. It follows the two women, who have been inseparable since becoming best friends in the eighth grade back in 1974. For the past 30 years, their lives have become intertwined and co-dependent despite looking very different—Tully is a high-flying journalist with her own TV talk show, while Kate gave up her career as a producer after getting married and having her daughter.
However, Firefly Lane's ending left us all shook as it took us to the future, where Kate and Tully were no longer friends. Yep, it's an idea that feels unimaginable from what we've seen of the two leading up to that moment.
Throughout the season, the show jumps between snippets from the women's childhood, their early 20s, and the present day. In the last few episodes, we're then shown a flash forward to the future, where Kate is attending a funeral with her daughter Marah and it is here we see her come face to face with Tully, after it appears the two have been estranged. We're not told why but we do know that it has something to do with a major betrayal on Tully's part that Kate cannot forgive. So what exactly happened? Here's what we know...
Why does Kate hate Tully in Firefly Lane?
Thankfully, we can find out if we read the book—which you should totally do BTW. But, according to the book, Kate and Tully fall out after Tully pulls a stunt that publicly humiliates Kate.
While it is safe to say that the TV adaptation differs from the novel in many ways, in Kristin Hannah's book Tully invites Kate and her daughter Marah onto her talk show, The Girlfriend Hour, for what Kate believes is an attempt to bring their turbulent mother-daughter relationship closer. However, she's soon horrified to find out that the segment is instead all about overprotective parents and is heartbroken when her best friend paints her as a bad parent live on national TV.
However, we know that in the show, Tully has resigned from her job at The Girlfriend Hour and plans to create her own show with Kate as her producer. So could this incident still be played out somehow in season two? Potentially. Although it'll probably look a little different.
---
---
Another thing we know is that despite fan speculations, it won't be Johnny (who Tully slept with before he got with Kate) who comes between the two women—at least according to Katherine Heigl. "It can't be that Tully sleeps with Johnny. I don't think that any friendship can come back from that. I'll fight to the death that it is not that," she told Oprah Magazine. We really hope she's right!
The apparent estrangement becomes clear when Tully shows up at Kate's father Bud's funeral. It is clear that it is the first time the two have seen each other in a while, although we're not sure how much time has passed since they fell out. One thing that's very apparent though is that Kate is still furious with Tully. "No one wants you here," she says when the two finally come face to face.
It comes as quite a shock for viewers considering how close the women were. Viewers spent an entire season becoming invested in the three-decade-long evolution of their friendship, which has gone from strength to strength, making them closer than sisters. Nothing has ever come between them before, not their family, not men and certainly not their opposite lifestyles—so it's hard to imagine what Tully could have possibly done to break a bond that was once so solid.
"Don't you think you've punished me enough?" Tully asks when the two meet at Bud's funeral. Kate replies: "When I said that I could never forgive you for what you did, what did you think that meant?"
She then adds: "Go home. Now. I don't ever want to see you again," before walking away.
From what we've seen of Tully and Kate's friendship, we'd like to think that they can overcome anything together. That's why we're all at the edge of our seats, desperate to know what kind of betrayal could cause such a rift between the two women, who have quite literally been there for one another through thick and thin since their coming of age.
Hopefully, we won't have to wait too long for answers, give that Firefly Lane season 2 has officially been given the go-ahead. We can't wait!
Sagal is a journalist, specialising in lifestyle, pop culture, fashion and beauty. She has written for a number of publications including Vogue, Glamour, Stylist, Evening Standard, Bustle, You Magazine, Dazed and Wonderland to name a few.