What did Tully do to Kate in 'Firefly Lane'? A season 2 update
It's the big drama of the season, but exactly what did Tully do to Kate to cause their rift in 'Firefly Lane' season 2? We explain the serious tension between the former besties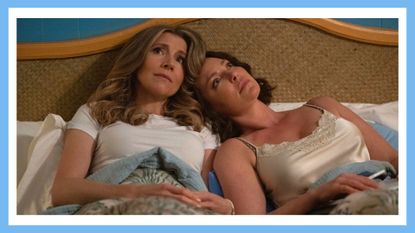 (Image credit: Diyah Pera/Netflix)
What did Tully do to Kate? It was the big question of Firefly Lane season 2, after that season one Firefly Lane ending left us waiting in agony for answers. The heartbreaking friendship breakup between Tully and Kate was almost too much for us to bear...but is it really over between the lifelong friends?
While growing up on Firefly Lane in the small town of Snohomish, Washington, the quiet and reserved Kate (played by Sarah Chalke as an adult, and Roan Curtis as a teen) became attached at the hip to her seemingly polar opposite, the bold and assertive Tully (portrayed by Katherine Heigl and Ali Skovbye). Ever since 1974, the pair have been inseparable—whether they were pursuing a journalism career together, or protecting one another from familial woes. Cloud?
If you waited as anxiously for the second season as we did, throughout the season, you've undoubtedly been on tenterhooks, waiting to see if Kate ever forgives Tully. But if you haven't yet finished (or started) season two, you're probably wondering, what did Tully do to Kate?! If you've read the Firefly Lane books in order and are a Kristin Hannah devotee, you likely know where things are headed between the BFFs.
But if you haven't, you can catch the first half of the second season on Netflix—it dropped on Friday, December 2, 2022. (Firefly Lane season 2 part 2 will come in June 2023, if you're curious.) And now that we've watched the first half of the second season, we've got all the intel on what actually went down between Tully and Kate to cause such a rift in their decades-spanning friendship. What did Tully do to Kate?
*Warning: spoilers for season 2 ahead*
What did Tully do to Kate in 'Firefly Lane'—why do Tully and Kate fall out?
Kate stops talking to Tully after Tully gets into a terrible car accident—with Marah, Kate and Johnny's daughter, in the passenger seat. For fans who are fully caught up, the accident left them wondering, does Marah die in Firefly Lane season 2?
Marah was staying at Tully's apartment for the weekend to give Kate and Johnny some alone time. Although Marah was technically grounded, Tully let her go to the movies with her crush Ashley, giving her a strict 10pm curfew. However, it turns out that the teens ended up at a raucous frat party instead, from which an upset Marah called Tully to pick her up, after having a traumatic encounter with a college guy.
Reminded of her own horrific encounters with men in her younger years, Tully quickly jumps in her car to drive over to the party to save Marah from the situation—despite the fact that she had had a few glasses of wine. It's when they're driving back that a speeding car runs a red light and T-bones into their vehicle, leaving both of them alive, but badly injured—Marah more so. When Tully regains consciousness at the hospital, neither Kate nor Johnny will talk to her and she's arrested for driving under the influence, which causes a media frenzy for the TV host.
Despite Tully consistently reaching out to her BFF to make amends, Kate says she can't forgive her for what she's done, and the pair don't talk for weeks (or months). Their estrangement is still in effect when the duo encounters each other at Bud's funeral a while later, a scene that Firefly Lane has been teasing since season one.
"No one wants you here," Kate tells her former best friend. "Don't you think you've punished me enough?" Tully asks.
Kate replies: "When I said that I could never forgive you for what you did, what did you think that meant?" And to add salt to the wound, she adds: "Go home. Now. I don't ever want to see you again."
However, it appears as if Kate is ready to talk to her former friend by the end of Firefly Lane season 2 after she has received a deeply upsetting cancer diagnosis. The final scene of the season sees Kate tearfully knocking on Tully's apartment door—but what she doesn't know is that she just missed Tully, who is off to the airport after having accepted a months-long work assignment in Antarctica. The heartbreaking scene left many fans wondering, does Kate die in Firefly Lane? But as of yet, the fate of the popular character is unknown.
So while you now know the answer to the question, what did Tully do to Kate? What is less sure is whether the pals make up in the second half of the second season of Firefly Lane.
Though for fans wondering about the rest of the relationships in the hit Netflix show, you'll likely be pleased to know that as season two approaches its end, Johnny and Kate do end up getting back together! So at least there's one relationship that doesn't seem to be fractured beyond repair...
How does their onscreen fight differ from the book?
Why do Tully and Kate fall out in the book? It turns out, it's a bit different to the events portrayed in the TV series. In the 2008 Kristin Hannah novel on which the Netflix series is based, Kate and Tully fall out after Tully pulls a stunt that publicly humiliates Kate.
In the book Firefly Lane, Tully Hart invites Kate and her daughter Marah onto her talk show, The Girlfriend Hour, for what Kate believes is an attempt to bring their turbulent mother-daughter relationship closer. However, she's soon horrified to find out that the segment is instead all about overprotective parents and is heartbroken when her best friend paints her as a bad parent on national television.
Will the former friends patch things up when the second half of season 2 comes out next year? You'll have to stay tuned to find out!
And though this news will likely break the hearts of viewers across the world, we'd advise relishing the last few episodes of season 2—as it has been confirmed that there will be no Firefly Lane season 3. Sob! In the meantime, there are plenty of shows like Firefly Lane that we love, to fill the Tully and Kate-sized hole in your life...
The first nine episodes of Firefly Lane season 2 are available to stream on Netflix.
Sagal is a journalist, specialising in lifestyle, pop culture, fashion and beauty. She has written for a number of publications including Vogue, Glamour, Stylist, Evening Standard, Bustle, You Magazine, Dazed and Wonderland to name a few.
With contributions from