Who is Lucia in 'Who Killed Sara?' on Netflix?
It looks like there are two Saras in town. Here's who is Lucia in 'Who Killed Sara?' season three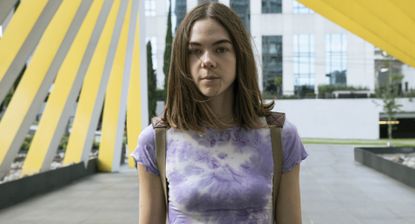 (Image credit: Paulina Campos/Netflix)
The Mexican mystery thriller Who Killed Sara? (¿Quién Mató a Sara? in Spanish) has not disappointed with its third and final season. The first three episodes alone have dealt with twist after twist and the latest one is something we could have never foreseen.
¿Quién Mató a Sara? follows Sara Guzmán's brother Álex as he investigates his sister's death and who her real killer is after wrongfully being sentenced to prison for 18 years for the crime. The investigation leads Alex to find out some alarming things about his sister—including that she was pregnant. But not with her boyfriend Rodolfo's child, but with his father César Lazcano's baby. Yup, that makes her boyfriend her baby's brother.
At the end of episode two of Who Killed Sara? season 3, Alex is greeted home by his girlfriend Eliza and a woman who looks exactly like his sister, except she has jet black hair. But who is she and what's her connection to Sara?
*Warning: spoilers ahead!*
Who is Lucia in 'Who Killed Sara?'?
The girl who turns up on Alex's doorstep at the end of episode two is called Lucia, but we don't learn that until the end of episode three. Her resemblance to Sara is uncanny and it'd be understandable to think she was Sara's doppelgänger—the show is known for its surprises. (Remember that Who Killed Sara? season 2 ending?!) Plus, the resemblance is as uncanny as it is because the role of Lucia is portrayed by Who Killed Sara? cast member Ximena Lamadrid, who also plays the titular role of Sara.
Lucia's name pays homage to Alex and Sara's mother—and, it turns out, her grandmother, as, yes, it is revealed that Lucia is the daughter of Sara Guzmán and César Lazcano. How did they not find out about a child for the first two seasons of the show? Well, we were all under the assumption that Sara was dead (it is in the title, after all!) but episode one reveals that her body is not actually buried in the casket as initially thought and instead, that Sara was alive, kidnapped and committed to a psychiatric hospital, where she seemingly gave birth to Lucia.
Alex finds out about the baby's birth through the files he found in the "burn unit" that was set up for Marifer. It revealed that Sara gave birth to her daughter, Lucia, on March 8 and had a natural birth with one epidural administered. We see flashbacks of Sara pregnant while in the psychiatric hospital under Reinaldo's care and she appears to be heavily medicated. But the revelation that she was able to still give birth to her daughter came as a big one because what was revealed after that was even stranger.
It was clear that Reinaldo wasn't put off by having Sara in his Medusa project just because she was pregnant; in fact, it seemed to encourage him. It is revealed in flashbacks that after the birth of Lucia, she is kept in the psychiatric hospital where Sara and Reinaldo's daughter—who was committed because she was gay—are being held.
It is not clarified in the first three episodes what happened to Sara after the birth of Lucia but when Alex and Eliza ask Lucia about her mother, she says she has no idea who she is. This suggests that either Sara and Lucia were kept away from each other or something drastic happened to Sara after the birth of her baby—and knowing this show, we're going to guess the latter.
It is also revealed through Lucia's flashbacks that she was kept in the psychiatric hospital for 18 whole years, at which point she was supposed to go and start her life in Florida, but she seems to have snuck off and was helped to escape by Reinaldo's daughter to go and see Alex. How she knew who Alex was is a whole different question, but Who Killed Sara? loves to keep us on our feet so we look forward to finding out!
All episodes of Who Killed Sara? season 3 are now streaming on Netflix.
Liv is a freelance journalist currently studying English at university. She loves covering everything from entertainment and politics to lifestyle and travel. As well as writing for My Imperfect Life, Liv has bylines in The Times, HuffPost, Den of Geek, Bustle The Metro and The Bookseller.