Who Killed Sara? season 2 ending explained: what happened in the final episode?
Need the Who Killed Sara? season 2 ending explained? We got you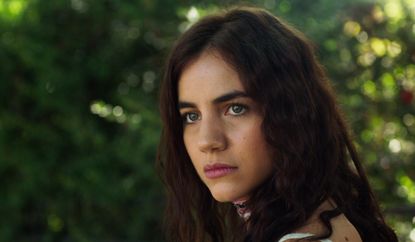 (Image credit: NETFLIX ©️ 2021)
If you need the Who Killed Sara? season 2 ending explained, we're totally with you. Since Netflix's Who Killed Sara? dropped in March, the crime drama captivated viewers and gave them more questions than answers. But after Who Killed Sara? season 2, do we finally know who's Sara's murderer?
**Warning: spoilers for season 2 ahead**
Who Killed Sara? season 2 ending explained
Who Killed Sara's highly anticipated second season continues following Sara's brother, Alex Guzman, as he tries to piece together the events surrounding his sister Sara's death. The season 2 finale, "I Killed Sara", shows us more flashbacks to Alex and Sara as teenagers, as we discover Marifer and Sara are sisters and see a flashback to a young Nicandro stopping Elroy from cutting the cables on Sara's parachute as Marifer watches through the binoculars before she proceeds to cut the parachute cables herself.
Lots to dig into in a potential season 3 of Who Killed Sara? but what else happened in the final episode?
Who was buried in Alex's backyard?
That Reddit thread that predicted Sara and Alex do not have the same father and that Sara's father struggled with psychological issues that she experienced too was indeed correct. The body in Alex's backyard belonged to Sara's father Abel.
In the season 2 finale, we are shown the tape that Alex and Nicandro found in Sara's room. The tape shows the night Abel Martinez, who was earlier revealed to be Sara's father, threatened to rape and murder Sara unless she gives him money. We see Sara manage to flee upstairs and call Rodolfo for help and although it's Cesar who answers and comes to Sara's rescue, shooting Abel in the head and burying him in Alex's backyard. We also find out from this interview that Abel was also Marifer's father making Sara and Marifer sisters.
What happened to Marifer?
The final episode reveals that Marifer was the one who tried to cut the ropes on Sara's parachute. We see the big argument Sara and Marifer got into on the day at the lake and Sara telling Marifer she hopes her family dies.
We also learn that Marifer's secret identity as Diana the Huntress stemmed from the disappearance of Marifer's mother around the same time as Sara's death and which she blamed on the Lazcano family. However, everything changed once she realized Sara was her sister. She rushed home to her pregnant sister Clara who was waiting for her with Mariana Lazcano. The three argue and Marifer pulls a gun on Mariana. As Clara and Marifer struggle for the gun and the gun falls to the floor, goes off, and ends up killing Clara and her unborn baby.
The last time we see Marifer in season two is when she follows Alex and Elisa to the Lazcano Casino, which Elisa set on fire in an attempt to repent for her family's sins. Alex comes to save Elisa from the fire but as the fire gets more out of hand, Marifer asks why Alex chose Elisa over her just before a flaming beam falls on Marifer. By the end of the episode, we don't know whether Marifer's dead or alive.
What happened to Chema?
After losing both his husband Lorenzo and Clara who was pregnant with Chema and Lorenzo's unborn baby, José Maria 'Chema' Lazcano confesses to killing Moncho and Abel Martinez, who he actually didn't kill. Why did he confess to the murder of Abel? Maybe like Elisa, he wants to rid his family of their sins and set them on the path to redemption. Or he feels he has nothing left to live for and figures he might as well cover for his loved ones in the process.
So...who actually killed Sara?
Marifer… or so we thought up until the last few minutes of the final episode.
We know Marifer used the knife to try and cut the parachute cords. However, the final moments of Who Killed Sara? Season 2 showed us Nicandro looking through a file as he told Dr. Alanis that now everyone thinks Marifer killed Sara it needs to stay that way. But wait it gets better, why does it need to stay that way? Because Nicandro and Dr. Alanis were actually the ones responsible.
We don't know why they killed her but it could be because Sara was part of some test or study but regardless this show just got even crazier!
What did Elisa do?
Getting tired of all the bad things her family has done, Elisa pours loads of fuel onto the Casino and sets it on fire. Alex sees this on the CCTV and drives over there to save her—but he arrives too late and Elisa is laughing as she sees the flames.
What's the situation with Rodolfo and Cesar?
The episode ends by showing us legally dead Cesar living his best life on a beautiful tropical island. Meanwhile, Rodolfo has just sent his ex-wife, Sofia, and stepson, Bruno, away on a private plane so his mother, Mariana doesn't get her hands on Sofia's newborn baby. Probably a good idea...
Liv is a freelance journalist currently studying English at university. She loves covering everything from entertainment and politics to lifestyle and travel. As well as writing for My Imperfect Life, Liv has bylines in The Times, HuffPost, Den of Geek, Bustle The Metro and The Bookseller.