Who Killed Sara? cast: Everything you need to know about Netflix's new stars
Curious about the Who Killed Sara? cast? We have the low-down on all the stars...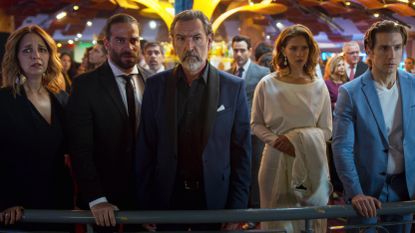 (Image credit: Netflix)
If you've been watching Netflix's new murder show, you may be thinking some of Who Killed Sara? cast look familiar.
While some of the actors may be lesser-known, you'll recognize some of their faces because of other Netflix shows like Narcos. If you, like us, have been glued to your screens waiting to know who cut the parachute, here's what you need to know about the cast of Who Killed Sara? on Netflix.
Who Killed Sara? cast
Manolo Cardona as Álex Guzmán
Cardona plays Alex who was wrongly convicted of his sister's death and spent 18 years in prison for a crime he did not commit.
Manolo Cardona, a Colbumian film and television actor, played Nicolás Franco in Parents and Children but is probably best known internationally for his role as Eduardo Sandoval in the first two seasons of Narcos and the popular Columbian series El Cartel.
Carolina Miranda as Elisa Lazcano
Miranda plays Elisa, the young Lazcano daughter who has returned from her studies to find her family embroiled in accusations over Sara's death. Elisa, who's been kept in the dark about the majority of her family's secrets, sets out to learn the truth about Alex.
Carolina Miranda is a Mexican actress and presenter, best known for her role as Vicenta Steel in Señora Acero. She's also acted in The King, The Bravo, and Any Given Day.
Ginés García Millán as César Lazcano
Millán stars as the patriarch of the Lazcano family, who will stop at nothing to protect themselves.
Millán is a Spanish film, television, and stage actor from Murcia. Before acting, he used to be a professional goalkeeper, playing for Valladolid Juvenil and Promesas. He has recently starred in Amazon Prime's El Cid as King Ramiro of Navarra.
Alejandro Nones as Rodolfo Lazcano
Nones plays Rodolfo, Sara's boyfriend, Alex's former best friend, and the second-in-command of the Lazcano family.
Alejandro Nones is a Venezuelan actor, model, and producer best known for his role as Waldo López in Lola and Once Upon A Time, where he starred alongside Mexican-American actor, Aarón Díaz. Nones has also played Patricio Chavero in Corona de Tears on Netflix.
Eugenio Siller as José María "Chema" Lazcano
Siller plays Chema, another son in the Lazcano family, who was there on the day Sara died, and often clashes with his father, who will not accept Chema's sexuality. The actor has had many starring roles in telenovelas in Mexico such as Rebelde and Al Diablo con Los Guapos.
Luis Roberto Guzmán as Lorenzo Rossi
Lorenzo is Chema's devoted partner. Guzmán is a Puerto Rican actor best known for his role in the Mexican series El Pantera.
Claudia Ramírez as Mariana Lazcano
Ramírez plays as the matriarch of the Lazcano family. The Mexican actress is known for her roles in Streeters, Sexo y otros secretos and Herencia maldita. She also appeared in the 2012 film Made in China.
Héctor Jiménez as Elroy
Elroy who has worked for the elder Lazcanos for years, both in their casino and as a general assistant. Jiménez is a Mexican actor best known for his role in the Jack Black comedy Nacho Libre and Run Coyote Run.
Ana Lucía Domínguez as Sofía Lazcano
Sofia who is Rodolfo's wife and Bruno's mother is trying to get pregnant with her first child with Rodolfo while parenting the troubled Bruno.
Domínguez is a Colombian actress who has starred in multiple telenovelas, including in Señora Acero alongside Carolina Miranda.
Ximena Lamadrid as Sara Guzmán
As Sara, the person the show is about, Lamadrid appears in flashbacks, dream sequences, and visions throughout the show. Lamadrid has had small roles in films like Sofia Coppola's On The Rocks.
Fátima Molina as Clara
Molina plays Clara, the surrogate mother of Chema and Lorenzo's son and the daughter of the former cook for the Lazcano family.
The Mexican actress and singer is best known for playing Lidya Corona in the soap opera of Telemundo La Doña. She has also acted in the film I Dream in Another Language, Keta in Diablero, and Sonia Garcia in Falco.
Liv is a freelance journalist currently studying English at university. She loves covering everything from entertainment and politics to lifestyle and travel. As well as writing for My Imperfect Life, Liv has bylines in The Times, HuffPost, Den of Geek, Bustle The Metro and The Bookseller.