Who is Mark Blum on You?
Season 3 pays tribute to him, but who is Mark Blum on You?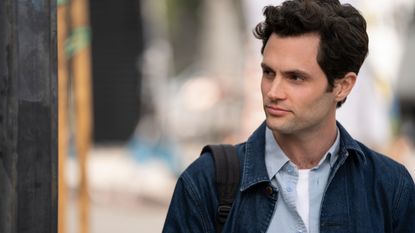 (Image credit: Netflix)
As Netflix users started to binge the much-anticipated third season of You—which dropped on Friday, October 15—hardcore fans noticed a touching tribute to Mark Blum in one of the new episodes. Who was Mark Blum on You, you ask, and why is there a dedication to him?
The latest installment of the psychological thriller once again sees us follow serial killer Joe Goldberg (played by Penn Badgley), this time adapting to suburban life with wife Love (Victoria Pedretti) and their newborn baby Henry Forty Quinn Goldberg.
However, viewers were quick to notice the tribute at the end of episode one and that there was a special someone missing from the show this season and sadly the future ones as well. (You season 4 has already been picked up by Netflix.)
Here's everything you need to know about Mark Blum and that emotional tribute.
---
---
Who is Mark Blum on You?
The season premiere of You season 3, which was titled "And They Lived Happily Ever After," was dedicated to American actor, Mark Blum, who played bookstore owner Mr. Mooney in the show's first two seasons.
Sadly, the reason why the words "In loving memory, Mark Blum" came up at the end of the episode was because the actor sadly died at aged 69 on March 25, 2020, due to complications related to COVID-19.
His death was announced publicly by the executive vice president of The Playwrights Horizon theater group, Rebecca Damon, via Twitter.
"It is with such deep sorrow that I'm writing to share the news that our friend and former board member Mark Blum has passed away as a result of complications from the coronavirus."
Talking about his death, family friend and actor Lee Wilkof explained that Blum had suffered from severe asthma during the COVID-19 pandemic.
Mark Blum's character Mr. Mooney was not only a bookstore owner but also a father figure to Joe. He featured across four episodes in season one as well as flashbacks in season two.
In the series, the bookstore owner suffered a stroke while Joe wasn't there, as he left Los Angeles to get away from his ex-girlfriend Candace Stone (played by Ambyr Childers).
Showrunner Sera Gable stated on Twitter that Blum had been written into season three but due to his passing, it had to be rewritten. "We had been working on a story that included him. It was painful to scrap that. He would've been amazing," Gable said on Twitter.
One of our favorite actors, Mark Blum, passed away early in the pandemic. We had been working on a story that included him. It was painful to scrap that. He would've been amazing.September 28, 2021
See more

Known for his amazing personality and incredible acting credits, Blum found his onto Broadway at 26 years old in 1976, having just graduated from the University of Minnesota with a Master of Fine Arts degree, a program that worked with the Guthrie Theater in Minneapolis.
This helped him get his breakout role on Broadway in 1989 in Gus and Al. He continued to appear in Broadway productions throughout his career, featuring in a total of nine shows throughout his life, and was also a teacher at HB Studio in New York City when he died.
As well as his role on You as Mr. Mooney, Mark Blum was best known for his role in the 1985 comedy Desperately Seeking Susan where he featured alongside Madonna and Rosanna Arquette. Other films he starred in included Crocodile Dundee and Blind Date. His last role was in the film Sister of the Groom where he played Nat.
Television-wise, he is also known for his portrayal of Bill Lockheart in Succession and Ira Langstrom in Elementary, as well as appearances on The West Wing, Frasier, Billions and The Good Fight.
He is survived by his wife, Janet Zarish, who he married in 2005.
Liv is a freelance journalist currently studying English at university. She loves covering everything from entertainment and politics to lifestyle and travel. As well as writing for My Imperfect Life, Liv has bylines in The Times, HuffPost, Den of Geek, Bustle The Metro and The Bookseller.