Who plays Marcus in 'Ginny & Georgia'? Get to know Aussie actor Felix Mallard
He's Ginny's broody love interest, but who plays Marcus in 'Ginny & Georgia'? Here's what we know about the actor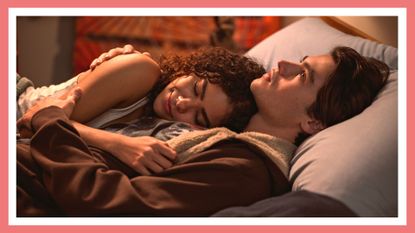 (Image credit: Amanda Matlovich/Netflix)
Who plays Marcus in Ginny & Georgia? The mother-daughter dramedy features actors who may recognize from other shows—and one of those familiar (and handsome!) faces in the cast of Ginny & Georgia may be Ginny's love interest, Marcus Baker.
After single mom Georgia (Brianne Howey) moved her teenage daughter Ginny (Antonia Gentry) and her young son Austin (Diesel La Torraca) from Texas to Wellsbury, Ginny quickly finds a friend in her across-the-street neighbor Maxine (Sara Waisglass). But with Maxine comes the guy who's likely to be your next on-screen crush, her twin brother Marcus.
Marcus is very much a rebel outsider in Ginny & Georgia. When we first meet him, he is getting told off by his mother for being high and our later encounters with him often see him sneaking through Ginny's window.
With Ginny & Georgia season 2 streaming on Netflix as of Thursday, January 5, it's time to get to know the Aussie cutie who plays Marcus Baker.
Who plays Marcus in 'Ginny & Georgia'?
Marcus Baker is played by Australian actor Felix Mallard, who has popped up in a number of TV shows over the years.
Ginny & Georgia's second season digs deeper into Mallard's character, chronicling Marcus's struggles with depression. "Tackling this depression storyline, it wasn't lost on me how important it is to have a storyline like this for young men, and I was really, really honored when [showrunner Debra J. Fisher and creator Sarah Lampert] let me know that Marcus was going to have a bit of a deeper storyline," Mallard recently told Deadline (opens in new tab). "For me, it's really important to show young men that it's okay to struggle with depression, it's okay to struggle with all of these emotions. Because their representation isn't necessarily seen that often, if young men can look at it and assess their own stuff, and I think that is always the goal."
On his season two arc, Mallard continued: "We get to explore that and see Marcus be this stand-up boyfriend, doing everything he can for the woman that he loves. But then we get to Episode 8 and we get to actually look behind the curtain and see what he's struggling with that you can't necessarily see for seven episodes. It's so nice when you get to reveal something that isn't necessarily there and then selfishly, as an acting challenge, to have seven episodes of Marcus really trying to hold it together—still having that depression under the surface and trying to put on his biggest smile for the rest of the world."
"For me to be able to temper it and show little glimpses of it until Episode 8, when we can completely let go and show how much he actually is struggling inside, was such a joy, and I'm really, really thrilled that Deb and Sarah took the risk in playing with the format," he added.
Felix Mallard age: how old is he?
Born on April 20, 1998, in Melbourne, Australia, Felix Mallard is currently 24 years old. (And if you're astrologically curious, that makes him a Taurus!)
Felix Mallard movies and TV shows
Apart from Ginny & Georgia, Felix Mallard has also starred in the Australian show Neighbours (which is making a comeback in 2023) as Ben Kirk, the sitcom Happy Together as Cooper James (which is based on the early days of Harry Styles in One Direction), and fellow Netflix series Locke & Key, where he played Lucas Caravaggio. He also starred as Aiden in Zoey's Extraordinary Playlist and is due to star in the adaptation of John Green's book Turtles All the Way Down as Davis.
Mallard stated in a 2018 interview with MediaVillage (opens in new tab) that he thanks the likes of Chris Hemsworth and Heath Ledger for his acting career in America: "Giving it a try here is such a right of passage handed down by a lot of Australian actors. To have the opportunity to do it is simply amazing, and it's become a lot easier since the days of Heath Ledger or even Chris Hemsworth. They really broke the ice for us."
As well as being an actor, Felix used to play in a punk band. He told Entertainment Weekly (opens in new tab) that he got into music through his dad: "My dad played guitar and he still plays guitar so he was always singing and playing for me when I was growing up. I picked up a guitar when I was about seven or eight, I think, and I've just been trying my hardest since then. I also started playing piano when I was about 10, and then picked up the drums with my band when I was about 12 or 13, and singing sort of came along with that."
Felix Mallard Instagram: what's his handle?
Yes, you can follow Felix Mallard at the handle @itsfelixwhat (opens in new tab), where he boasts 3 million followers.
When he's not acting or playing music, Mallard can often be found surfing or hanging out with friends, as per his Instagram. He also seems to be a keen model, as his latest posts not about Ginny & Georgia all feature him modeling in some shape or form.
Is Felix Mallard single?
Felix is very shy about sharing his personal life on social media, so it's unknown at present whether or not he does have a girlfriend. We'll be on the lookout!
Catch Felix Mallard as Marcus in Ginny & Georgia season 2 on Netflix.
Liv is a freelance journalist currently studying English at university. She loves covering everything from entertainment and politics to lifestyle and travel. As well as writing for My Imperfect Life, Liv has bylines in The Times, HuffPost, Den of Geek, Bustle The Metro and The Bookseller.