Working from home tips: 5 to help you nail the (virtual) work day
Wise up on the best working from home tips to make the most of your remote workday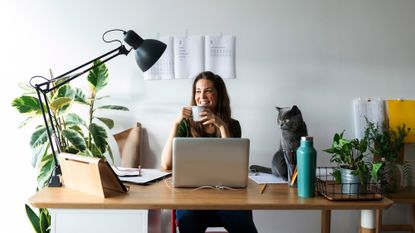 (Image credit: Westend61 via Getty Images)
Working from home has become increasingly popular in recent years but, thanks to a certain pandemic, the turn of the decade saw it reach an all-time high globally. And so many of us are in need of working from home tips to keep our productivity levels up in the "new normal."
Not only have employees (and employers) realized how convenient remote work is for striking a work-life balance, it's also more cost-effective, as we spend less on getting to and from a designated office. Plus, there's the added benefit of being able to wear your fave comfy sweats for video calls while still being presentable from the waist up.
Despite all the perks, the thought of never going back to an office is daunting for some. You may find yourself asking, "Can I really maintain productivity from home?" and find accepting it as your forever day-do-day daunting—especially if you had never worked from home before the pandemic.
Fortunately for you, the My Imperfect Life team is well versed in working from home and has some excellent working from home tips to share from our experiences. From choosing the best desk chairs to managing your time effectively, here are the top tips to help you nail a remote workday routine.
---
---
My Imperfect Life's best working from home tips
1. Have a room dedicated to work
Believe it or not, having a room (or a corner if you're tight on space) dedicated to working from home can make a huge difference. When we first started working from home, many of us sat at a desk in the living room because we assumed it unnecessary to devote an entire room to work as a temporary measure.
That assumption was very wrong. In fact, since switching to a room, many of us have been way more focused and efficient when getting work done.
As Work in My Pajamas notes: "Kids' needs, noise, and distractions happen all the time, and having a space to keep your work separated will allow you to concentrate and be more productive… It's important to have an office in the home that you can lock for storage purposes."
Essentially, it's a space away from distractions to get shit done and helps to keep work life and home life separate.
2. Stock up on office supplies
When considering what you'll need for your working-at-home space, think about what you'd typically have at a real office desk. Generally, people have the basics like a desk, laptop/desktop (or both), and a desk chair. Your list of needs may evolve from there depending on your job.
First, make sure your office chair provides adequate support and comfort and isn't just an upright dining chair. You'll be sitting in it for hours at a time, so you need something quality here—consider the fabric, lumbar support, adjustability, and wheelbase when going through the buying process.
You'll also have to take into consideration your work needs when deciding between a laptop and a desktop. For some jobs, a dual monitor desktop is more efficient, while a fast-running laptop means you can work from just about anywhere, not just at your home.
Then there's the desk to consider; this will also depend on your job and personal preferences. Many prefer a spacious desk angled around them with storage space like drawers for organization and declutter purposes. Some people start with a small wooden desk (and learn how fast it can fill up!) but if you're in a small apartment this, or a corner desk, may be a better option.
We also recommend a cute little trash can, plus stocking up on some fresh new pens, highlighters, a stapler, etc—you know, all the stuff you'd find in a big office. Plus, who doesn't love a stationery haul?
3. Personalize your space
Your office will feel more like your office when it's decorated and personalized to your tastes. The great thing about working from home is you can go all out in an entire room if you desire—but for most, just a desk and "home office corner" will do.
Scatter some pictures of pets, family and friends to make the space your own, put some framed inspirational wall art on the walls, and fill desk drawers with some extras to the traditional office supplies.
A stress ball if you have a full-on job, healthy snacks and a Bluetooth speaker are all examples of ways to make your space more "you." There's no set way to personalize your space, but you definitely have more options than a formal office.
4. Establish your routine
Perhaps the most important tip we can give you is to establish your workday routine, as this is what will ensure you're as productive, organized and time-efficient as possible. Unfortunately, it's way too easy to become distracted, forgetful and even lack motivation when you're working from the comfort of your home.
To combat the urge to procrastinate, you should build a work routine and organize your schedule to know exactly what is expected of you in the coming week. A chalkboard calendar or physical list to plan out the day's expectations can both keep you grounded and provide a dose of satisfaction when you cross off a bunch of tasks.
If on the other hand, you prefer to keep everything on your computer and work phone (if you have one), you can use online tools and apps like Google Calendar, Evernote and Trello, for example, to keep yourself in check.
5. Take regular breaks
Ensuring you get some fresh air and take screen breaks is essential wherever you're working. But it's especially important when you aren't traveling to and from an office and your only commute is from bed to your desk.
Ensure you go for a daily walk either on your lunch break, after work or even before you start your day to keep moving. You could also factor in some of these desk exercises while you work from the home office.
It goes without saying that some of this will be down to personal preference and it may take you some time to work out the kinks in your full-time home/work schedule. But gradually factor these working from home tips into your routine to make the 9-to-5 a little bit sweeter!
The My Imperfect Life team is all about helping you navigate your world. We bring you the latest on fashion, beauty, travel and wellness so you can live life on your terms.