Who is Wi Ha-joon? Meet the heartthrob of Netflix's 'Squid Game'
Meet South Korean actor Wi Ha-joon, whose star is rising the world over thanks to 'Squid Game.' Here's what you need to know about him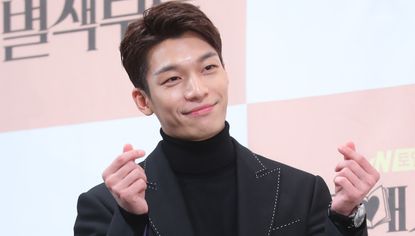 (Image credit: JTBC PLUS / Getty)
The launch of the Netflix survival K-drama Squid Game saw millions of people around the world become obsessed with the show, especially one of its stars: Wi Ha-joon.
The plot of the brutal series sees a group of people enter a life-or-death game for the million-pound prize. However, along with the contestants, the series also introduces us to Detective Hwang Jun-ho, played by Wi Ha-joon, who infiltrates the game in search of his older brother. Viewers have become super obsessed with the South Korean actor and the rest of the Squid Game cast, and who can blame them? We love them too!
Rising star Wi Ha-Joon has had some impressive roles prior to the Netflix series. But what do we know about the actor? Let's get into it!
---
---
Where is Wi Ha-joon from?
Wi Ha-joon was born in Wando Country in South Korea.
Wando Country is an island in the South Jeolla Province of South Korea. In a recent interview, the actor stated that his father runs an abalone farm, a very popular shellfish in South Korea. We should also mention expensive!
How old is Wi Ha-joon?
Wi Ha-joon was born on August 5, 1991, making him a Leo. He just celebrated his 30th birthday two months ago.
How tall is Wi Ha-joon?
The star is estimated to be around 5 foot 9 inches.
Does Wi Ha-joon have Instagram and Twitter?
Wi Ha-joon can be found on Instagram at @wi__wi__wi, with an incredible 6.5 million followers. Fans are loving the 30-year-old's behind-the-scenes photos from his shows and his model snaps!
The star does not have Twitter, however.
What other shows has Wi Ha-joon been in?
Wi Ha-joon has only been acting since 2016 but that doesn't mean he hasn't starred in some serious blockbuster films and dramas. His first lead role was in Gonjiam: Haunted Asylum, a 2018 South Korean horror film.
He's also had smaller roles, such as Something in the Rain, 18 Again, and Romance is a Bonus Book, where he secured the Best New Actor nomination from South Korea's prestigious Baeksang Arts Awards.
He's also due to star in the police drama Bad and Crazy, which premieres in December 2021.
Who is Wi Ha-joon dating?
From Wi Ha-joon's Instagram, which gives nothing away, it suggests he's not dating anyone at the moment. It definitely seems like the actor keeps his private life, well, private.
However, he does make up for that by posting super cute updates of him with his niece!
Apart from acting, what else can Wi Ha-Joon do?
He can sing and dance too! In 2018, he sang "Maybe It's Too Late" for the drama Matrimonial Chaos. Check it out:
People on Twitter were also able to uncover a video of Wi Ha-joon dancing as well at a 2016 event.
📸—How to unsee😭Such a talented actor so true lol!😂🤍 #위하준 #WiHaJoon #WiHaJun pic.twitter.com/YnmL40QqN3September 25, 2021
See more
Is there anything this man can't do?
What has Wi Ha-joon said about Squid Game?
In an interview with Sports Schosun translated by Soompi, Wi Ha-joon shared what first drew him to the character of detective Jun Ho. He described the character as "incredibly charming," but also how the role was very lonely, as he often had to act alone.
In an interview with Men's Health Korea, Wi Ha-joon also talked about how much he loved the character: "I read the script in a blink of an eye, and I was just blown away by how immersive it was. It was something that I've never seen before and I loved the character, Hwang Joon Ho, so I decided to star in the series." We're not complaining!
Liv is a freelance journalist currently studying English at university. She loves covering everything from entertainment and politics to lifestyle and travel. As well as writing for My Imperfect Life, Liv has bylines in The Times, HuffPost, Den of Geek, Bustle The Metro and The Bookseller.