'Yellowjackets' ending explained: a refresher before season 2
*So* much happened in that shocking finale. Here's the 'Yellowjackets' ending explained before season 2 debuts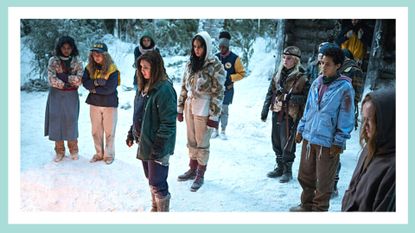 (Image credit: Kailey Schwerman/SHOWTIME)
Given what went down in season one, you're not alone in wanting the Yellowjackets ending explained.
We all need a little refresher on the shocking twists and turns from the Showtime hit's first season finale before we even start thinking about Yellowjackets season 2, which premieres on streaming on Friday, March 24 and on the cable channel on Sunday, March 26.
Which Yellowjackets characters died, and how? Which member of the Yellowjackets cast is the Antler Queen? And how do the actions of the teens affect the futures of their adult counterparts? Here's everything that went down in that season one Yellowjackets ending, explained.
'Yellowjackets' ending explained: what happened in season one?
Since the show takes place in two time periods—the Yellowjackets team in 1996 and their adult counterparts in present-day—let's start with the former.
The girls wake up with magic mushroom hangovers all around, which they mistakenly took from Misty (Sammi Hanratty), who was trying to drug their coach. All of that drama is cut short when a bear shows up, which Lottie (Courtney Eaton) calmly kills with a knife, but not before the animal mystically bows down to her. Are Lottie's supernatural powers real after all?
Van (Liv Hewson) seems to think so and wants to give thanks to the bear offering before dinner, which not only sparks a fight between her and her girlfriend Taissa (Jasmin Savoy Brown) but also between Jackie (Ella Purnell) and the group. Jackie, one of the only people not drugged the night prior, remembers with clarity the danger that the girls inflicted during the magic mushroom mayhem, with Jackie's BFF Shauna (Sophie Nélisse) having put a knife to Travis' throat.
And then the floodgates open between the best friends. Jackie knows that Shauna was sleeping with her boyfriend Jeff and that he is the father of her baby. Shauna reams Jackie out for her jealousy and narcissism, and casts her out of the cabin, leaving her to die in her sleep in the freezing cold.
In present-day, Shauna, Natalie and Taissa (played by Melanie Lynskey, Juliette Lewis and Tawny Cypress as adults, respectively) enlist the help of Misty (Christina Ricci) to dispose of Adam's body. The foursome gets all cleaned up and heads to their 25-year high school reunion, where Shauna confronts Jeff's friend Randy about the blackmail, threatening to kill him if he spills to anyone. They all watch a slideshow dedicated to the Yellowjackets team members who didn't make it out of the forest.
After the reunion, Jessica Roberts, the reporter who Misty has been holding hostage, seemingly talks Misty into releasing her. However, as she's smoking a victory cigarette while she drives away, she realizes that Misty poisoned her smokes, and she crashes to her death.
At adult Taissa's house, her estranged wife Simone (Rukiya Bernard) makes a disturbing discovery while in their basement: a trail of blood leads her to a grotesque shrine that Taissa concocted from their dog's decapitated head, their son's toy doll, a bloody heart, and that spooky symbol that's been popping up all throughout season one. It looks like Taissa, who also just won her senate race, has been doing a lot more than just sleepwalking at night.
Later, Natalie is shown loading a shotgun in her motel room, seemingly about to end her own life, when a group of strangers breaks down the door and kidnaps her. As we see Natalie being hauled away with a bag over her head, a voicemail from Suzie plays saying that Lottie—yes, that Lottie—is not only alive and has followers doing her bidding, but was also responsible for emptying Travis' bank account before he died.
The final moments of season one take us back to teenage Lottie in the woods, with Van and Misty kneeling behind her as she offers up the bear's heart as a sacrifice in the forest. "Versez le sang, mes beaux amis," she says in French, meaning: "Spill the blood, my beautiful friends."
Yes, that means even more darkness and drama to come in season 2!
Catch Yellowjackets season 2 on Paramount+ starting Friday, March 24, or on Showtime starting Sunday, March 26.
Christina Izzo is the Deputy Editor of My Imperfect Life.
More generally, she is a writer-editor covering food and drink, travel, lifestyle and culture in New York City. She was previously the Features Editor at Rachael Ray In Season and Reveal, as well as the Food & Drink Editor and chief restaurant critic at Time Out New York.
When she's not doing all that, she can probably be found eating cheese somewhere.