Hot chocolate bomb drinks are trending on TikTok - here's how to make one
Everything you need to make a hot chocolate bomb drink this autumn/winter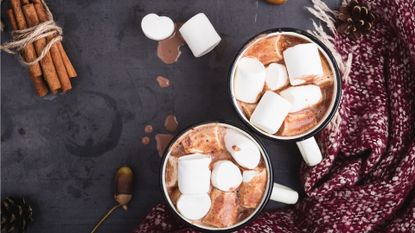 (Image credit: Getty Images)
Wondering how on earth to make a hot chocolate bomb drink? If you spend the majority of your spare time scrolling through your 'For You' page on TikTok (like we do - guilty), then you'll know that hot chocolate bombs are the ultimate trend right now. Everyone is making them, and if you want in, then we're here to help.
Perfect for the season, the cosy dessert is exactly what we need to keep us warm and toasty now that temperatures have officially dropped. So, how exactly do we make them?
Well, as shown in the millions of TikTok tutorials - that's not an exaggerating by the way, #hotchocolatebombs currently has more than 13.9 million views - it's a special twist on an original hot chocolate.
How to make a hot chocolate bomb drink
First up, you get a mug and place a giant ball of chocolate inside it. Usually, this is filled with delicious treats like mini marshmallows, cocoa powder and any other flavours you want in the drink. You then pour steamed hot milk into the mug watch the ball melt, with all the filling spilling out and mixing in with hot milk. Finally, you give it a little stir and voila, it's complete. Filming a TikTok of the process is optional...
How to make the chocolate ball
As for making the actual chocolate ball, that's really simple too. All you need is a rounded silicone molds and your ingredients of choice. Get some of your favourite chocolate, put it in a bowl with some heavy cream and sugar, then put it in the microwave and wait for it to melt.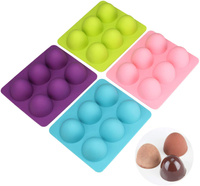 Once it has melted, smear it on the inside of your rounded silicone molds so that you have semi-circles of chocolate and put them i the fridge so they harden. Then, put the ingredients you want inside the ball into one side (this is the bit where you can get creative and fill it up with whatever you fancy) and place another semi-circle of chocolate on top, using edible melted chocolate as the glue that sticks to two sides together.
As you can see, they're super quick and easy to make and the process is also fun (even more so than watching others make them on TikTok), not to mention the fact that they're delicious.
In fact, we're off to make our own!
Sagal is a journalist, specialising in lifestyle, pop culture, fashion and beauty. She has written for a number of publications including Vogue, Glamour, Stylist, Evening Standard, Bustle, You Magazine, Dazed and Wonderland to name a few.