Everything to know about using sunscreen in your makeup and skincare routines
Wondering, should you apply sunscreen or skincare first? And what about topping up over makeup? The experts explain...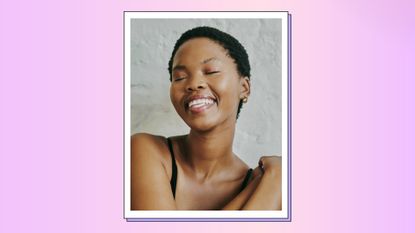 (Image credit: Getty Images)
The importance of wearing sunscreen is a continuous topic of conversation and for good reason, too. Not only does it help in the fight to protect the skin from harmful UV rays, but it also helps to reduce signs of premature aging in the skin.
However, you may still have some unanswered questions when it comes to getting the very most out of your best face sunscreen, such as when to apply sunscreen in your skincare routine, how long you should wait to apply sunscreen after moisturizer, and how to apply sunscreen when wearing makeup.
Applying too little or not following the steps—including when to apply sunscreen, before or after moisturizer—has the potential to leave the skin unprotected and more vulnerable to burning and sun damage. We asked experts to weigh in on how long to wait after sunscreen to apply makeup, to whether skint tints with SPF can be used in replacement of a dedicated sunscreen. Here's what they told us.
Meet the experts in applying sunscreen
Should you apply sunscreen or skincare first?
If you've ever been stumped on when to apply sunscreen, you should know that your other products should always be applied first, with sunscreen being the last step in your skincare routine. To begin, "Skincare should be layered in order of consistency from lightweight serums through to thicker textures such as moisturizer to give the skin time to absorb it," says Dharamshi.
"SPF acts as a skin-protecting filter, layered over the top of your skin-enhancing skincare base to filter out harmful UVA and UVB rays, so sunscreen should therefore always be applied after your skincare regime as the finishing touch."
Should you apply sunscreen or serum first?
Again, sunscreen should always be the last step in your skincare routine, so always go in with your serum first. "Apply a few drops in the palm of your hands before smoothing into the skin and giving it a few minutes to absorb before applying your sunscreen." Says Dr. Perry.
However, one thing to note is that this is dependent on the type of sunscreen you're using (Not to add an extra layer of confusion) "If you use chemical sunscreen, apply it before moisturizer so your skin has time to absorb the ingredients that are charged with protecting the skin," says Syed. "If the moisturizer is applied after the chemical sunscreen, it could actually change the properties of your sunscreen and create a barrier between your skin and the SPF meant to protect it." If it's not a chemical sunscreen apply it after moisturizer.
A lot of sunscreen and skincare packaging contain directions on when to apply it and in what order. While it may seem confusing now, once you get the hang of it, it'll become second nature.
How long should you wait to apply sunscreen after moisturizer?
Once you've applied moisturizer to the skin you'll want to give it a few minutes before going in with your sunscreen. Colette Laxton, co-founder of The INKEY List, says: "Waiting until your skin has dried and absorbed the moisturizer," is a good way to figure out when to apply your SPF. "Remember, you ideally want to be applying sunscreen 15 minutes before going outdoors."
Should you apply sunscreen or makeup first?
"For maximum protection from the sun's rays, your SPF should be the last stage in your skincare regime but the first stage in your makeup regime. Apply your sunscreen before applying primer, foundation, concealer and other makeup products," says Dharamshi. "Give it a couple of minutes to settle before applying makeup."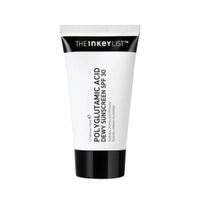 The INKEY List Polyglutamic Acid Dewy Sunscreen SPF 30
RRP: $14.99 for 30ml
If you're interested in an SPF that doubles as a makeup primer, Laxton says: "I love that The INKEY List Polyglutamic Acid SPF not only protects but also primes the skin for a smooth and dewy make-up finish." As an avid makeup lover, I can attest to this as the formula does wonders for my normal-to-dry skin type before applying makeup.
Should you apply sunscreen or foundation first?
"Sunscreen first, always, again waiting for upwards of two minutes to allow your SPF to soak into the skin and form a protective shield before going in with a foundation," says Dharamshi. "You should always apply an SPF, even if your foundation contains it."
In more recent years we've seen a rise in skincare-makeup hybrid products that contain SPF. Despite this, Dr. Perry says, "Whether it's a foundation or tinted moisturizer with an additional SPF, it's not a reliable source of SPF protection. So it would be advisable to wear sunscreen in addition to products that contain SPF."
Can we apply sunscreen over makeup?
Thanks to brands releasing more non-cream-based SPFs, like sprays and powders, it's easier than ever to apply sunscreen over makeup. Sunscreen is best applied to bare skin, so it's important that you apply it before makeup application.
"if you use creamy, dewy makeup products without powder; liquid, mist, powder and cream sunscreens are fine to apply over your makeup as they won't impact the texture or finish," says Dharamshi.
"However, if you use powder-based makeup (or like to set your look in place with contouring techniques & setting powder for a more matte finish for example) you may be better off using a powder SPF or lightweight mist to avoid any texture issues."
How long should you wait to apply sunscreen over makeup?
When it comes to applying sunscreen after makeup it should be used as a top-up throughout the day and not as your first application of the day as sunscreen works best on bare skin. Sunscreen should be applied: "Approximately every two hours, starting with two hours after completing your skincare routine." says Dharamshi.
How to apply sunscreen over makeup
As previously touched on, there are many forms of sun protection that can go over makeup from SPF sticks, mists, sprays and powders. "If you're out in the sun then you will need to reapply sunscreen, regardless of whether you have makeup on," says Dr. Perry.
When it comes to finding the best techniques to apply sunscreen over makeup "using a make-up sponge and blot over the face ensures each area is covered adequately."
"Tinted SPF products work well over the top of foundation and makeup products and often have a version to suit various skin tones," says Dharamshi.
"Mineral, powder SPFs can be brushed on over your skin; gently stippling and brushing it over your entire face in general a beauty blender is an effective method for re-applying an SPF product over makeup, lightly pat your sponge across your face to ensure all-over coverage. Blotting it in allows the product to be absorbed, with minimal disruption to your makeup."