How to remove pubic hair without shaving—options for hair removal in the bikini area
If you're wondering how to remove pubic hair without shaving, rest assured that there are plenty of other methods that will keep regrowth at bay...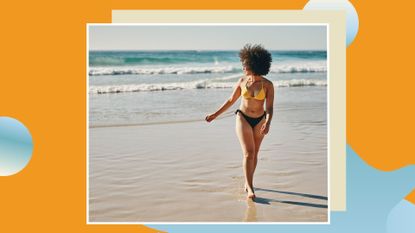 (Image credit: Future/Getty)
Figuring out how to remove pubic hair without shaving isn't difficult, but does require a bit of consideration. There are many hair removal options for the bikini area, but shaving tends to be the most popular given how cheap and easy it is to do. However, it can also irritate certain skin types, and it can often feel like the results last for no time at all before you need to shave again. So if you are wondering how to remove pubic hair without shaving, you're not alone.
We spoke to skincare experts about the best hair removal methods for the bikini area and they offered up some advice that could be a game-changer for you and your skin. Your options are vast—ranging from depilatory creams to waxing and even at-home laser hair removal.
Get ready to say goodbye to your razor, and hello to a happy bikini line...
Why might you want to avoid shaving your pubic area?
Shaving might be the preferred method for some women. As mentioned, it's affordable, fast and usually painless. But for those who see adverse side effects of shaving, like redness or bumps, the struggle of hair removal for the bikini area is real.
"The bikini area has hair and skin that are exposed to a lot of warmth and moisture," explains Dr. Purvisha Patel, dermatologist at Advanced Dermatology and Skin Cancer Associates (opens in new tab) and founder of Visha Skincare (opens in new tab).
"Shaving in that area—especially for those with textured hair—can increase shaving bumps or ingrown hairs," Dr. Patel continues. "This is because the hair that is curly grows out, and then into the surrounding skin of the hair follicle."
Others can experience adverse reactions to shaving the bikini line too. "Many people have sensitive skin, particularly in the bikini area," adds Gia Jurosky of RoseSkinCo (opens in new tab). "Shaving can irritate that skin."
Plus, the results of shaving your pubic area don't tend to last all too long—on average most women will see regrowth begin between 2-5 days after shaving. So it's worth considering how long other hair removal methods last. Overall, shaving is not the most useful choice, luckily, it isn't the only option there is.
How to remove pubic hair without shaving
There are plenty of other hair removal methods out there, many of which Dr. Patel says are better solutions for the bikini line than a razor and shaving cream.
You could try:
Waxing or sugaring—Waxing is the process of applying hot wax to the skin and then ripping it off with a strip, removing the hair with it. It can be a painful process, but some women experience less pain with sugar wax. Sugaring is the same process as traditional waxing, only with a gentler product. Waxing is more permanent than shaving, and results should last around three-four weeks before regrowth begins.
Hair removal creams—Depilatory creams are made of chemicals that dissolve hair on the surface of the skin, but they do not target the follicle. They remove hair from the root, like waxing or shaving, and they require little effort on the user's part after application. However, results tend to last only around two-three days before regrowth begins. It's important to use depilatory creams that target the bikini area specifically, since these are harsh chemicals, and some products may be dangerous for sensitive skin.
Laser hair removal—One of the best options for removing facial hair permanently (or close enough to permanent), it's also a great option for the bikini area. In this process, a professional uses a laser to damage the hair follicles that produce hair. It's a semi-permanent option meant to remove existing hair and stop new hair growth. This should last for at least a year, meaning it's a great low-maintenance option for hair removal in your pubic area. However, it's pricey and you'll need multiple sessions initially to ensure the hair is removed.
Electrolysis—Similar to laser hair removal, electrolysis targets the hair follicles. However, electrolysis uses an electrically charged probe to get under the follicle. The clinician then uses tweezers to remove the hairs. It's typically more painful than laser hair removal (especially in the more sensitive pubic region) and requires more sessions, but it is permanent and is sometimes more affordable.
Different skin types react to various hair removal methods uniquely, and it might take some trial and error to find the right method for your body if you want to know how to remove pubic hair without shaving. That being said, the experts we talked to could all agree that one hair removal method is superior for the bikini line...
What is the best option?
"The best method is laser hair removal, as it stops the hair growth at the follicle, for longer-lasting results," recommends Dr. Patel.
Unlike shaving, waxing, or using depilatory creams, laser hair removal won't need to be repeated every few days or weeks, helping you to avoid the incessant maintenance of your bikini area.
That being said, it's not quite permanent. Dr. Patel notes, "I feel that laser hair removal should be called laser hair reduction, as the hair can come back over time." However, follow-up sessions could, and should, take care of that.
However, "when the hairs do grow back, there will be fewer of them, and they should be finer," Jurosky adds. The same can't be said for creams or waxing—and certainly not for shaving.
What to look out for when removing hair in the bikini area
The experts we talked to agreed that while laser hair removal is the best option—whether you're after hair removal options for dark skin or lighter skin tones—it's not without its risks. Dermatologists recommend that you see a trusted aesthetician for your laser hair removal procedure, and be on the lookout for adverse side effects afterwards.
"If you find that your bikini line doesn't seem to be healing, or if you see blisters, oozing burns, or a possible infection, check in with your doctor as soon as possible," says Dr. Ailynne Marie Vergara-Wijangco, clinical dermatologist and owner of VW Dermatology Clinic (opens in new tab).
While laser hair removal is an effective method, it's not for everyone. It's pricey, and the procedure can be uncomfortable. If you decide to go with an at-home hair removal procedure like waxing, just make sure you're taking the necessary precautions.
"When waxing your bikini line yourself, be very careful that the microwaved wax isn't too hot before applying it," advises Dr. Vergara-Wijangco. "One study showed that 38 people attempting to wax at home ended up with burns, often on their right hand from pulling the wax out of the microwave." Ouch! Be sure to follow the package instructions carefully for heating wax, or better yet, invest in an at-home wax heater.
If you opt for a depilatory cream, be very careful when applying it to your bikini area. Be sure not to let the substance come into contact with your genitals, since they are full of harsh chemicals.
But if you follow these hair removal tips carefully, shaving pubic hair can be a thing of the past.
---
My Imperfect Life thanks Purvisha Patel of Visha Skincare (opens in new tab), Gia Jurosky of RoseSkinCo (opens in new tab), and Dr. Ailynne Marie Vergara-Wijangco of VW Dermatology Clinic (opens in new tab) for their time and expertise.
Deputy Editor at My Imperfect Life
Aleesha is deputy editor and beauty & fashion lead for My Imperfect Life, where she heads up the beauty, fashion and eCommerce pages. Previously she was shopping writer for woman&home and gained an AOP awards nomination after working on their news team. She earned an MA in Magazine Journalism from City, University of London in 2017 and has since worked with a number of brands including, Women's Health, Stylist and Goodto. When she's not testing new products, Aleesha spends her time soaking up the newest bestsellers and Netflix releases, learning about different wines, attempting new languages and travelling as much as she can.