Everyone's talking about the TikTok fake window challenge – here's how to do it at home
Imagine where you want to go and let your "window" do the rest...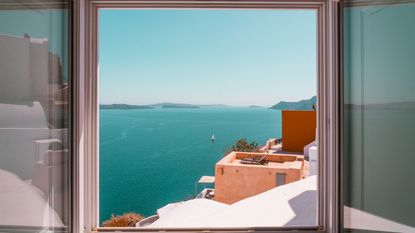 (Image credit: Getty/ Koay Shi Chian)
When we're not checking out tutorials on how to make nature's cereal, or figuring out where to buy those insanely cool sunset lamps, chances are we're watching some other TikTok hacks or useful videos. And the latest trend to go viral? The TikTok fake window challenge—everyone, including us, is obsessed!
If you've been on social media in the past 24 hours it's likely you'll have seen all those Instagram photos of people posing in front of cool, ever-changing window views. But just how do they do it? Thankfully TikTok is here with the solution: projectors!
The viral trend includes projecting a window on your wall and taking in the fresh scenery outside your "fake window". It's fairly simple to do on your own, and you won't need to download or save any special filters on the app. The TikTok fake window challenge does take some effort on your part to get the window just right, but when all is said and done, it'll definitely be one of your favorite hacks.
So, how does the TikTok fake window challenge work? You need to project a video of a window scene (you can search YouTube for hours-long loops of them) on a blank wall or plain backdrop in your home. It could be a video of a window overlooking a sunny seaside resort, a cityscape, or even a snowy winter wonderland. Then, you simply sit back and take in your "new" surroundings.
The best projectors to buy for the TikTok fake window challenge
1. YABER WiFi Projector
2. VANKYO Leisure 3 1080P Supported Mini Projector
3. Philips NeoPix Easy Mini Projector
4. AAXA BP1 DLP Projector
If the prospect of purchasing a projector makes you nervous, don't worry; there are plenty of affordable choices available these days. At Walmart, you can get one for less than $100, and Amazon has a plethora of options. Bear in mind, however, that the more money you spend, the better the projector you will get!
Since December 2020, Kudzai has worked as a trainee journalist at FUTURE, writing about fashion, entertainment and beauty content for My Imperfect Life.

Kudzai previously worked as a freelance fashion wardrobe stylist, directing magazine photoshoots and coordinating the fashion direction of recording artists.

A fully qualified Journalism and Media graduate from De Mont Fort University, Kudzai graduated in the summer of 2020.