Sunset lamps are viral on TikTok—here's where to buy the trendy home decor for less
Want better lighting for your TikTok videos? Sunset lamps are the decor trend for you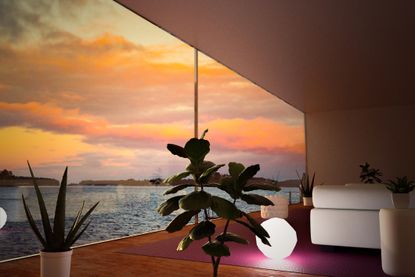 (Image credit: Getty)
TikTok users know the importance of good lighting and sunset lamps certainly deliver in that regard.
Rather than time video uploads with the sun or shell out money for professional equipment, these gadgets do the heavy lifting for you. Plus, sunset lamps are one of those home decor trends that keep on giving long after your video has been uploaded. (Who doesn't like a moody pink in their living room?)
Here's everything you need to know about sunset lamps—and most importantly, where to find these viral TikTok items for yourself. Happy shopping and video sharing!
These trendy light fixtures emit a warm, sunset-light glow in various colors, from pale pinks to the deepest blues. (Take that seasonal affective disorder!) Plus, they're a fun way to spruce up your space, even if you're not looking to achieve viral status
Best TikTok-approved sunset lamps to buy
1. DAHAI 90° Rotation Rainbow Projection Lamp
If you dream of creating romantic #FlipTheSwitch challenges, you need to invest in this modern floor lamp. Amazon's specifications read: "Please remember that due to the lighting effects, the monitor's brightness/contrast settings, etc, there will be some slight differences in the color of the pictures and the actual items. Measured by hand, deviations of 1-2 cm are possible."
2. Seyurigaoka Projection Sunset Light with 90° Rotatable Rainbow Bedroom Lamp
Do you want to be able to set off the atmosphere at home? The Walmart-sold sunset scene lamp is available to pick up on your daily shop and it's still in stock!
3. Sparkly Trees The Mellow Sunset Lamp
The Mellow Sunset Lamp is fully adjustable, so you can cover a portion of the room, like if you want to give your ceiling a glowing effect, or the whole shebang for a full, romantic ambiance.
4. Aunus Sunset Projection Lamp
You'll get brighter brights and lighter lights thanks to the high-transparency lens and a high-power luminous core of the Aunus Sunset Projection Lamp.
5. 'Halo Mini' Sunset Red Floor Lamp or Color Projector by Mandalaki Studio
Yes, it's pricey, but it's like having a real-deal art light installation in your very own bedroom. Designed by the Mandalaki studio as the midpoint of art and technology, the projector offers a sunset red or deep blue colorway.
6. VANBAR Sunset Lamp Projector Led Lamp
Capable of rotating 180 degrees, thickening crystals to create more light and enhancing a warm atmosphere, this trinket is a must for TikTok and beyond.
---
---
Are sunset lamps safe?
We know that light therapy, especially in those dark and dreary winter months, can have positive effects on our mental health, allowing folks to feel happier and more relaxed even on those days when the sun peaces out before 5 pm.
But are sunset lamps safe? Rest assured! Generally, sunset lamps and other light therapy lamps are considered safe, as they don't give off any harmful UV radiation.
Are sunset lamps worth it?
Okay, sure, there are prettier lighting options than an industrial-looking sunset lamp projector to have out in the open, with beautiful bases and dainty lampshades and whatnot, but if it's a prettier light that you're after, one that will add immediate ambiance to your room, you can't go wrong with a sunset lamp.
Since December 2020, Kudzai has worked as a trainee journalist at FUTURE, writing about fashion, entertainment and beauty content for My Imperfect Life.

Kudzai previously worked as a freelance fashion wardrobe stylist, directing magazine photoshoots and coordinating the fashion direction of recording artists.

A fully qualified Journalism and Media graduate from De Mont Fort University, Kudzai graduated in the summer of 2020.